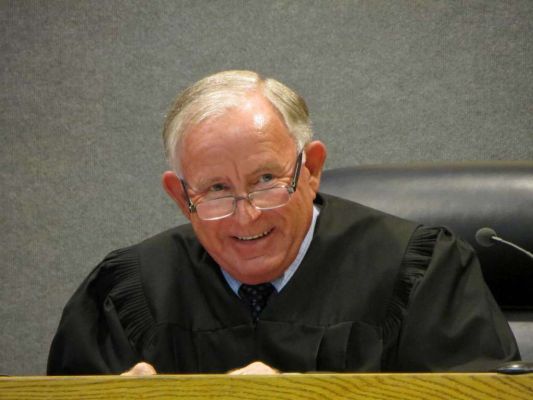 A Texas judge is facing calls for resignation over his questionable conduct in the courtroom. Judge Jack Robison reportedly interrupted jury deliberations during a recent child sex trafficking case to insist that "God told him" the defendant was innocent.
The case itself involved 32-year-old Gloria Romero-Perez, who was accused of trafficking her 15-year-old niece. Perez apparently paid $6,000 to smuggle the girl into the U.S. from Honduras before selling her to an older male acquaintance for a substantial sum. It wasn't clear whether the girl had been forced to marry him or not.
The case went to trial, and it came down to 12 jurors to decide whether Perez was guilty or innocent. As they were discussing the evidence presented against the defendant, Judge Robison made a surprise and highly unorthodox appearance in the jury room. According to witnesses, Robison apologized for interrupting the jurors but explained that "when God tells me I gotta do something, I gotta do it." He urged them to return a not guilty verdict.
Evidently, God failed to send similar messages to the jury; they ignored Robison's demands, returning a verdict of guilty.
Perez has since been sentenced to 25 years in prison for human trafficking, and a request for a mistrial was denied.
Hearing Voices from Above
It remains a mystery how exactly God communicated to the judge that Perez was innocent, or why He would take interest in a sex trafficking case in small town Texas. Judge Robison is now being pressed for an explanation. However, since the story went public, the judge's office has refused to comment on the story or provide any further details.
Critics are calling this a serious case of misconduct that cannot go unpunished. We posted about the story on our Facebook page, and the response was substantial. Many commenters questioned whether the judge is competent enough to continue holding his position.
"We have the right to pursue employment that does not create a conflict of interest within our personal beliefs, but we do not have the right to define the lives of others based solely on our personal beliefs. He should find a new job," wrote one person.
"Hearing voices (whether they are "god", or whomever) is a mental health issue," said another.
Some even smelled whiffs of a conspiracy. "His comment makes me wonder if the judge had dealings with the person who was behind the child sex trafficking," another user pointed out.
Let God Be the Judge
It's yet to be seen whether Robison will face any serious consequences for his behavior. Shockingly, Texas has no explicit laws on the books that prevents judges from interfering with jury deliberations.
As an interesting side note, this apparently isn't the first time the judge in question has acted inappropriately. Back in 2011, a Texas grandfather, upset over his granddaughter's child custody case, confronted Robison and called him a fool. In retaliation, the judge had the man thrown in jail a breach of judicial ethics for which he was later reprimanded.
Some critics are hoping this latest incident will be enough to get him off the bench, but only time will tell.
**What do you think? Do messages from God have a place in the courtroom?
**