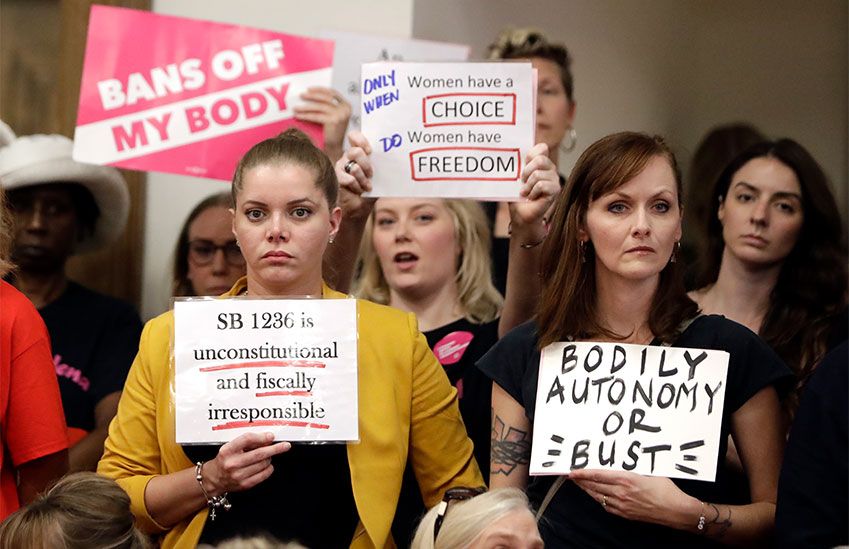 ---
Pro-life activists in Tennessee are now split on whether "near-total" state bans on abortion will ever clear the U.S. Supreme Court.
Some Tennessee Republicans are mulling an amended version of the heartbeat bill that failed to pass the legislature last spring. That legislation, which the legislature won't vote on until at least January 2020, seeks to ban all abortions in which a fetal heartbeat is detected by doctors. That's as early as six weeks into a pregnancy. Exceptions will be made only for medical emergencies or when the mother's life is at risk. The bill is similar to legislation that is on the books in eight other states.
Surprising Opposition
Naturally, pro-choice activists oppose the measure. But surprisingly, so do some on the pro-life side. Indeed, some Catholic bishops aren't exactly on board. Catholic leaders fear that the legislation, with its near-certainty of being overturned in court, could actually set the entire pro-life movement back. They worry that the progress they've made under the Trump administration would all but disappear.
And they aren't the only ones with concerns of legality. Tennessee Republican Lt. Gov. Randy McNally was questioning the legal viability of the proposed heartbeat bill back in March. He warned it would put the state on the "losing side" of a court battle. And Brian Harris, president of Tennessee Right to Life, recently insisted: "there is not a single state where a heartbeat bill has been upheld or enforced. Not a single child has been saved or a mother helped as a result of this legislation." Even Republican state Senator Mike Bell said that "so far, these bills have not fared well in the courts. In other states, the heartbeat bill has been struck down and states have been forced to pay attorney fees to Planned Parenthood My conscience would not allow me to put Tennessee on that path."
Still, this isn't the first time that sweeping abortion legislation has had a surprising opponent.
Wait Them Out?
The proposed amendment may be one of the most aggressive in the country. It would define life as beginning at conception, confirmed with the hormone HCG, which certain pregnancy tests can detect.
But more than a matter of definitions, this might be a case of playing the long game. Jim Bopp, general counsel for the National Right to Life Committee, stressed that the Supreme Court makeup to overturn Roe v. Wade will not truly be right until Trump is re-elected along with a Republican-majority Senate in 2020.
"What do we know about the current Supreme Court?" he asked rhetorically. "We know there are four justices who have already voted to reaffirm Roe v. Wade and if given the chance, they would redefine Roe v. Wade as gender discrimination so that every single regulation that touches abortion, conscience clauses, funding, you name it would be declared unconstitutional."
"There is no majority on the Supreme Court that we can identify that would uphold such a thing. Look, divine intervention is God's decision, not ours. He can do it in His time when He believes the time is right. Absent divine intervention, we have to use our human reason, our human powers to figure out what is the best course."
In Tennessee, that might include "trigger legislation" entitled the Human Life Protection Act, which would effectively ban most abortions in the state in the event Roe v. Wade was ever overturned - something Tennessee Right to Life supports.
The Debate Must Go On
Needless to say, Democrats in Tennessee oppose the measure. Gloria Johnson, a Democratic state Representative from Knoxville said that she doesn't think that "the constitutionality of the bill matters to the group of folks trying to pass it." And Francie Hunt, executive director of Tennessee Advocates for Planned Parenthood, suggested that the passage of abortion bills are "ego-driven rather than what's good policy for people in Tennessee."
One thing is for sure: The abortion debate rages on-- although it's rare to see such discord in the typically unified Republican ranks. What are your thoughts? Are faith groups justified to be cautious about going all-in on abortion? Or does saving unborn lives - as they insist is their ultimate goal - defy such calculated political strategy?