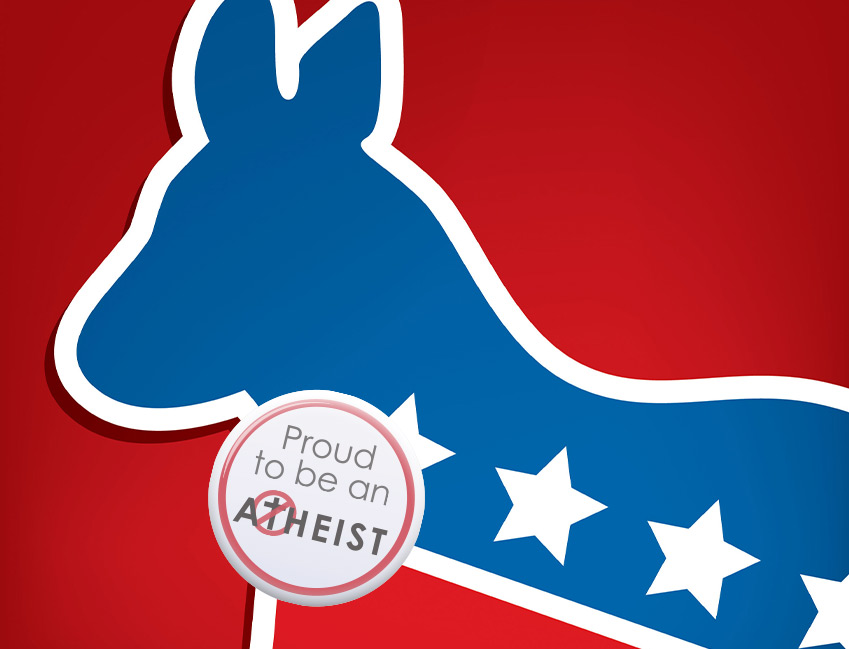 ---
America's secular voters have finally received official Democratic Party recognition.
The Democratic National Committee just passed a resolution acknowledging the "value, ethical soundness, and importance" of non-religious Americans, reinforcing the untapped political clout of one of the country's fastest-growing constituencies.
"WHEREAS, the religiously unaffiliated demographic has tripled in the last two decades, now representing 25% of the overall American population and 35% of those under the age of 30," begins the resolution in question, eventually calling for the recognition of those "who contribute in innumerable ways to the arts, sciences, medicine, business, law, the military, their communities, the success of the Party and prosperity of the Nation," and who therefore deserve to "be represented, included, and heard by the Party."
On its surface, this would seem to make perfect sense. As mentioned, 'none' is the belief of choice for over one-third of Millennials. And Gen-Z is on track to be even less religious. So it makes sense for Democrats to court their votes. And it seems to be working. The religiously unaffiliated overwhelmingly share Democratic Party values, with 79% supporting same-sex marriage and 61% insisting immigrants make society stronger.
Political Pariahs
Yet, politicians of all stripes have traditionally distanced themselves from non-believers. Often, they're swayed by Evangelical voters with strong political stances on abortion and religious freedoms. Even today, with 70 percent of secular Americans having voted for their party in 2018, there continues to be plenty of Democratic handwringing over whether presidential candidates are doing enough to win over people of faith. Many 2020 hopefuls have even hired faith outreach directors to court the religious vote.
The fact the DNC has now officially declared "morals, values, and patriotism are not unique to any particular religion" is a rather gutsy call, given the current political climate. It's likely that Republicans and Evangelicals will use the resolution as an easy attack on Democrats. Many Americans still view atheists and other 'nones' with extreme caution.
Non-Religious Americans: "Finally"
The Secular Coalition for America, meanwhile, could not be more thrilled.
"America was founded as a secular government charged with representing and protecting the freedoms of people of all faiths and none I am proud to see the Democratic Party take that to heart by bringing secular Americans into the fold," declared Sarah Levin, Director of Governmental Affairs. "Nonbelievers in America have long been unfairly treated as pariahs in the political arena this first-of-a-kind step was long overdue and deeply merited as the religiously unaffiliated community continues to grow its share of the U.S. electorate."
Freethought Equality Fund PAC coordinator Ron Millar is hopeful more humanists and atheists will be encouraged to run for public office, "so that America's lawmaking bodies more accurately reflect the growing number of nonbelievers in our great country."
In this age of falling church attendance and rising Christian nationalism, is it high time Democratic presidential nominees go out on a political limb and start preaching the importance of church/state separation, science, and reason-based policymaking? Or is this just political pandering that will ultimately fizzle out come election time?