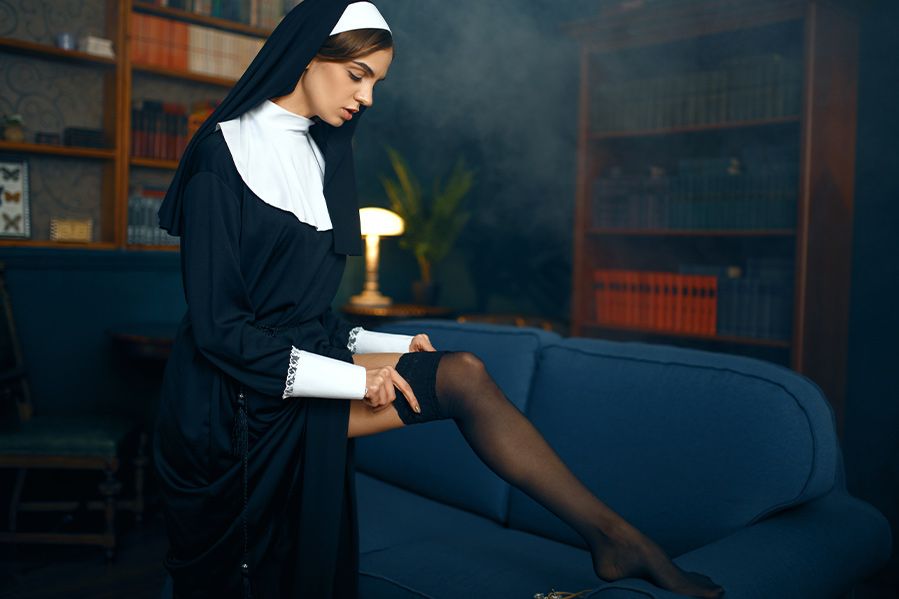 Is it okay to put a sexy spin on religious attire when dressing up for Halloween?
A viral video on TikTok insists that it's time to ditch the "sexy nun" costume.
The video, which has been viewed nearly 2 million times, serves as a Halloween PSA that dressing up as a "sexy nun" or "sexy priest" is more offensive than people might realize. 
By sexualizing people who specifically have taken vows of chastity and who don't want to be sexualized, such costume choices are a slap in the face, the account argues. 
Is dressing as a sexy nun for Halloween insulting and disrespectful?
Degradation or Harmless Fun?
Commenters, both religious and secular, were torn.
Scores of "amen" comments agreed with the content creator, and some put forth the idea that this was a form of discrimination unique to Catholics.
"It's honestly crazy to me how disrespected Catholicism is compared to other religions where that would be deemed unacceptable," wrote one user. "Catholicism getting degraded again. Doesn't happen to other religions."
"This needs more awareness and likes," another chimed in. 
Bad Habits
Not everyone was sympathetic, however. Critics were quick to argue that Catholics have little ground to stand on when it comes to sexualization, citing the ongoing sexual abuse scandals that have plagued the Church. 
"So the priests don't want to be sexualized, but they absolutely love sexualizing children? Go figure," read one comment.
"Believe it or not, a lot of people don't have much respect for the Catholic Church because of all the child abuse and other human rights atrocities," wrote another.
While the video has sparked an interesting ethics debate, this TikTok user is hardly the first person to argue that Halloween partygoers should leave their habit and thigh highs in the closet.
"A Mockery of God"
You've heard of cultural appropriation. What about religious appropriation?
Wearing a "sexy nun" costume is, some nuns argue, no less offensive than donning a sombrero and fake mustache.
 "I think the inappropriate nun costumes show that many people don't understand what nuns really are or realize that real nuns still exist," says Sister Allison Regina Gliot, a member of the Daughters of Saint Paul.
"Maybe the only exposure they've had to nuns is in horror movies, most of which are also wildly inaccurate." Such stereotyping, she says, misinforms the public on what nuns do, and hampers their ability to fulfill the spiritual needs of others.
Others argue that skin-bearing nun costumes are an offense to God himself. 
"[The costume] is such an offense against goodness and sacredness," explained Sister Gilmary Kay of the Religious Sisters of Mercy.
"It's not that each sister is good, but what they represent is good… So to disrespect a sister in that way, it's a mockery of not just her or the Church, but ultimately God."
What are your thoughts on "sexy nun" costumes? Are they harmless fun, or genuinely offensive?