This post was last updated on Wednesday, July 1, 2015 to reflect continued events and challenges in the wake of the Supreme Court's decision.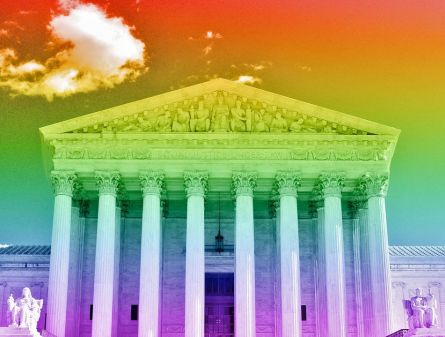 The conservative Supreme Court has just ruled in favor of marriage equality, bringing it to all 50 states! This was an important ruling in upholding the values on which our nation was founded, such as the rejection of subjugation to a specific set of religious beliefs, and the embrace of equality under the law.
The ruling concerned the case of Obergefell v. Hodges, wherein a gay couple that was legally married in one state was denied spousal recognition in another state. It asked firstly if states are allowed to discriminate by the genders that make up the couple when handing out marriage licenses. It secondly considered if any state, regardless of its own laws, must recognize marriages performed legally in other states, even if they are in direct conflict with one another.
The decision was 5-4, splitting the court. The decision mandates that all states allow same-sex marriages and acknowledge same-sex marriages performed in other states.
Similar questions have all been answered before in the case of Loving v. Virginia, though that case considered these same questions based on the race of the partners involved, rather than their genders. Because of this and other rulings, such as the striking down of provisions of the Defense Of Marriage Act (or DOMA for short), many legal experts predicted this favorable outcome.
Of course not everyone thinks this is indeed a favorable outcome. If you are one such person, we are glad that you are still reading and haven't done as some will and jumped straight down to the comments to express your hate for gays in the name of your loving god. Here is why we all have reason to celebrate this decision, even if you are totally against marriage equality:
Americans of all races, genders, orientations, and beliefs can now pursue their own lives and conceptions of happiness without worry that one group that disagrees will legally strong-arm you out of your constitutional right to equal treatment under the law. We don't have to agree on anything - that's our right, but no amount of disagreement justifies creating second-class citizens.
Side Effects
While this ruling undoes generations of institutional discrimination against gays and lesbians, it could very well affect issues that are merely related, but are still important. Many religious schools are worried that their bans on same-sex relationships or their policies on housing for married students would jeopardize their tax-exempt statuses.
"I am concerned, and I think I'd be remiss, if not naïve, to be otherwise This is not alarmist thinking. This is rational listening," said the president of Oklahoma Wesleyan University, and she is right. There is legal precedence to back this up. A 1983 Supreme Court decision held that colleges were not entitled to tax-exempt status if they barred interracial marriage or even dating among members of different races.
While it is reasonable to apply that same logic to a ruling on same-gender marriage and dating, you would first have to concede that views barring same-sex relationships share a very relevant similarity with racism. You would essentially be making a point against the merits of your own views.
Conservatives Brace for Impact
A number of states who would be affected directly by the Court's ruling who had bans on same-sex marriage in place have already begun attempting to circumvent the ruling. We've seen an interesting phenomenon in some of these areas... State Attorney Generals, upset by what they feel is an "Activist" ruling on behalf of the court, have become "Activists" themselves ... seeking to create systems that would allow them to circumvent a Federal decision.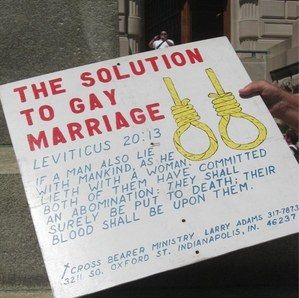 Utah
Republican Senator Mike Lee of Utah has proposed legislation that would, among other things, prohibit the federal government from denying or revoking the tax-exempt status of any institution based on its policies on same-sex relationships that are informed by religious beliefs.
Leaders of more than 70 religious schools have signed a letter asking Senate majority leader Mitch McConnell and Speaker of the House John Boehner to support Senator Lee's bill. This letter was drawn up by the Family Research Council, an organization that stands up for traditional family values, such as those held by their former executive director of political action and known child molester, Josh Duggar.
Alabama
Others with political power are already preparing to defy the law of the land. Chief Justice Roy Moore of the Alabama State Supreme Court plans to continue to hold marriage hostage for all citizens, gay or straight whatever it takes to ensure that same-sex couples remain disenfranchised.
Michigan
Bill Schuette, the Republican Attorney General of Michigan, has already convinced many clerks that they cannot issue marriage licenses to same-sex couples, regardless of the Supreme Court ruling. The Governor of that state has expressed a desire that his state's agencies comply fully and immediately.
Kentucky
In Kentucky, we've been made aware of several county clerks refusing personally to provide marriage licenses to same-sex couples. In an effort to avoid charges of discrimination, some of these county clerks have decided to stop offering marriage licenses altogether. However, both the state's Attorney General and its Governor have issued instructions to these clerks to perform their duties, and warned them that refusing to do so could open them up to legal action.
Louisiana
In Louisiana, Attorney General Buddy Caldwell made a statement in which, while he acknowledges the ruling of the Supreme Court, he expressed that he did not feel as though it including any language that would compel his state to begin offering these marriages anytime soon. He reportedly advised county clerks to wait as long as 25 days before issuing licenses to same-sex couples.
Texas
In Texas, Republican Attorney General Ken Paxton has suggested that officials, like judges and clerks, need not issue marriage licenses to same-sex couples if they feel that it violates their personal religious beliefs. Mr. Paxton went so far as to promise that he had a cadre of lawyers ready to represent any official, pro bono, who was charged with a crime for refusing to issue a marriage license to a same-sex couple.
Tennessee
Additionally, we've heard reports that the Attorney General for Tennessee (Herbert Slatery III) has recently ordered county clerks in the area, at the request of Republican State Senator Todd Gardenhire, to stop accepting weddings performed by Universal Life Church ministers as valid this based on an opinion he updated earlier this year. Herbert Slatery III and Gov. Bill Haslam each publicly expressed anger at the court's ruling. Many have suggested, knowing that ULC ministers perform a large proportion of gay marriages, that the timing of this opinion's enforcement seems suspicious given the SCOTUS ruling.
Nationwide
Presidential Hopeful Ted Cruz is turning his focus on restructuring the predominately Conservative Supreme Court itself. He now calls for periodic judicial retention elections doing away with the Constitutionally-provided lifelong terms for Justices.
What All of This Means for You as a Minister
So how does this ruling affect you as a ULC minister? It doesn't unless you want it to! Aren't comfortable performing same-sex ceremonies? That's okay, you can say no to any wedding for any reason and the law does not penalize you for doing so, and we are happy to maintain your ordination. Don't want to preach that every couple that can legally marry is morally up to your standards? Then don't.
If you, however, are a minister that supports marriage equality, and have lived in a state that barred you from free exercise of your religious practices in what weddings you were allowed to perform, that burden has now, theoretically, been lifted. We are proud as a church that now all our ministers can speak their truth to power. No matter your stance on the issue of marriage, you are free set your own course.
Even legal experts are still unsure exactly what the consequences of the actions of various activist attorney generals are going to be in Conservative states who are still attempting to bar gay marriages from happening - like Ken Paxton in Texas. What is fairly clear is that the Supreme Court and the Constitution do ultimately have authority over Ken Paxton and any county clerk in Texas.
If you are located in one of the 'problem' states mentioned above and a marriage, same-sex or otherwise, that you are attempting to perform is denied, please contact our office immediately.
Sources:
Slate
New York Times