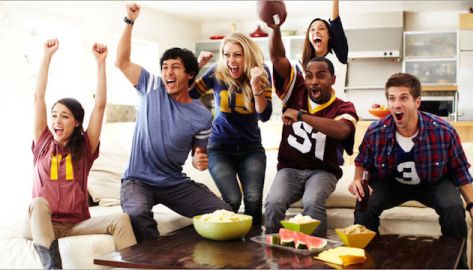 When you think of Sunday, one of two things likely come to mind. Perhaps you think of going to church with your family, like you may do every Sunday. However, there is another activity that takes place approximately five months out of the year that captivates a huge percentage of Americans. You guessed it: Sunday football. The NFL has a pop-culture draw unmatched by any other sports league in the U.S., exemplified by the well-over 100 million Americans who tuned in to watch Super Bowl 50.
Some people may feel torn when they have a church service at 11:30 but their team's football game starts at 12. Sure, you could always record it on the DVR, but that's hard to do during a live game, and you will likely be tempted to check the score from your phone during the service. In fact, there is a real argument to be made that football is better at bringing people together than church is.
More Accepting
When you think about it, it's really not surprising people feel this way. When you go to a football game, suddenly you are best friends with tens of thousands of other people in the stadium. These people don't care about your gender, sexual orientation, race, or religion. All they care about is that you are supporting the same team. It is a bond that can last for life. It sounds silly, but it's amazing the extent to which mutual support for a team can draw people together.
Church Troubles
Today, more people than ever before are choosing not to attend church. Maybe they simply don't enjoy it, or maybe they haven't been accepted into a church because of their lifestyle. There are a lot of different lifestyles that certain denominations have trouble with. One of the most common is the refusal to accept members of the LGBT community or views on contraception and abortion. Many religions teach that homosexuality, condoms, and abortions are sins, and that can be ostracizing to some. Thankfully, there are plenty of churches who accept people for who they are.
Nice Escape
Watching a football game on Sunday afternoons can be a great escape. Whether you are watching from home or are physically at the game, it is a wonderful way to forget about the everyday stresses of life, including work, health, and personal relationships. Going to church doesn't necessarily do that for people. While some might find comfort in going to church and having people pray over them, it can also be a great source of anxiety.
Football Watching Parties
One of the most widely watched television events is the Super Bowl. Even people who don't care about sports attend Super Bowl parties, even if it's just an excuse to get together with friends. Companies spend millions of dollars just to get a 30 second commercial that will air during the Super Bowl. In fact, it is now expected that the commercials you see during the game will be the best you see all year. Why do advertisers put so much money and energy into these commercials? Because they know they have a larger audience now than they will at any other point in the year. The Super Bowl brings the American people together for one Sunday every year it is a massive cultural event comparable only to the World Cup in terms of popularity.
Die Hard Fans
You probably know at least one person who is a die-hard fan. It seems these people will do anything for their team:
They probably have season tickets and attend nearly every game.

They may not wear anything but sports memorabilia.

They may even have a tattoo from their team's championship.
Some people really do enjoy football that much. However, some may do it because it is a distraction from everything else they are dealing with. They might feel the most accepted when they are supporting their team on Sunday afternoons, so they have thrown themselves into it completely. In the past, this was a central function of church services. In some ways, football has supplanted that.
Even though churches are left competing with the NFL for America's attention on Sundays, church still does have its place. There are many people who do not enjoy football, and those who will put their beloved team on hold to attend a church service. Still, it's interesting to think about how much more accepted people might feel watching a football game than they would attending a church service.