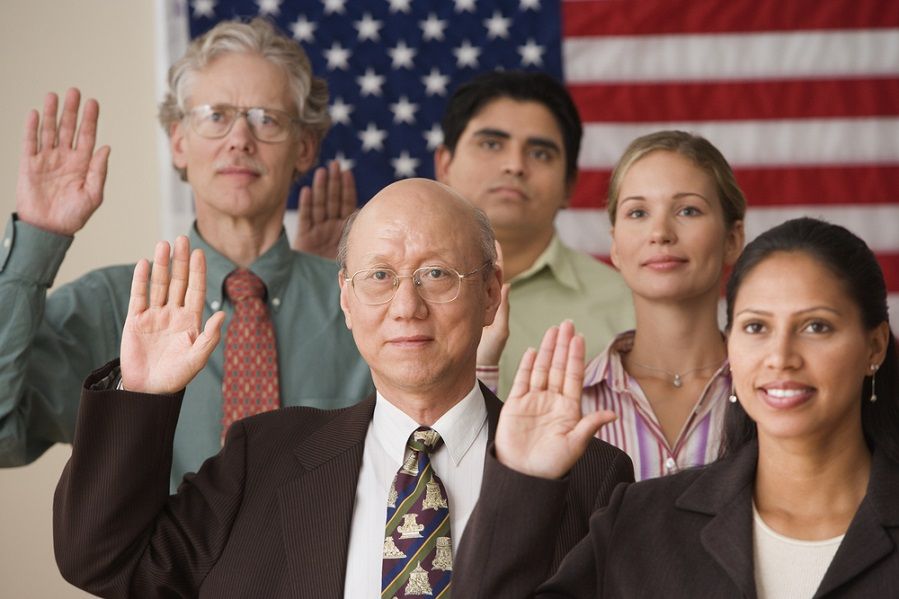 ---
Olga Paule Perrier-Bilbo is a French green-card holder on the verge of becoming a full-fledged U.S. citizen. All the paperwork is in order, and there's just one thing left to do: take the oath of citizenship.
But therein lies the problem.
As an atheist, Perrier-Bilbo is uncomfortable with the phrase "so help me God," which appears in the oath. Although she was given the choice to use a modified oath and avoid speaking the phrase, Perrier-Bilbo declined, insisting that she didn't want to feel any "less American" than the millions of other people who have taken the oath.
Instead, she's filed a federal lawsuit arguing that the inclusion of God in the citizenship oath violates the Constitution and demanding that the phrase be permanently removed.
Her lawyers claim that "the current oath violates the first 10 words of the Bill of Rights, and to participate in a ceremony which violates that key portion of the United States Constitution is not supporting of defending the constitution as the oath demands".
What's More American Than Sticking to Your Guns?
Unsurprisingly, news of the lawsuit irked a lot of people. A typical response looked something like this:
"Why should anyone listen to an immigrant complaining about a single optional line in an oath? But that aside, it takes a lot of nerve to take an offer of citizenship and turn it around into a lawsuit against the government. This is America, after all she should be happy to be here!"
Others came to her defense, however. They point out that in her defiance, Perrier-Bilbo is actually exhibiting quintessential American behavior: a refusal to back down, and a stubborn commitment to the rights bestowed by the constitution. In that sense, they argue, the lawsuit might actually make her more American than your run-of-the-mill citizen.
This commitment to secular ideals highlights an ongoing debate in America over the relationship between religion and government.
Does God Belong in Government?
The lawsuit is far from the first of its kind. America has a long history of legal cases seeking to remove mentions of God or religion from functions of government.
In the early 1960s, mandatory bible readings were banned in public schools. Religious symbols, such as nativity scenes and statues of the Ten Commandments, have largely been outlawed on government property over the years. The words "Under God" in the Pledge of Allegiance, once obligatory, are now optional.
However, the courts have stopped short of completely cutting ties between government and religion. For example, legal efforts to permanently remove God from the Pledge of Allegiance have proven unsuccessful.
America the Faithful
The country appears to be moving toward a crossroads. The existing links between Christian religious identity and American cultural identity remain intact, but they are showing signs of fraying at the edges. Fewer and fewer people identify as Christian, and those who do are far less likely to attend church on a regular basis than their parents.

Is it only a matter of time before phrases like "under God" and "so help me God" are removed for good? More importantly: is that a goal we should strive for, or do such religious references still have value?