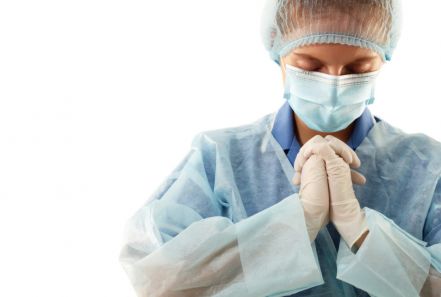 A former nurse who worked in the hospital at Duke University has filed a federal lawsuit alleging religious discrimination.

The woman, Sara Pedro, claims that Duke violated anti-discrimination laws by refusing to accommodate her religious objections to aiding in abortions, administering vaccinations and distributing birth control. The lawsuit contends that Duke University's actions as an employer violate the religious-discrimination section of the 1964 Civil Rights Act. Pedro is seeking back pay as well as other damages from the hospital.
Pedro, who is a devout Catholic, explains that rather than assigning roles or duties to better suit her religious needs, the hospital instead placed her on unpaid administrative leave. While all her fellow nurses have been busy climbing through the nursing ranks, Pedro complains she's being left behind due to her religious beliefs.

Religious Freedom at Issue
As a Catholic, her opposition to abortion services is fairly self-explanatory. In a similar vein, the Vatican still considers any form of contraception to be a sin. By preventing pregnancy, birth control stops life from forming a bold affront to "God's design".
But what about vaccines? What do they have to do with the Church? Well as it turns out, some vaccines are developed using the tissue of aborted fetuses. The Catholic Church has since ruled that some vaccines (most notable the one used to prevent rubella) are morally questionable.
Interestingly, scientists point out that women who get infected with rubella face a much higher risk of miscarriage, and it's estimated that vaccination prevents over 5,000 miscarriages per year in U.S. alone. Ironically, by opposing vaccines on the grounds of abortion, the Catholic Church may be inadvertently causing more babies to die.

Does She Have a Shot?
All that aside, does Sara Pedro have a case? According to experts, she just might.

The Civil Rights Act of 1964 stipulates that employers must give "reasonable accommodation" to their employees' religious beliefs. Most often, these accommodations involve taking time off for specific religious holidays. However, it's not uncommon for workarounds to be created in response to certain duties or tasks that interfere with a worker's religious views.
As specified by the U.S. Equal Employment Opportunity Commission, "an employer does not have to accommodate an employee's religious beliefs or practices if doing so would cause undue hardship to the employer." Therefore, the lawsuit will likely revolve around whether finding an alternative role for Pedro would constitute "undue hardship" for the hospital.
It's worth noting that assisting in abortion services, giving vaccines, and providing birth control are common medical duties central to any nurse's job description. The hospital could reasonably argue that if Pedro doesn't feel comfortable doing any of those tasks, perhaps she shouldn't have become a nurse in the first place.
Religion in the Workplace
In today's politically-charged environment, most companies seem perfectly happy to make accommodations for people's religious beliefs. After all, what organization wants to be viewed as intolerant?
But in the case of certain industries in medicine, for example where the stakes are high and the margin for error small, it makes sense why employers might not bend over backward for an employee's beliefs, especially when those beliefs prevent that person from performing essential functions of their job.
However, the judge may not see it that way, and the court's ruling could set an interesting precedent for other cases involving religious freedom in the workplace.
**Where do you stand? Should nurses be given special religious accommodations, even if doing so inhibits patient care?
**