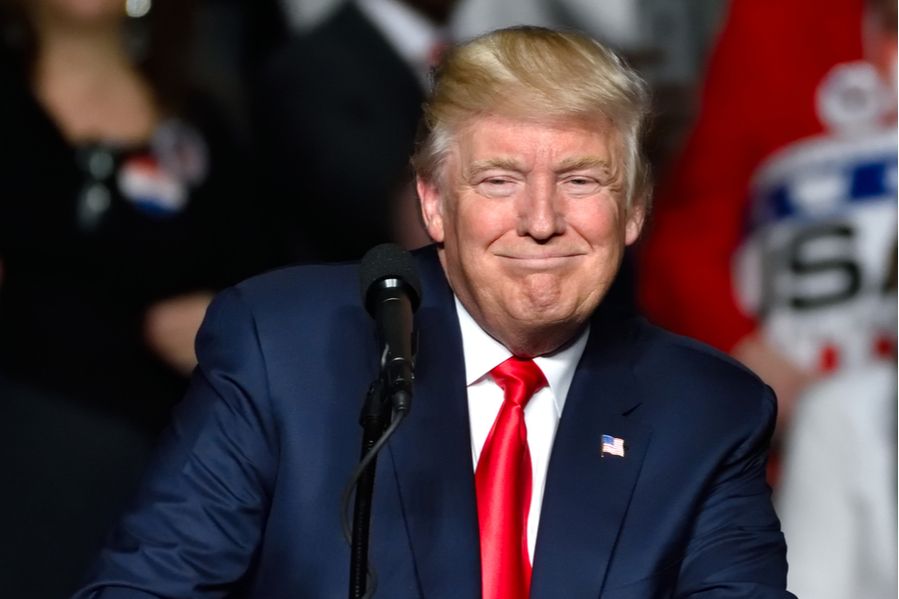 Is former President Donald Trump the second coming of Christ? That's what a now-removed billboard in Georgia would lead you to believe. 
The billboard featured an image of the former president alongside a piece of scripture:
The billboard quickly garnered backlash from individuals across the political and religious spectrum. The reaction was so strong, in fact, that the message was promptly taken down. 
Does Jesus Live in Trump Tower?
"Unto us a son is given and the government shall be upon his shoulders" read the billboard, next to an image of a beaming Trump. It is attributed to Romans 8:17.
Many critics were quick to point out that Romans 8:17 says nothing of the sort. That particular line of scripture is from Isaiah 9:6, which reads, "For to us a child is born, to us a son is given, and the government shall be upon his shoulders. And he will be called Wonderful Counselor, Might God, Everlasting Father, Prince of Peace."
The backlash online was swift. "Very much an Antichrist vibe," wrote one Twitter user. "Is that from the Book of Griftians?" pondered another.
Many Christians also chimed in, some supporters of President Trump who nevertheless objected to the "sacrilegious" and "blasphemous" comparisons between President Trump and their lord and savior.
The billboard company, Reagan Outdoor Advertising, confirmed that they'd removed the billboard over the weekend following the overwhelmingly negative response.
While the billboard generated plenty of controversy online, it's worth noting that it's not the only time a president has been positively compared to Christ. In fact, there's another president who received many Christly comparisons himself.
Obama as Christ?
Former president Obama elicited similar comparisons during his time in office. 
"First of all, give an honor to God and our Lord and Savior Barack Obama," said actor Jamie Foxx famously quipped back in 2012 – prompting outrage from Christian groups at the time.
And in that very same year, a painting by Michael D'Antuono showing President Obama wearing a crown of thorns and posed as if he were on the cross got the New York-based artist some 4,000 email complaints, "mostly from the irate Christian Right who misinterpreted the art as blasphemy," he stated.
Shortly after Obama's election, actress Susan Sarandon favorably compared Obama's community organizing past to the work Jesus did. Those Obama-as-Christ comparisons were roundly criticized as false and blasphemous comparisons by faith groups. 
While one could argue that such comparisons represent a sincere belief that messianic figures are walking the earth with us, a cynic might suggest that it's a quick and easy way to get attention. 
Meanwhile, students of history caution that elevating a politician to the level of a spiritual messiah has rarely ended well for all involved. 
What is your take?