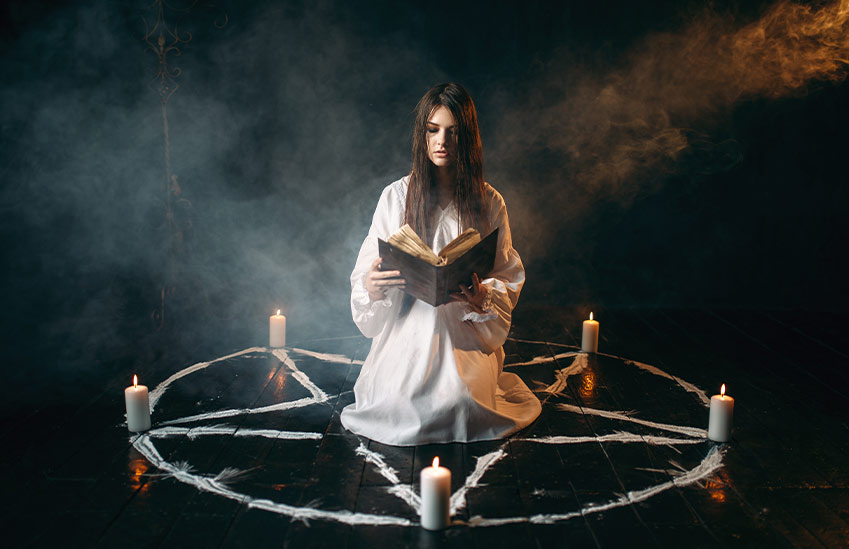 ---
True to its own dark humor, the Satanic Temple is ruffling Catholic feathers once again after announcing it will host its first "Black Mass" in Canada.
The private ceremony will be a 50-seat pre-registered affair that will include chants, burlesque, a "Satanic Unbaptism" and a sock drive for homeless shelters. Ottawa's The Koven will hold the event on August 17, a heavy metal bar whose menu includes various grilled Cheesus sandwiches, a Lamb of God baguette and a Baphomet Burger.
Described simply, a black mass is really just a modern inversion - or parody - of the traditional Latin Roman Catholic Mass. While there is no set format or guidebook, it will often include music, chants, and the desecration of Christian symbols.
Demons, Sacrifice, and Sexual Rituals, Oh My!
Event organizers say there's nothing to be afraid of, despite the scary name. They're describing the upcoming Black Mass as "an expression of personal liberty and freedom." Still, while the Ottawa event is unlikely to contain anything terribly objectionable, historical instances of so-called black masses have also included demon worship, child sacrifices, and bizarre sexual rituals.
In the fourth century, Heresiologist Epiphanius of Salamis, for example, wrote of a libertine Gnostic sect known as the Borborites that would smear their hands with menstrual blood and semen and consume them as the respective blood and body of Christ during their Eucharist. British occult historian Richard Cavendish, meanwhile, penned a "factual" secondhand report by a French journalist who attended a black mass in 1889 and then wrote about it in Le Matin. The account detailed how an orgy ensued after mass was read over the naked body of a woman stretched out on an altar.
Mass Controversy
Modern black masses continue to prove equally controversial, if less eventful.
One held in Oklahoma City in 2014 attracted hundreds of protesters, including a Catholic protestor named Francis Slobodnik, who drove in all the way from Kansas simply to decry "the most grievous offense against God you can commit." Harvard University also moved a similar event off-campus due to public pressure.
The Satanic Temple uses such emotionally charged events to make statements about the place of religion in modern society.
It erected a sculpture celebrating Satan, called "Knowledge is the Greatest Gift", in the Illinois Capitol rotunda holiday display, and filed a lawsuit against the state of Missouri challenging their "informed consent" laws for abortions.
Delightfully Devilish
National Coordinator for the Satanic Temple in Canada Nicholas Marc hopes to assuage fears that his group has ill intent. He insists most Satanists in his group worship individual liberty more than they do the devil as some purveyor of cosmic evil.
"We do not believe in harm to any being what so ever. It's not meant to be an attack on another group. It's supposed to be cathartic for those who practice it."
So what's the big deal? Do Catholics have a right to fear black masses, or are they playing right into the devil's punch line?
UPDATE: August 20, 2019
As expected, Christian protesters turned out in droves on Saturday night to protest the event that was designed to elicit that exact reaction. Coming from as far away as Toronto, seven priests and over 120 Catholics stood on the steps of the Notre Dame Cathedral near the Koven bar where, inside, the Black Mass took place. "It's a blasphemous act," proclaimed protester John Pacheco to CTV News Ottawa. Pacheco, who blogged about his experience, said protesters arrived to show both their "opposition and also our love."
While the actual events of the Black Mass are currently shrouded in mystery, organizer Nicholas Marc said they "had a full sold-out crowd. We sadly were not able to let everyone in who showed up, but the response was overwhelming. We did it."