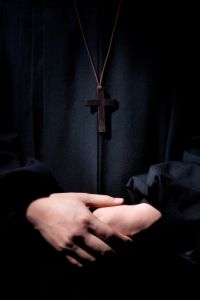 Ministers ordained online have long performed weddings, baptisms, and funerals, but what about exorcisms? Does battling "demonic possession" have a legitimate place in church operations, or is it a dangerous throwback to medieval superstition? Writer and civil rights activist Eliyahu Federman has criticized the recent resurgence of the centuries-old practice, arguing that it mocks religion as well as modern-day medicine. His concerns force us as Universal Life Church to ask ourselves whether exorcism a legitimate religious sacrament.
Evil Spirits and Mental Illness
Contrary to the popular assumption that age-old church traditions are dying out, exorcism appears to be on the rise. According to Federman, a growing number of dioceses across Spain and Italy are granting ordained priests the authority to perform exorcisms, and the Pew Research Center reports that 68 percent of Americans believe the world is influenced by angels and demons. While the Catholic Church rejects most claims of demonic possession, it still regards a minority of claims as legitimate cases of possession, and it attributes the growing number of demonic cases to a growing interest in black magic, spirit boards, and paganism.
For Lederman, mental illness and the influence of popular culture are the more plausible explanations for the demonic possession phenomenon. Misdiagnosing mental illness as demonic possession has had tragic consequences, he argues. In 2003 church members killed an 8-year-old autistic boy during an exorcism in an attempt to rid him of a demon they believed was causing his disability. In 2010 relatives beat to death and drowned a 14-year-old English boy in an attempt to exorcise his evil spirit, and in 2013 a man was convicted of beating to death his two-year-old daughter in an exorcism ritual.
The Role of Ordained Ministers
When confronted with such cases, ordained ministers and the churches they belong to have a crucial decision to make: they can resort to methods mired in medieval superstition, or they can refer cases of demonic possession to the appropriate professionals. Sometimes this means offering their own services in the form of emotional and spiritual counselling and support, but often it means consulting a mental health professional with the knowledge and training necessary to diagnose and treat sufferers. Never does it mean physical or psychological abuse.
Indiscriminately diagnosing abnormal behavior as demonic possession has terrible consequences, and we should avoid it as ministers. But what about genuine cases? If there are genuine cases of demonic possession, how would we know, and how should we handle them?
Source:
The Huffington Post