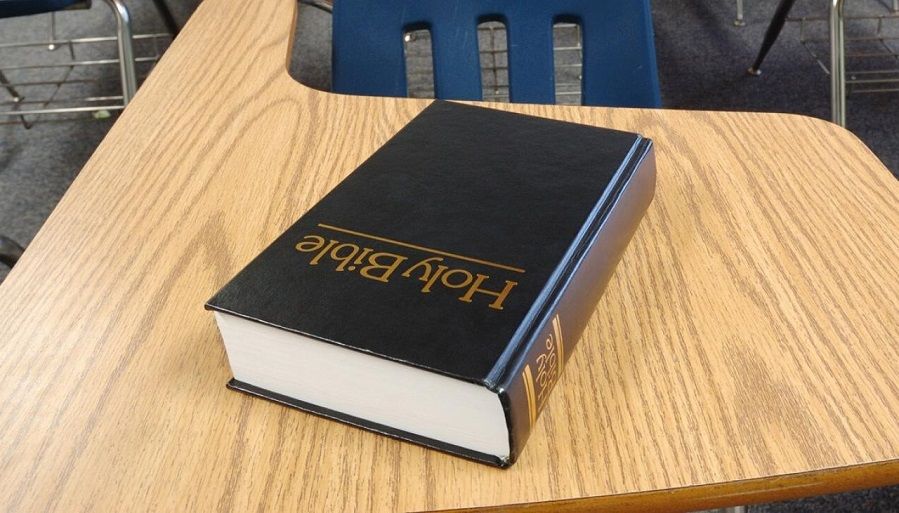 ---
The law is clear: government must remain neutral on religion and is forbidden from favoring any one faith over another. But that certainly hasn't stopped religious folks from trying to inject their views and beliefs into the public sector. And perhaps nowhere is this more evident than in the nation's school system.
If you think about it, the classroom is the perfect breeding ground for religious propaganda. It's filled with young, curious, impressionable children ready to have their brains molded in any which way. And while some schools manage to abide by the law and stay neutral when talking about religion, others consistently struggle to do so.
Students especially those who live in heavily-religious communities can be subjected to innumerable religious overtures while at school. Below are just a few recent examples that have made headlines.
Ten Commandments Bill
The first story involves a bill proposed in Tennessee that would require the Ten Commandments be placed in every school statewide. State Rep. Credell Calhoun (D) introduced House Bill 1100, which would impose the following three requirements on all public schools:
A mandatory 60-second moment of reflection must be held every morning

Schools must place a poster featuring the Ten Commandments and the words "IN GOD WE TRUST" in every classroom, auditorium, and cafeteria.

At the beginning of each school day, teachers must recite the Ten Commandments aloud to their classes. However, anyone who objects can be excused from the activity.
Supporters of the lawmaker praised his efforts to stand up for their religious convictions, but it's unclear if the bill has a serious chance of passing. Critics scoffed at the idea of the Ten Commandments in schools, characterizing the idea as an unconstitutional government endorsement of Christianity.
Christian Retreat Canceled
A public school district in California was forced to cancel a field trip to an outdoors camp after the Freedom From Religion Foundation (FFRF) filed a complaint back in December. The Dixie School District had been planning a retreat for a group of fifth graders at a well-known camp called Alliance Redwoods. So what was the issue?
It turns out the camp has an overtly Christian message, and will only hire Christians to work there. The mission statement says it all: "A place of renewal where our guests meet the Creator in his Creation."
Rather than argue the complaint, the school district responded that it was canceling the trip.
Islamic Indoctrination
Last year a group of parents in New Jersey alleged their children were being indoctrinated with Islamic messages. During one religious studies class, students were shown a cartoon explaining the five pillars of Islam and given a homework assignment with fill-in-the-blank questions such as "There is no god but ____ and ____ is his messenger." The correct answers were "Allah" and "Mohammed."
School district officials explained that since the course covered the basic belief systems of all major religions, Islam had to be taught as well. But the parents said the assignments went too far, and risk brainwashing kids into thinking Islam is the only correct religion. They are now pursuing legal action against the school district.
Why Not Stay Out Entirely?
While the law might seem straightforward on the issue of religion in schools, in reality things aren't so clear cut. Given this grey area and religious folks' propensity to exploit it some people question why public schools should even get involved with religion in the first place.
What if the topic was avoided entirely? Well, banning all religions could potentially prevent students from being indoctrinated by one religious message or the other. But skeptics point out that Communist China has tried to enforce a similar ban, and the results haven't been pretty.
Thoughts?