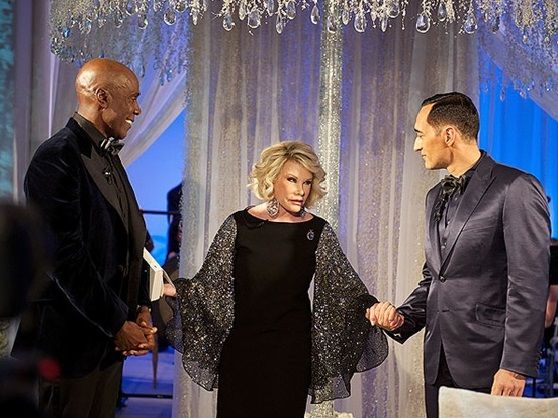 On the afternoon of September 4, 2014, we lost one of our most cherished Universal Life Church ministers, Joan Rivers. Joan passed away, at the age of 81, from complications encountered during vocal cord surgery. This loss is particularly painful for our church family because our Board Vice President Bruce Taylor, who began his publishing career in Las Vegas (where Joan frequently performed), was quite close with the fiery performer. Joan became ordained online with the Universal Life Church on February 6, 2013 and used her ordination to perform weddings for several couples, many of whom were gay, over her year-and-a-half ministry.
Indeed, Joan was a prolific advocate both for the religious freedoms protected and provided by an online ordination and for marriage equality. Reverend Joan took enormous joy in making the wedding days of couples as special as she could, and went out of her way to donate her services as a legal minister to lovebirds sometimes officiating weddings on the spur-of-the-moment. At a book signing Joan held earlier this year, she married a couple who approached her table for an autograph. When that couple realized that some of their paperwork wasn't filled out properly, Joan readily agreed to solemnize their wedding ceremony again to ensure that the union was properly formed.
At the Universal Life Church, we occasionally hear complaints from ministers when we reference weddings performed by any one of our dozens of celebrity ministers. Many of these ministers fear that when celebrities get ordained online and solemnize weddings it makes a joke or mockery of their own ordination; we believe the opposite. Celebrity ministers like Joan who use their legal ordinations to solemnize lawful weddings, particularly when they do so from their highly visible platforms, they bolster the ordinations of all ULC ministers by asserting the validity of these ordinations in the public eye and demonstrating that any individual can and should have the freedom to lawfully officiate loving marriages.
While we remember Joan most fondly as an active and charismatic ULC minister, most of the world knew Joan as a fiery comedian. Several of us grew up with Joan on our television screens, especially during her long tenure as Johnny Carson's frequent substitute on The Tonight Show. Joan was one of the hardest working people in show business, and a beloved pioneer for female entertainers worldwide. Joan began her career in stand-u in the early 1960's, and never really stopped performing up to her death Joan was still doing regular dates across the country, starring in a self-titled reality show with her daughter Melissa, and acting as host of both an online chat show, "In Bed with Joan Rivers" and the wildly popular panel show "Fashion Police".
Joan, with her rapier wit and her brash diatribes, brought laughter to millions around the world. As a minister, Joan worked tirelessly to support love regardless of the form it took and inspired all of us to give more of ourselves to generate joy for the people around us.
Rest in peace, Reverend Joan, you will be sorely missed.