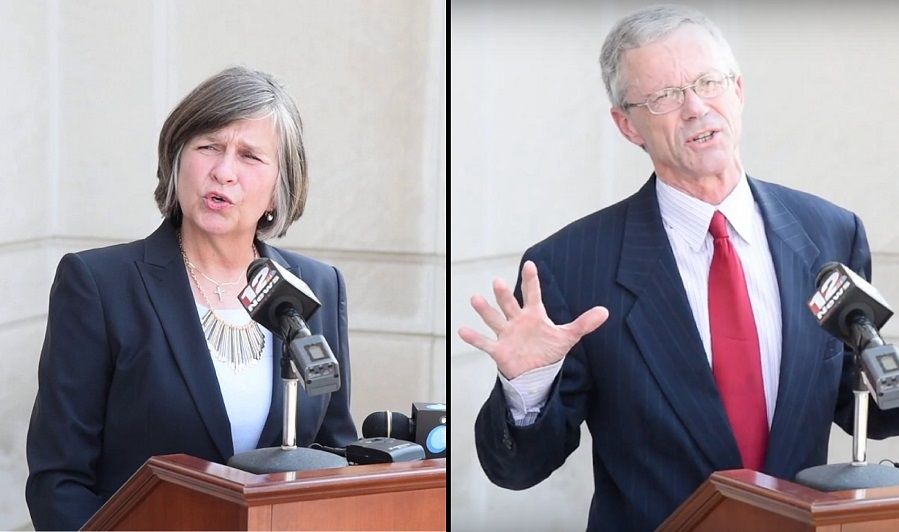 A 12-year-old Alabama girl who was raped and impregnated by an adult relative was publicly shamed as a "murderer" by a local anti-abortion group after deciding she wanted to terminate the pregnancy. Lawyers representing the Christian-run COPE Pregnancy Center in Montgomery, AL held a public press conference after a court ruled the girl could have an abortion without parental consent.
Standing before TV cameras, Attorneys Win Johnson and Lorie Mullins denounced the ruling, arguing that the girl should be forced to carry the child to term. On scene for the press conference, AL.com reported on the emotionally-charged event:
Johnson said it's stunning that courts would issue an opinion saying that a 12-year-old "was mature enough and I'm going to put this in its starkest terms to decide to murder her own child in her womb."
"Now, nobody has said that to her, I bet you, in any of her counseling," Johnson said. "Nobody has explained that to her in its starkest, rawest form, like that. But what if it was, what if she really thought through it, even as a 12-year-old and said, 'Gosh, I don't want that on my conscience.'
A Controversial Past
Interestingly, Win Johnson served as a legal director under former Alabama Chief Justice Roy Moore - who, if you'll remember, was the subject of national controversy after his Senate campaign was derailed following a series of accusations involving sexual misconduct with underage girls.
Johnson made headlines back in 2015 after penning a public letter calling on Alabama public officials to ignore the Supreme Court ruling legalizing gay marriage and instead follow "God's law". Among the most eye-raising passages was the following:
Public official, what will you do? Will you stand up for the law of Alabama, for the people, for the weak and vulnerable, for the law of God? Or will you capitulate? Will you become complicit in the takeover by the wicked? "I must follow the law," you say. Law? What law? There is no law anymore, there's just opinion. One day this, one day that. When the law becomes merely the opinion of a handful of people on the courts, there is no longer any law. There is tyranny. There is chaos. But there is no law.
What is COPE Pregnancy Center?
Lorie Mullins is the executive director of the COPE Pregnancy Center in Montgomery, one of many "crisis pregnancy centers" across the U.S. which have been the target of criticism for their deceptive tactics and track record of distributing misinformation. These centers are known to lure pregnant women with promises of medical care, then lecturing them on the horrors of abortion once inside.
Mullins took a strong stance on the matter, saying:
"She has been victimized her entire life. And now she's being put in the position of being the perpetrator of this newest violence, because that's what's going to happen. Whether she grasps it now, there's a point in her life where she is going to understand what she has done and how it is going to impact. The depression, the substance abuse that happens so often, the problems with future relationships."
The Critical Question
Whether you see the lawyers from COPE as vile, backwards-thinking zealots or righteous warriors for the pro-life movement will probably depend on your answer to a single important question: when does human life begin?
If you believe life begins at conception, then ending a viable pregnancy no matter the situation surrounding it is tantamount to homicide. In that case, preventing any abortion is an inherently positive thing.
On the other hand, if you believe life begins at some point after conception and that women's rights take precedence over those of a fetus, then you'd likely be horrified to see a young girl (especially one who became pregnant through no fault of her own) forced by the government to carry a child to term.
**Do Rape Victims Have Rights?
**
Many of those on the fence about abortion believe that individual circumstances matter. Surveys consistently find that a solid proportion of people who oppose abortion in general are willing to make certain exceptions such as in cases of rape.
In this particular scenario, critics point out, we're dealing with a vulnerable 12-year-old girl being publicly skewered for refusing to keep the incestuous child of her rapist - a child that would forever serve as a reminder of the terrible abuse she suffered. Even some of the staunchest pro-life advocates might balk under these circumstances.
Yet Johnson and Mullins were undeterred, arguing that the victim was nowhere near mature enough to decide whether an abortion was the right decision.
Which side do you fall on?