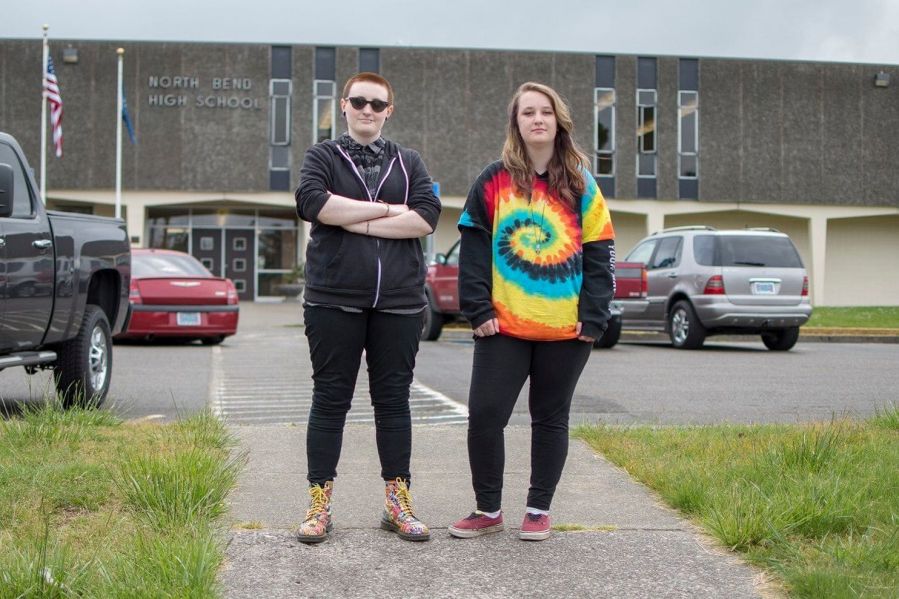 ---
An Oregon high school has come under intense scrutiny amid reports of ongoing harassment and intimidation of LGBT students. After years of enduring abuse from classmates, teachers, and administrators, two brave students recently went public with their story about the toxic environment at North Bend High School in western Oregon.
In an eye-opening letter published by the ACLU, student Liv Funk recounts the daily discrimination, humiliation, and even violence that she and her girlfriend, Hailey Smith, faced while attending the school.
After coming out as gay, Funk, who was a sophomore when the harassment started in 2015, essentially became a pariah in the halls. "People would turn their backs to me and fake-cough while saying [a gay slur]," she wrote. "If I happened to sit next to a girl, they'd make a big show of moving away."
But things only got worse from there.
Moving Toward Violence
According to Hailey Smith, one day in the school parking lot, the principal's son sped toward the couple in his car.
"We thought he was going to hit us. Instead, he drove right up next to us, yelled out 'faggots' and veered away," wrote Smith. "It was terrifying. I realized that discrimination and people's opinions here are really so strong that somebody could get hurt. I could get hurt just for being myself."
Another humiliating incident stuck out in her mind, this one involving the school principal himself:
"When I told the principal that my civics teacher called me out in front of the whole class and said same-sex marriage was 'pretty much the same thing' as marrying a dog, the principal told me 'everybody has the right to their own opinion,' " Smith explained.

Reading the Bible as Punishment
In the aftermath of an investigation into the students' claims, principal Bill Lucero was forced to resign. Apparently, this wasn't the first time he'd put his bigotry on full display. On a previous occasion, Lucero had reportedly forced a bisexual student to read the Bible as "punishment" for going against biblical teachings.
Similar homophobic sentiments were expressed by other authority figures, say the students. After two boys hit Liv Funk with their skateboards and yelled anti-gay slurs at her, she reported it to the school police officer. But instead of coming to her aid, the officer, an ardent Christian, was indifferent. Funk described his horrifying response to her plea for help:
"He said that if I'm going to be an open member of the LGBT community that I should prepare for things like this. The officer said that being gay was a choice, and it was against his religion. He said that he had homosexual friends, but because I was an open homosexual, I was going to hell."
The Plight of LGBT Youth
Given all the progress that's been made over the past few decades, it's beyond demoralizing to hear stories like this. But these kids are not alone. According to the Human Rights Campaign, some 90% of LGBT youth say they've heard negative messages about their identities. They are twice as likely to be have been physically assaulted. The CDC found that LGBT youth are five times as likely to attempt suicide than their peers. Among the transgender community, 92% of the population reports having attempted suicide before the age of 25.
A Path Forward
As much as we'd like to think that our society has evolved beyond such needless hatred, clearly there is more ground yet to cover. Arguably more disturbing, though, is the use of religion to justify such offenses. No matter how you interpret the Bible's teachings, using them as a shield to condone harassment of others is about as antithetical to core Christian principles as you can get.