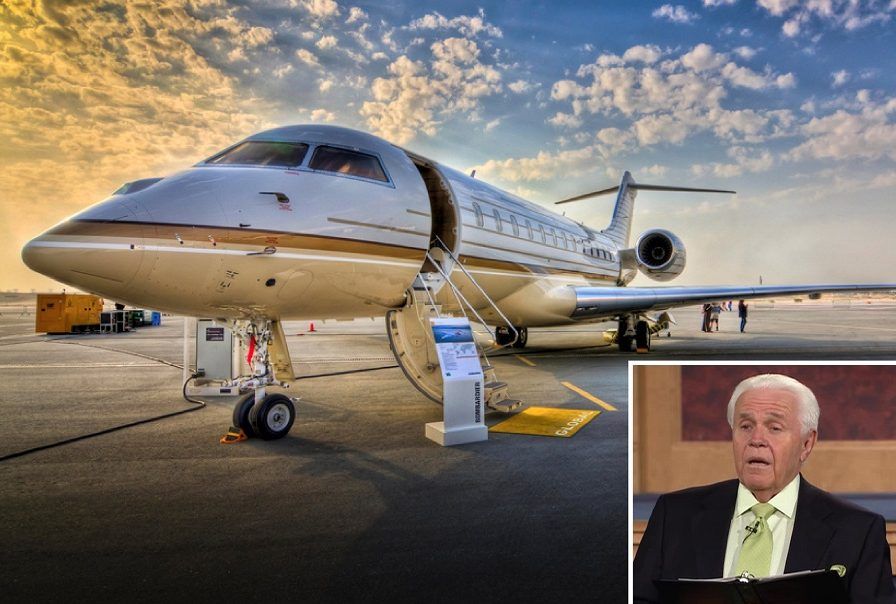 ---
Popular televangelist Jesse Duplantis apparently has quite a broad definition of "charitable giving." The Louisiana-based preacher recently asked his thousands of followers to make donations out to him for the express purpose of purchasing a $54 million private jet.
Duplantis explained that God wanted him to have the plane, as he needs it to spread the Christian message around the globe as effectively as possible.
"Now some people believe that preachers shouldn't have jets. I really believe that preachers ought to go on every available voice, every available outlet, to get this gospel preached to the world," he said.
But when it comes to actually paying for the private jet, God apparently made it clear that wasn't his responsibility. Duplantis claims God told him: "Jesse, I didn't ask you to pay for it. I asked you to believe for it."
**Would Jesus Approve?
**
Duplantis has been roundly criticized in the media this week, as many people see the request as a blatant attempt to exploit gullible followers into financing the preacher's extravagant lifestyle. Given the church's long history of milking believers for all they're worth, the story left a bad taste in many people's mouths.
Plus, critics point out, the idea of a man of God flying around in the lap of luxury is antithetical to the very biblical messages he claims to live by. How "holy" is it to travel by private jet, really? Wouldn't that money do a lot more good going to a worthwhile charity?
However, Duplantis doesn't see it that way. In fact, he readily compares himself to a modern version of Jesus to justify the controversial jet request:
"I really believe that if Jesus was physically on the earth today he wouldn't be riding a donkey. Think about that for a minute. He'd be in an airplane preaching the gospel all over the world."
Flying High
It's not clear how much money has been raised so far, though it's worth pointing out that this behavior is nothing new from the preacher. In fact, this would be Duplantis' fourth private plane all paid for by his followers. He claims this latest plane, the "Falcon 7X", will allow him to spread the gospel like never before: "We believe in God for a brand new Falcon 7X so we can go anywhere in the world, one stop," Duplantis said in message to his followers.



Watch "this Week with Jesse" as Jesse shows the importance of using aviation as an amazing tool for evangelizing the world! Tune in each Monday at https://t.co/hnG6BhPAvH or on our JDM App. Click to watch https://t.co/PLfSYt2A3U pic.twitter.com/sAvKskmokO


Jesse Duplantis (@jesse_duplantis) May 21, 2018
While he's clearly very convincing (you'd have to be, in order to get that many donations), not everyone is buying the message. One Twitter user criticized his greed by citing the Bible:



Jeremiah 6:13 ESV, "For from the least to the greatest of them, everyone is greedy for unjust gain; and from prophet to priest, everyone deals falsely."


TheLadyStranger77 (@LadyStranger77) May 29, 2018
Another accused him of being dishonest about his motivations:



Hey, why not be honest and tell people the truth, you want that jet and Jesus ain't got nothing to do with it


JasonBurris (@JasonBurris17) May 29, 2018
Prosperity Gospel
Jesse Duplantis is famous for preaching what's commonly known as the "prosperity gospel." Essentially, this is the idea that religious belief and financial success are directly related, and a person's wealth is just an expression of God's will. Don't scorn the ultra-rich, the thinking goes, they're obviously just holier and more in touch with God!
Judging by Duplantis' growing fleet of airplanes, not to mention the size of his house (seriously, Google it), he must have generated a boatload of favor with the big guy upstairs. Whether he will remain in God's good graces is yet to be seen.
---
[Update 6/5]: Amid growing criticism, Duplantis has since backtracked a bit. In a newly released video, the preacher told his followers: "I never raised money for the plane. I put it in our magazine and said believe God with me. There's a vast difference between 'believe in God' and asking for money."
However, if people offer up donations voluntarily, he says he won't turn them down. "A lot of people have called me and said 'I want to get involved in that new plane,'" Duplantis explains.