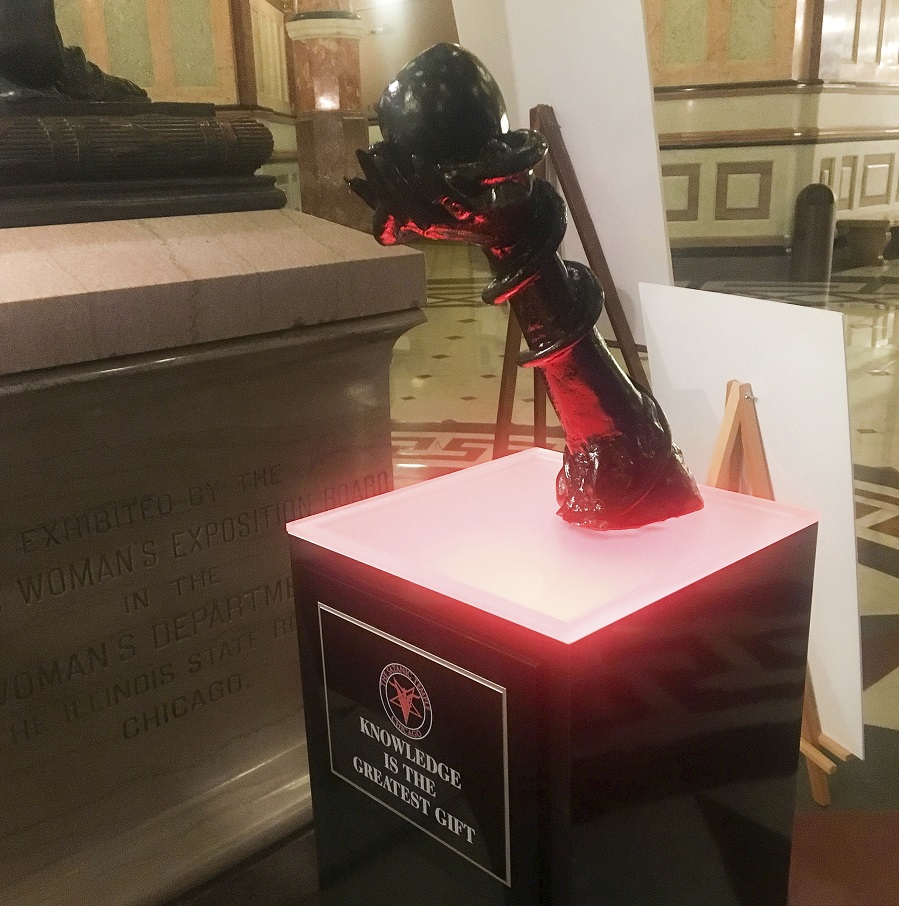 Back by popular First Amendment demand, the great gift of satanic knowledge will be shared for the second year running at the Illinois State Capitol rotunda. 
That's because a controversial 4 1/2-foot-tall sculpture from the Satanic Temple will return to this year to be displayed at the capitol building. The sculpture features the extended forearm of a young woman wrapped in a coiled snake, holding the same forbidden apple Adam and Eve plucked from tree of knowledge in the Garden of Eden. An accompanying plaque bears the message:
"Knowledge is the Greatest Gift."
Critics Lash Out
Upon the sculpture's debut last year, Satanic Temple spokesman Lex Manticore explained it was meant to remind us all that Satan was the true "hero" of the Genesis story.
This rubbed religious lawmakers such as Illinois State Senator Paul Schimpf the wrong way. Schimpf was apparently so upset that the so-called "Snaketivity" sculpture had been displayed next to the Nativity scene and other traditional holiday decorations, that he personally wrote the secretary of state demanding it be removed.
"The Satanic display should not have been approved. It does not celebrate or recognize the observance of a religious holiday. Instead, the display seeks to provoke and antagonize members of the Christian and Jewish faiths. As such, you would have been well within your discretion to deny that display request," he said.
That request ultimately did not stand up to First Amendment snuff, and the sculpture was allowed to remain.
Rebranding Satanism
It was a proud moment for the Satanic Temple, a group that has sought to downplay tired stereotypes of Satanists as Jesus-hating devil worshippers, preferring to use Satan as more of a metaphor – a historical character that encapsulates the rebellion against religious tyranny.
Under this rebranding effort, the self-described non-theistic organization has fought to end corporal punishment in public schools, challenge anti-abortion laws, and advocate for equal religious representation on public property to ensure the government doesn't end up playing favorites with certain faiths. Hence, 'Snaketivity.'
This latest strategy is part of a larger movement in the U.S. away from exclusive Christian holiday displays and towards the inclusion of multiple belief systems – even atheism.
Happy Christmas Holidays
In fact, a visit to this year's Iowa State Capitol rotunda will reveal a traditional Christmas tree surrounded by a record seven displays from atheist groups. These include messages including 'Joy to the world, reason has come!' and 'Everything Distinctive of Christmas is Pagan or Secular' spelled out in large text on white poster boards.
"These displays represent a wide swath of Iowa," says Justin Scott, the American Atheists' State Director. "Atheist and humanist, college-aged to the more experienced in life, queer and straight, transgender and/or nonbinary, Iowans of all backgrounds, races and socio-economic status."
Of course, such displays don't provide quite the same aesthetic qualities found in a lit Menorah or a decorated Christmas tree (not to mention being decidedly more boring than some of the eye-catching Satanic Temple sculptures). Is that reason enough to ask for their removal? Some lawmakers seem to think so.
But atheists argue that the aesthetics aren't important – it's the principle that counts. If other groups are allowed to express their beliefs in public spaces, then so should they. Full stop.
Where do you stand? Are you happy to see minority faith groups finally get their messages displayed on government ground, or does giving the green light to anyone who wishes to publicly dunk on religion risk taking the charm out of the holidays?