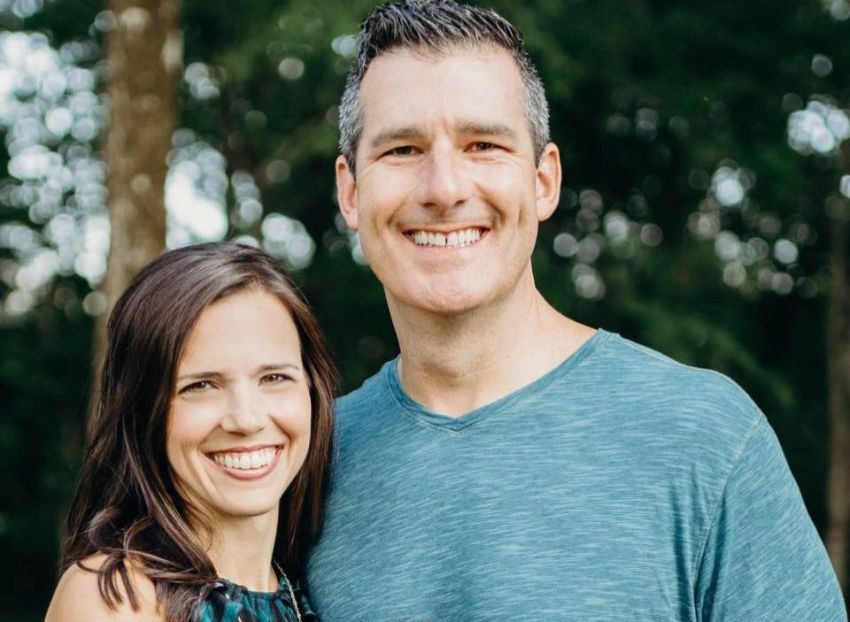 ---
The well-known megachurch pastor Andy Savage stood before his congregation last week and admitted to a "sexual incident" between himself and a 17-year-old girl back when Savage was a youth pastor. Apparently overwhelmed by his honesty, churchgoers gave the faith leader a standing ovation.
The Memphis-area pastor and father of five was forced to address the incident after a public accusation from the alleged victim, Jules Woodson. She describes asking Savage for a ride home one evening in 1998. He obliged, but before stopping at her house, Savage pulled down a dark country road, parked the car, and coerced her into performing oral sex on him. Afterward, she says, he dropped to his knees and asked God for forgiveness. Savage also sought to keep Jules quiet, telling her: "You have to take this to the grave with you."
Holy Hypocrisy
Jules explains that she decided to finally come forward with her story after seeing the now-famous megachurch pastor tweet about sexual assault allegations against Matt Lauer late last year: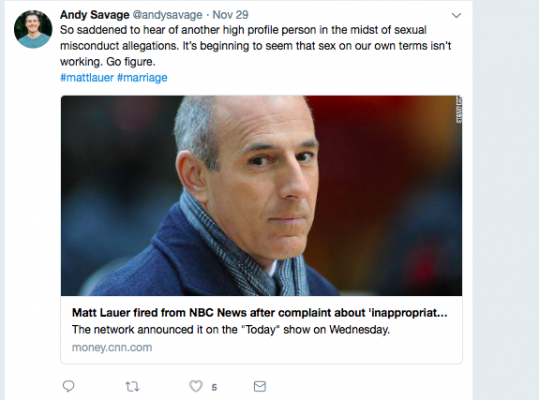 Knowing what he had done to her, the hypocrisy of Savage's "holier than thou" attitude toward the #metoo movement was especially infuriating. She realized she could no longer stay silent. Jules wrote to him, asking him to address the incident: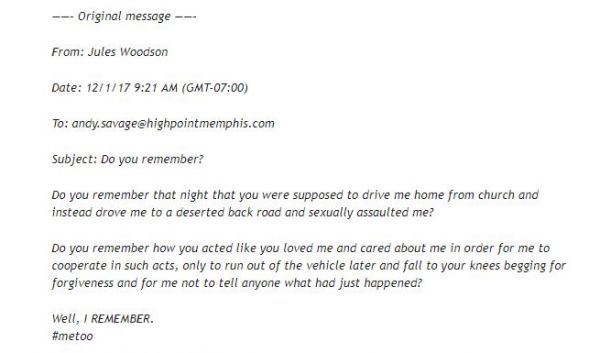 She received no response.
#JusticeForJules
Although Savage's followers appear to be standing by their pastor, reactions to the news outside the confines of his church haven't been nearly as positive. Critics have taken to social media to slam Savage for abusing his position of power and attempting to cover up the incident. There is even an online petition circulating that calls for his resignation with an associated hashtag, #JusticeforJules.
As the backlash continues to mount, things aren't looking good for Savage's career. In addition to demands that he step down, an upcoming book deal has been cancelled, announced the publisher.
Change Must Come
Although Jules filed a police report, it's unclear whether Savage will face any criminal charges. But that's OK, she says. The goal was never to exact personal revenge, it was to shed light on the power imbalances that exist in the church and help prevent future cases of abuse, she explains:
"My hope in finally coming forward with my story is not only that I can begin to get closure and healing for all that has happened to me, but more so, that my story might have a positive impact on others and effect positive change in how these types of situations are handled within the church.
To anyone who has suffered from sexual abuse in the church and the subsequent cover up and pressure to remain silent, I want you to know that it is not your fault. Most importantly, I want you to know that you are not alone."
Challenging Pastoral Power
Obviously, pastors exploiting their positions of power is far from a new phenomenon. To this day, victims of abuse in the Catholic Church continue to come forward about incidents that occurred decades ago. But with the rise of the #metoo movement, there is a new dynamic at work, one that empowers victims to speak up and confront their abusers no matter how powerful or famous they might be.