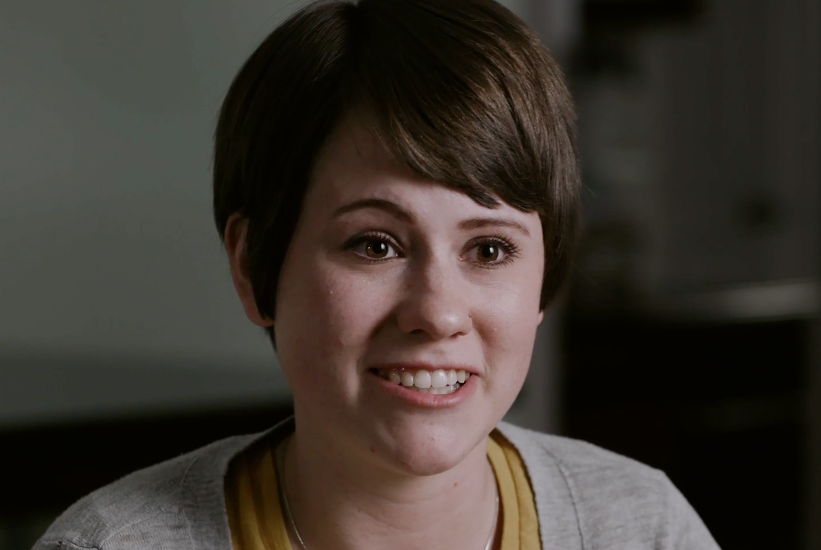 ---
In a controversial Facebook video that has gone viral, a self-professed "ex-lesbian" claims that gay people can become straight if only they pray hard enough. Emily Thomes starts off sounding like an LGBT advocate, talking about coming out at a young age, living as an openly gay teen even recounting her engagement to another woman during nursing school.
But the tone of the video changes markedly when Thomes begins talking about the Bible. "I Googled verses on homosexuality and those who practice homosexuality, which was me, and also drunkards and a bunch of other things that I would have been," she explains. "I realized I was in the 'will not enter the kingdom of God' line-up and it scared me. Really, really bad."
So influential were these messages, Thomes says, that she decided to renounce her "sinful lifestyle." Now married to a man, Thomes claims Christianity helped her understand why loving another woman is wrong. But she doesn't prefer the phrase "turning straight". As she explains: "it's not gay to straight. It's lost to saved."
The video, confusingly titled "Love is Love," has quickly racked up over 2 million views on Facebook:
An Old Debate Revived
The concept of using religion "cure" a person of homosexuality once fairly popular has become a vestigial debate in the religious community.
The medical community frowns upon conversion therapy, as research has shown that it doesn't work. In fact, it's even been linked to higher depression/suicide rates. This significant shift in public opinion led many to believe that conversion therapy was finally on its way out.
However, this video's popularity shows that the controversial practice of "praying the gay away" is still alive and well. Produced by the evangelical group Anchored North, the video's carefully tailored message brought praise from many Christians.
"Praise the Lord! I would love to meet everyone in these videos! Keep sharing the truth of saving faith!" commented one Facebook user. "Love seeing these stories! I have a similar testimony of God rescuing me from the lifestyle that I was trapped in," replied another.
But the message also sparked harsh criticism from people skeptical of religion's ability to "turn people straight."
One person accused the group of using faith to coerce people: "This is Christians using a fear tactic to make this girl question everything and become brainwashed into their thinking and it sickens me to no end."
"This little video is enough to push gay kids over the edge to suicide. So so wrong," wrote another angry commenter.
Can God Really "Fix" Gay People?
The most concerning aspect of the video, critics point out, is that Thomes appears to be recruiting other gay people to join this "faith journey" of hers.
"People say to me all the time, 'I was born this way.' I say, 'OK, me, too.' You're not born with right affections. That's why Jesus had to come. You feeling a desire for sin just proves you need grace like me."
Being gay in a Christian household has always presented challenges. But in recent years, LGBT-acceptance has been trending upward among faith communities. More and more churches are accepting openly-LGBT people as members and even as clergy. They are spreading a message that it's okay to be yourself, God will love you anyway.
However, after watching the Anchored North video, it's clear that some faith groups are determined to resist this trend. For some, homosexuality will always be a sin. A disease curable only by scripture.
What do you think? Is it really possible to "pray the gay away"?