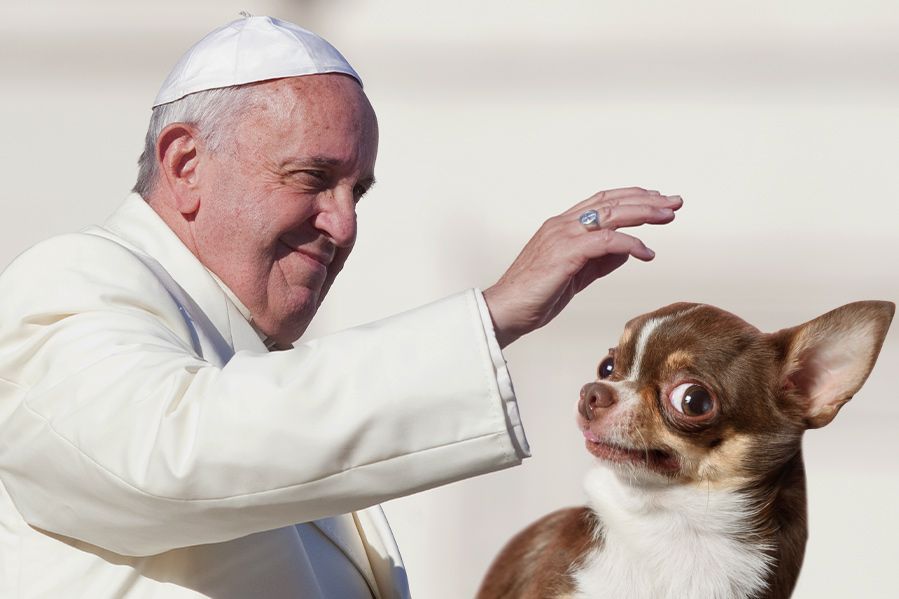 Are couples that adopt pets instead of children selfish? Pope Francis says yes.
The comments came during a general audience at the Vatican. Pope Francis pointed out that in many western countries, deaths exceed births – what experts call a demographic winter.
The issue, the pope says, is that couples are having either one child or no children, and are filling the kid-sized hole in their hearts with dogs and cats instead.
He continued, arguing that pet adopters are selfish, and that childfree couples will ultimately be "lacking something, something fundamental, something important" without children.
Pet Adoption: Selfish?
"Today… we see a form of selfishness," Pope Francis said. "We see that some people do not want to have a child. Sometimes they have one, and that's it, but they have dogs and cats that take the place of children."
Even those unable to have children themselves are not off the hook for parenthood. "We should not be afraid to choose the path of adoption, to take the "risk" of welcoming children," the high pontiff stated. "It is a risk, yes: having a child is always a risk, either naturally or by adoption. But it is riskier not to have them. It is riskier to deny fatherhood, or to deny motherhood, be it real or spiritual."
Francis seemingly argued that couples choosing pets over children are making the world a worse place. "This denial of fatherhood or motherhood diminishes us, it takes away our humanity," he said. 
Pope Francis pointed to Joseph, the "foster father of Jesus," to underline his point. Joseph adopted Jesus into his life; showing "the highest forms of love" in the process.
"How many children in the world are waiting for someone to take care of them?" he pondered.
Is the Pope Barking Up the Wrong Tree?
Social media lit up upon hearing that Pope Francis was chastising young people for adopting dogs and cats instead of children.
Many pointed out stagnant wages, rising home prices, and climate change as reasons why younger generations might stick with their furry friends instead.
Others were quick to point out that the Catholic Church in many cases actively fights against allowing parenthood for LGBTQ couples. Just last year, The Roman Catholic Archdiocese of Philadelphia fought a case all the way to the Supreme Court over their church-operated foster care agency's discriminatory practice of refusing adoption to married same-sex couples. The church ultimately won that case in a unanimous judgment.
The logic would follow, some argued, that in the church's eyes, same-sex marriages are more harmful to society than the scores of unadopted foster children. If the pope wants children to be adopted by loving parents, shouldn't they be in favor of LGBTQ couples adopting?
What do you think of the controversial comments? Is the pope right that couples that adopt pets instead of kids are acting selfishly? Or, with the current state of the world, can you really not blame young people for choosing pets over kids?
What are your thoughts?