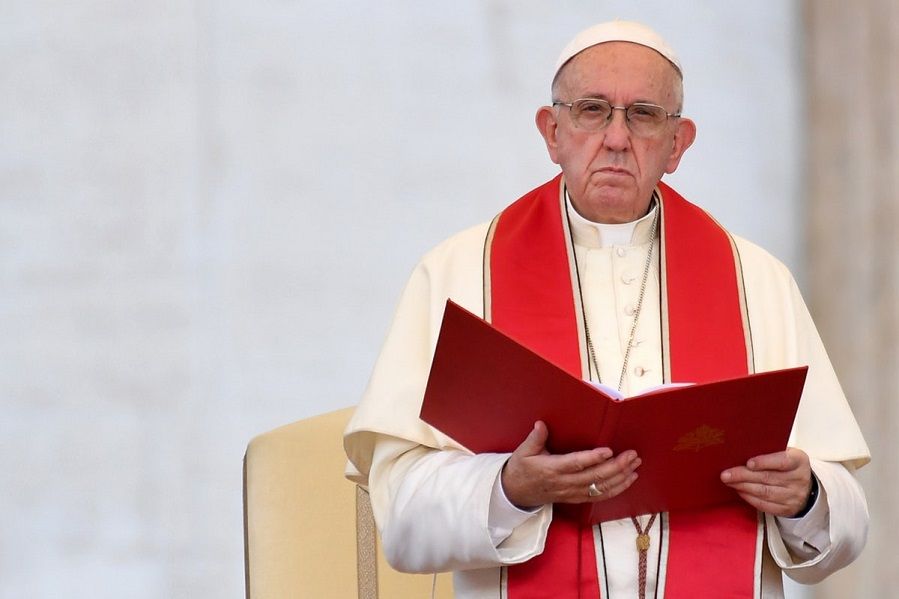 ---
---
---
The Vatican sex scandal has officially gone global, forcing Pope Francis to summon the world's top bishops to Rome with the very specific goal of protecting minors. The pontiff called the extraordinary and unprecedented meeting of more than 100 bishops for late February in the wake of both a rolling global clerical sexual abuse crisis and explosive accusations of a cover-up, which now threaten both his papacy and the long-term reputation of the Roman Catholic Church.
The meeting marks a severe Vatican about-face after nearly three decades of denial and laying blame on cultural issues and "bad apple" priests. It also comes on the heels of a leaked study commissioned by the church in Germany that is set to reveal the decades-long abuse of thousands of children by more than a thousand clergymen there, something the bishop of Trier, Stephan Ackermann, has called "depressing and shameful." It follows a similar grand jury report that exposed the victimizing of more than 1,000 children over decades in Pennsylvania, all under the supervision of a cardinal the Pope once defended.
Decades of Playing Dumb
The Catholic Church has been anything but straightforward when it comes to addressing the abuse.
When the scandal first surfaced in this country in the mid-1980s, Vatican officials dismissed it as an American phenomenon. When it spread to Canada, Ireland, England and Australia, they framed it as an English-speaking country problem. When cases erupted in Germany, Belgium, France and Austria around 2010, it became a 'developed world issue' borne out of liberal attitudes toward sex. Now that Chile and the Philippines have been added to the toxic mix, there's no longer any more room for excuses.
"The subject has to be tackled globally," declared Marie Collins, an Irish abuse survivor whoresigned in frustration from a similar Vatican commission on protecting minors created by Pope Francis just last year. She's tired of talk. The meeting in question needs to produce concrete actions. Heads need to roll. "There are bishops in parts of the world who don't even accept that abuse could happen in their dioceses."
Knocking Down the Wall of Silence
The Commission for the Protection of Minors is supposed to train bishops to spot abuse, listen to victims, intervene and hold each other accountable when necessary. The plan is to apply these standards globally, whether local bishops like it or not.
While current US church policy demands that any sexual abuse allegation be reported to civil authorities, and that abusive priests be permanently removed from ministry, other countries have been allowed to set their own standards. Even the Vatican commission on child sex abuseguidelines for safeguarding children have not been reinforced worldwide.
Although Pope Benedict personally read many of the files about clerical abuse and eventually cracked down on hundreds of priests after the scandal first erupted in 2002, there were high hopes that Pope Francis would tackle the issue systemically, including holding those bishops who covered it up accountable.
However, his special commission's call for the creation of a tribunal to discipline these very bishops ultimately met with Vatican resistance. "We saw this wasn't practical and it also wasn't convenient for the different cultures of the bishops that had to be judged," declared Pope Francis back then. The proposal was later dropped and explained away in a papal edict entitled "As a Loving Mother," which only enraged abuse survivors weary of the Catholic Church attempting to police itself.
Will the Abuse Ever Stop?
It remains to be seen whether this is the global meeting and response that finally corrects three decades worth of Vatican denials, missteps and cover-ups. Victims and Catholic Church critics have every right to be cynical. There are only so many meetings, commissions and documents that can be created before the people have a right to demand real, tangible results.
Only once disgraced bishops are exposed for their crimes, removed from the church, and sent to prison will the Vatican be able to begin rebuilding the trust it has lost. It's time the Catholic Church air its dirty laundry - all of it - for the world to see.