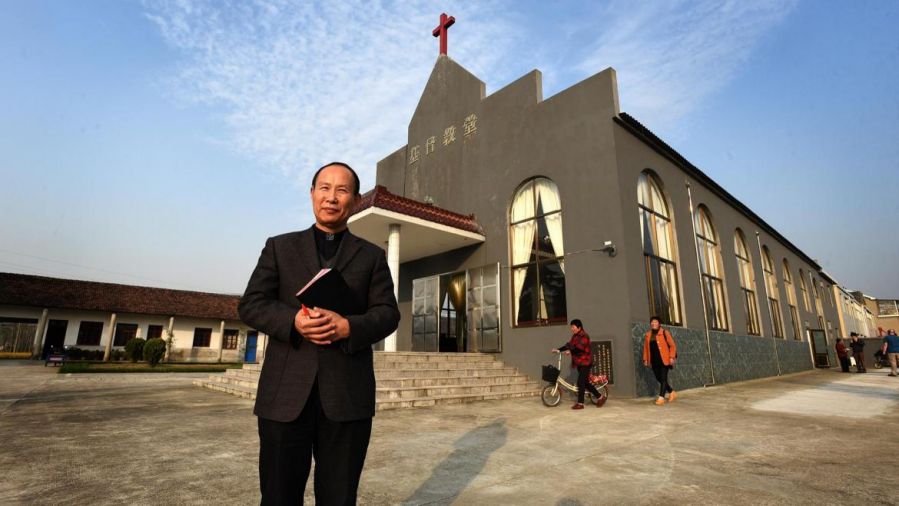 ---
Destroying crosses. Burning Bibles. Shuttering churches and ordering parishioners to renounce their faith. By all accounts, China's government is waging an all-out war on Jesus the likes of which hasn't been seen since Mao Zedong's regime was in power over fifty years ago.
Pastors and religious freedom groups have been reporting brazen cases of what can only be described as a concerted Communist Party crackdown on Christian congregations in Beijing and beyond, an apparent drive to "Sinicize" religion by demanding loyalty to the state and eliminate any challenges to its authority posed by faith doctrine.
"The international community should be alarmed and outraged for this blatant violation of freedom of religion and belief," wrote Bob Fu of the U.S.-based group China Aid, characterizing the closure of churches in both central Henan province and Beijing in recent weeks as a "significant escalation."
Burn Baby (Jesus) Burn
Despite talks of religious revival in the emerging powerhouse, Chinese Christians have been watching their freedoms shrink dramatically under President Xi Jinping, whose drive to consolidate power has made him the greatest single threat to organized religion since religious freedom was written into the country's constitution back in 1982.
In recent months, Christians have been singled out for punishment by the government and forced to sign forms vowing to renounce their faith. Shocking video footage has also been shared on social media showing piles of burning Bibles:



#China CCP starts burning the Bible and crosses in Henan. Last time burning Bibles campaign happened in late 1960s by dictator Chairman Mao's wife Jiang Qing in Shanghai. She was arrested in 1976 but Christians grew to millions. Will Never be successful pic.twitter.com/T5esv16NXI


Bob Fu (@BobFu4China) September 5, 2018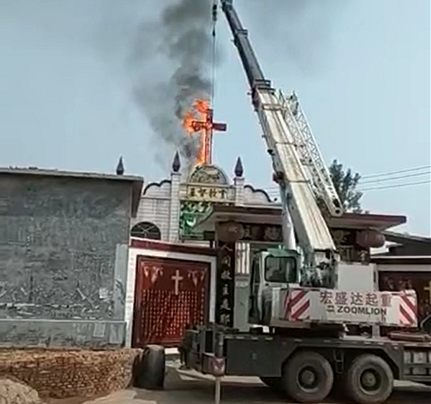 Shades of Mao
Experts say these incidents are eerily reminiscent of Chairman Mao's radical 1966-1976 Cultural Revolution, where Christians were forced to make declarations against their faith under threat of expulsion from school and the loss of welfare benefits.
In the Henan city of Nanyang, a Christian pastor (who asked to rename anonymous) claims his church was raided at 5 am and its crosses, Bibles and furniture burned following 'discussions' with local authorities demanding the establishment "reform" itself.
It was a similar story in Beijing, where nearly 60 government workers swarmed the Protestant Zion church (one of the largest in the capital) with buses, police cars and fire trucks, forcing the church's pastor Ezra Jin Mingri to close shop after his church was declared unofficial and his services illegal. The pastor's personal assets were also frozen after he refused to install television cameras in the building - an apparent attempt to strong arm him into complying with government demands. "Churches will continue to develop," he told the Associated Press by phone. "Blocking the sites will only intensify conflicts."
Cracking Down on Christ
These incidents are certainly alarming, especially because they appear to form a pattern of government oppression. Church serviceshave been raided across Chinese provinces, with congregation members arrested and beaten by government officials. Churchgoers have been forced to replace paintings of Jesus Christ with communist imagery, while teachers are being accused of "brainwashing" students with Christianity.
"The Chinese government is trying to stop the spread of Christianity," exclaimed the American Center for Law and Justice in a petition that has since been signed by close to 45,000 people. "This blatant persecution cannot be tolerated."
Of course, there is no proof that any of this will work. In fact, the last Bible-burning campaign in the late 1960s only caused China's Christian population to explode. With an estimated 38 million Protestants countrywide, the Chinese government may want to start weighing the wisdom of forcing its citizens to choose between God and State.