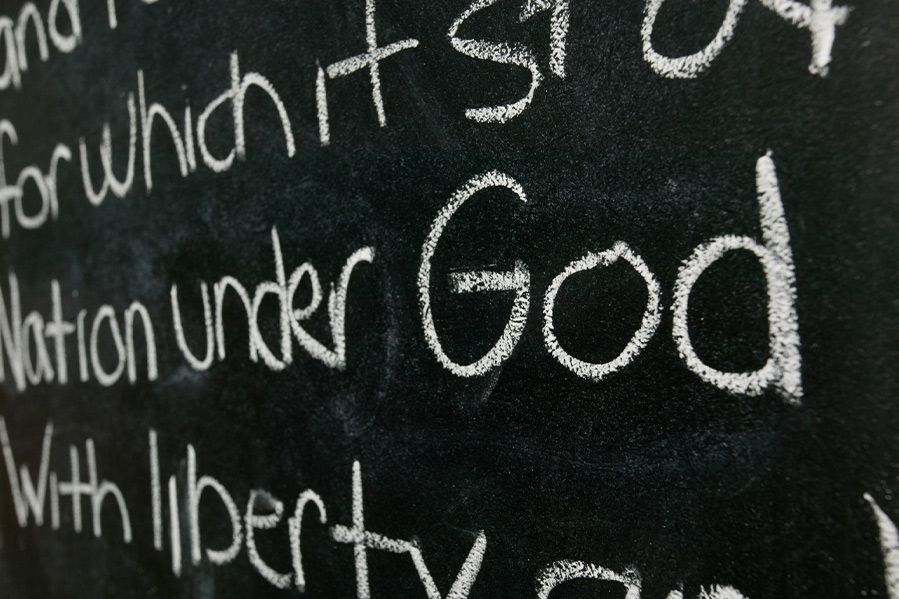 I pledge allegiance… because I have to? A bill just passed in the Arizona House which would make saying the Pledge of Allegiance mandatory for K-12 students.
The bill's sponsors say this is necessary to imprint a strong sense of citizenship within students at a young age. 
However, free speech and religious freedom advocates alike are fighting the bill, arguing that the bill will force students to recite something they may not believe in – including that we are "one nation, under God."
Should the Pledge of Allegiance be required in schools?
Mandatory Pledging
Sponsors of HB 2523 argue that the bill will "make sure that students growing up understand the country in which they live and embrace the citizenship and the founding principles that we hold so dear."
And co-sponsor Rep. Barba Parker argues that the members of the House stand for the pledge of allegiance every day, so why shouldn't students? As she puts it, "what's good for us is good for the children."
The bill allows students 18 years of age to opt out, as well as students who obtain express permission from their parents.
However, everyone else will have to stand and pledge, whether they like it or not.
A Covert Prayer?
Opponents point out that should this bill pass, one passage in the Pledge could make students affirm religious beliefs they may not necessarily hold.
You know the phrase: "one nation, under God."
Advocates say that forcing students to say that is tantamount to a religious ritual in the classroom. 
But the bill's supporters argue that allowing children's parents to decide whether to allow them to sit out the Pledge is adequate free speech protection. From going to school to doing chores, children are compelled to do things they don't want to do all the time.
And as for religious freedom? The Pledge doesn't say which God this nation is under. Why, it could be any God!
Allegiance Grievance
Should the bill be signed into law, it will undoubtedly be challenged in court. In fact, the bill's opponents say that this was all legally decided long ago.
A 1943 Supreme Court ruling says that students cannot be compelled to participate in the Pledge of Allegiance. In the majority opinion Justice Robert H. Jackson wrote "if there is any fixed star in our constitutional constellation, it is that no official, high or petty, can prescribe what shall be orthodox in matters of politics, nationalism, religion, or other matters of opinion or force citizens to confess by word or act their faith therein."
Supporters of the bill say that allowing students to opt out with parental permission is enough religious freedom protection, and that the original 1943 ruling can't possibly apply to the "under God" portion of the Pledge anyway, considering that was added in 1954.
What do you think? Is forcing kids to say the Pledge of Allegiance a barely covert attempt at injecting Christian prayer in school? Or is this bill really about affirming a sense of national loyalty and pride in our nation's children?