It's a good question, we know. And we have some answers.
---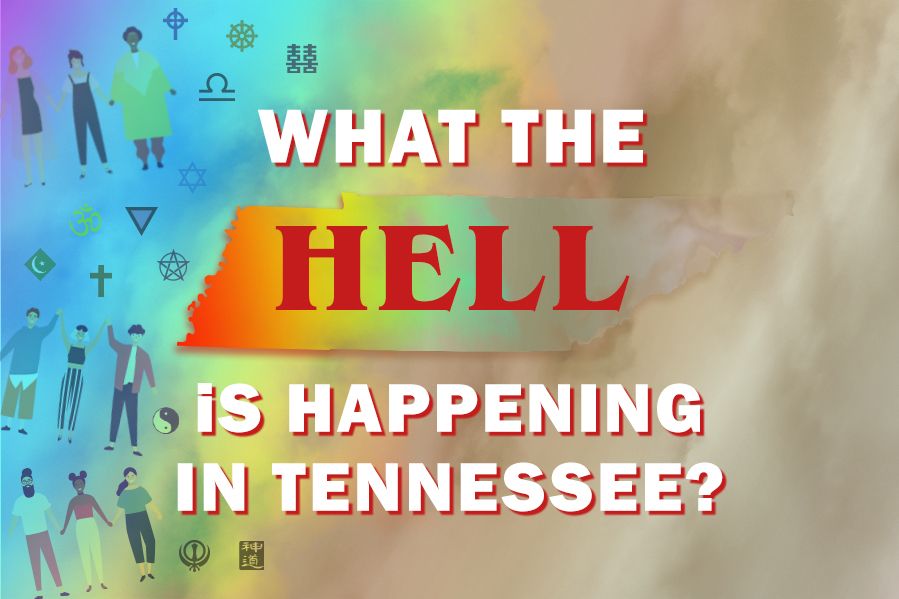 They began with us…
In June of 2019, Tennessee lawmakers passed a law that explicitly banned ministers who were ordained online from solemnizing marriage anywhere in the state. As the largest and most well-known church providing ordinations via the internet, the law appeared to be aimed directly at the Universal Life Church (ULC) and its ministers.
We immediately filed a lawsuit in federal court against several Tennessee state officials to block the new anti-ULC law from taking effect, arguing that by removing their ability to perform marriages, the state of Tennessee was infringing upon the constitutional right of ULC ministers to freely practice their faith. 
Shortly after that lawsuit was filed, we were successful in convincing the judge to issue a temporary injunction blocking the new law from taking effect. We'll get back to this lawsuit in a moment, but there is something else we want to discuss with you first.
When the anti-ULC law was initially passed, there were some who theorized that while the law outwardly targeted the ministers of the Universal Life Church, that there were other, invisible targets. As a forward-thinking, interfaith, and socially-active organization, we've seen that many of the folks who join and become ordained by the ULC, and indeed those who they marry, don't always fit the "traditional mold." 
In barring ULC ministers from solemnizing marriages in Tennessee, some argued, the law would ultimately have the consequence of prohibiting or limiting interfaith, interracial, same-sex, or otherwise "non-traditional" couples from finding a minister who would be willing to perform their wedding ceremony. 
New TN Law Would Limit "Objectionable" Marriages
Now, that effort appears to be escalating. As you may have seen, the Tennessee House of Representatives this week passed HB 878, a controversial new bill that would allow ministers and government officials to decline to perform any weddings they deem "objectionable" based on their religious beliefs. 
Some legal experts worry that these new protections could extend to county clerks, empowering them to deny marriage licenses to couples to whom they have a personal objection.  
HB 878 is now headed for a vote in the state Senate, where it is currently expected to pass.
We do not wish to alarm you, but the reality is that the good people of Tennessee face a future in which any "non-traditional" couple may not even be able to obtain a marriage license, let alone find a minister or official willing and able to officiate their ceremony. 
Through this calculated series of steps, under the guise of "religious freedom", interfaith, same-sex, and interracial marriage could become de-facto banned throughout the entire state of Tennessee – potentially tearing apart thousands of families, and crushing thousands more before they even have the chance to blossom.
Current Status of ULC Ministers in Tennessee
But it doesn't have to end that way. The ULC's lawsuit, which we filed in 2019, is still ongoing. For the last 4 years, we've contended with delay after delay after delay as the state and local officials we sued have employed legal tactics to absolve themselves of responsibility and prolong our expensive battle. 
For that entire time, ULC ministers in Tennessee have had a giant question mark floating over their heads: "Can we perform marriages now?". The frustrating answer we've been forced to provide is: "We don't know." While the injunction still stands and the anti-ULC law still has not taken effect, it remains unclear what the ultimate status of any marriage performed by a ULC minister would be in the event that we lose this case and all subsequent appeals.
We know many of you have been eagerly anticipating an update regarding our ongoing lawsuit… perhaps on this day more than any other over the last 4 years. On that note, we do have some good news to share: our case is finally scheduled to go to trial this August. 
While we remain faithful and optimistic that justice will prevail, and that the rights and freedoms of our ministers will be restored, we stand in solemn recognition that the Universal Life Church and its ministers could now be the last remaining barrier between the world of love, equality, and respect most of us have been trying to build… and the bold new experiment attempting to rewind the clocks of progress. 
How You Can Help In This Fight
Reading all of this, you might be frightened. We won't lie: so are we. 
At the same time, we're more emboldened and committed than ever to defending your right to practice your faith as you see fit, and the rights of the people you love to marry whomever they want, regardless of their race, color, creed, or sex. 
The Universal Life Church was founded on the basic belief that We Are All Children Of the Same Universe. From that core belief we derive the fundamental truth that all members of humanity, regardless of their innate characteristics, ought to be afforded the same rights and respect as any other. We don't intend to stop fighting for that better future.
If you'd like to assist us in these crucial efforts, we urge you to consider donating to the ULC Legal Defense Fund. All contributions made to this fund go directly toward funding important legal efforts to protect the rights and freedoms of the ministers of the Universal Life Church… including helping us cover the bills in Tennessee. Your continued support makes all the difference, and we're so grateful to have you on our side.
As soon as we have any further updates about the case, we'll be sure to let you know.