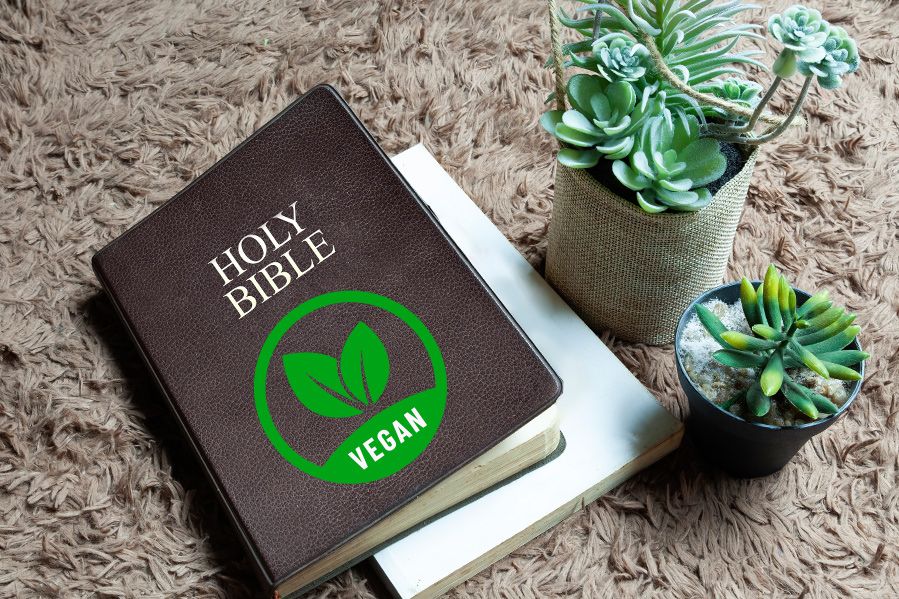 Does the Bible have too much animal sacrifice for your taste? The animal rights group People for the Ethical Treatment of Animals (PETA) is cooking up an animal cruelty-free Bible with the help of AI technology.
"The Book: PETA's Version of the Creation Story" is the "vegan interpretation of the Book of Genesis," according to the group's website. 
The digital ebook is cheekily 'bound' in "vegan leather" and runs some 75 pages. This initial book only covers Genesis, although PETA reportedly has plans to veganize the entire Bible eventually.
This new vegan-friendly edition of the Bible has, somewhat expectedly, ruffled the feathers of some faith leaders, who say that God's word should not be tampered with.
For PETA's Sake
PETA is an animal rights group well-known for its controversial activism in service of protecting animals. More recently, the group has also gained a reputation for stirring the pot on social media.
A few years ago, they made headlines for a chart they created designed to help social media users remove "speciesism" from their speech, likening its usage to racist, sexist, or anti-LGBTQ speech: 
But this time it's not popular slang they're reimagining – it's the most popular book of all time. 
The Vegan Word of God
"The Bible has long been used to justify all forms of oppression, so we've used ChatGPT to make it clear that a loving God would never endorse exploitation of or cruelty to animals," explained PETA President Ingrid Newkirk.
She says this new Bible will actually refocus the text on God's love and grace, rather than His thirst for sacrifice and bloodshed. 
As it so happens, the group has been beating this drum for a while:
What PETA's Bible Says
So, what exactly has been changed? There are dozens of changes great and small in PETA's new vegan Bible.
For example, animals are no longer referred to as "beasts," but rather "beings" in this new version. Animal skins and leather worn by biblical figures are instead made of hemp.
But some changes are far more significant. Per the book's product description, "among other new interpretations, in Genesis Chapter 22, Abraham travels to the land of Moriah and befriends a gentle lamb to show his reverence and respect for God's creation, rather than slaughtering a ram to demonstrate his faith — much as human sacrifice, once a reality, is now outlawed all over the world." 
Telling New Tales
Meanwhile, other stories have been made up entirely. In PETA's Genesis 21, Abraham and Sarah "add to their growing family by adopting a dog named Herbie."
"As they walked with Herbie," the passage reads, "Sarah and Abraham thought of the importance of adopting dogs from shelters and rescue organizations rather than purchasing them from breeders."
As you might imagine, this interpretation isn't bringing home the bagels for some Christian leaders. "You can't rewrite the Bible by this kind of revisionism and then claim it is a biblical sanction," argues Darrell L. Bock, a senior research professor at Dallas Theological Seminary. "It produces a fraudulent claim of divine sanction, making God in our image," he says.
It's worth noting that PETA is hardly the first group to reinterpret the Bible. There have been innumerable reimaginings of the Christian holy text, including the infamous "Jefferson Bible," edited by US President Thomas Jefferson to keep all the moral messages but remove all supernatural elements.
Regardless of its content, the fact that this new version is being written with AI technology is enough to cause alarm bells for some. Just last week, we noted growing concerns about the potential ability of AI to create new religions. It would seem PETA is jumping on that train early. 
What do you think? Do you support PETA reinterpreting the Bible to be more animal friendly, or is it better to leave holy texts untouched?