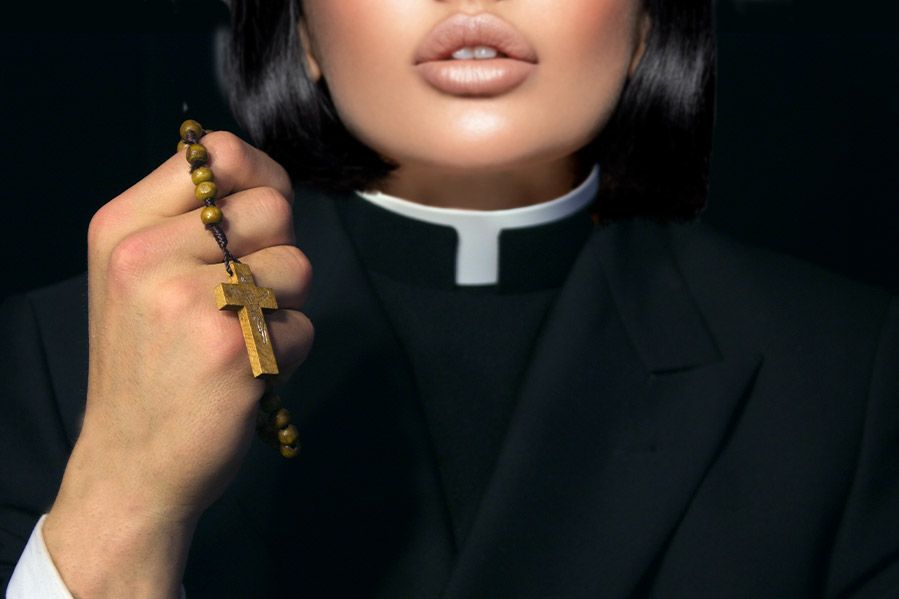 Many people will change careers in their life, but few will do as drastic of a U-turn as Pastor Nikole Mitchell.
The product of a strict Baptist upbringing, Mitchell ended up at Woodland Hills Church in St. Paul, Minnesota. By 2016, she'd achieved her dreams; She was preaching weekly at the megachurch alongside her now ex-husband. 
But all the while, tugging away at the back of her mind there was always a taboo desire. "From a young age, I had fantasized about being a stripper," Mitchell, 36, told the New York Post. "But I was indoctrinated to believe my desires and my body were innately sinful and bad."
Mitchell's life changed when she attended a raunchy theater performance that helped resurface some hidden urges from her past. She decided to quit preaching to pursue a new calling: nude modeling. 
Stripping was tantamount to a religious experience for Mitchell: "I had never felt more holy and sacred in my life," she said of her first nude photoshoot.
Religious Rebellion
While Mitchell's turn from pastor to stripper might seem extreme, it probably rings true for more people than you might think.
Mitchell grew up in an extremely religious household - so religious that even her religious leadership was inappropriate to her highly religious family. "I was taught that women aren't allowed to lead and that women belong in the kitchen and with the children," Mitchell says. Leading a congregation "went against everything I was told."
Sexual repression and shame amongst the highly religious is an "epidemic" according to Psychology Today. "An entire generation of people are encountering crippling sexual shame and pain as they wrestle with their sexual desires and interests, in a world for which they were unprepared," they say.
"Across the country, therapists are now seeing a tide of young people, feeling immense shame and pain about their sexual urges, desires and behaviors."
Purity Culture
Coming to national prominence in the 1990s, "purity culture" defined the sex lives of millions of Millennials, the effects of which that generation is still grappling with today.
Purity culture - the promotion and idealization of waiting until sex until marriage - worked its way into churches nationwide and even was taught in public schools through abstinence only sex-ed.
Teenagers took purity pledges, avoided being alone in a room with someone of the same sex (lest they be tempted), and even crafted creative loopholes to 'have sex' without really having sex. We'll leave those to your imagination.
Now in their 30s, millions of this generation still grapple with the shame they felt for simply having hormones, even showing symptoms of post-traumatic stress disorder. And even some proponents of the movement now reject it. Joshua Harris, author of I Kissed Dating Goodbye, a foundational text in the purity movement, issued an apology and walked away from evangelical Christianity altogether.
With all that pressure and trauma, is it any wonder some of that generation are coming into their sexuality with full force in their 30s?
That brings us back to Pastor Mitchell, who reports being happier now than ever before. Not only is she pursuing her passion, Mitchell is also now making a substantial income via an OnlyFans account where subscribers can pay to view erotic photos of her.
"Every person has the right to express themselves in whatever way feels good to them and this is how it feels good to me," she says.
What do you think? As Mitchell's story demonstrates, trying to enforce sexual purity on young people can produce unintended consequences. With that in mind, how do you think churches should approach the topic of sex?