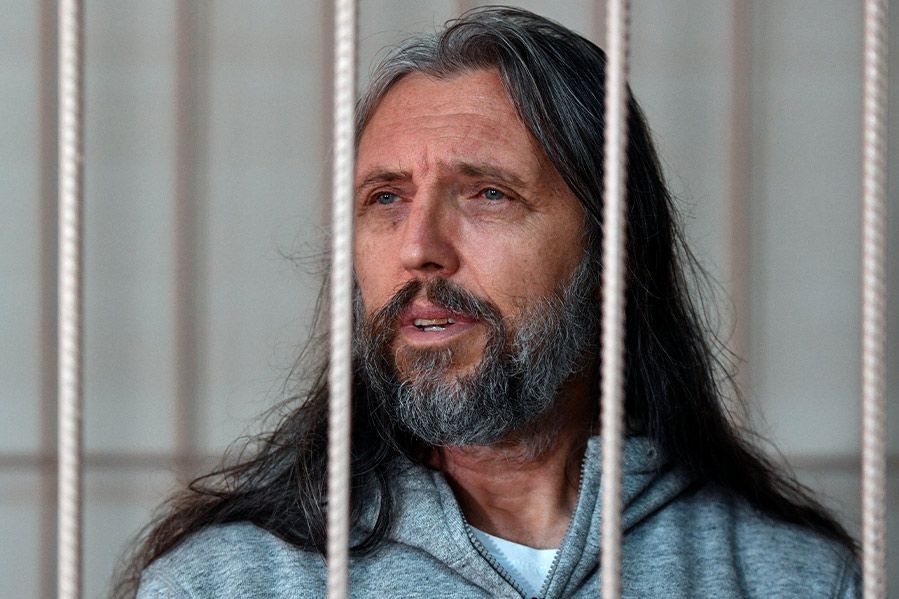 A faith leader (or cult leader, depending on how you classify these things) who claims he's the reincarnation of Jesus Christ has been arrested on charges of using physical and psychological violence against his followers in northern Russia.
Sergei Torop, AKA "Vissarion," faces up to twelve years in prison if convicted. Torop was a traffic cop until losing his job in 1989. The following year, he was 'reborn' as Vissarion, and in 1991 formed the Church of the Last Testament.
Over the last three decades, Vissarion amassed thousands of followers from Russia and abroad who believed his claims that he is Christ reborn and that God speaks exclusively through him.
Within Vissarion's commune, everything from eating meat to consuming alcohol to using money is banned. Those within the cult count years starting from 1961 (Vissarion's birth year) and have dropped Christmas in exchange for a similar holiday on January 14 (Vissarion's birthday). Followers anxiously await Vissarion's masterwork, a ten-volume sequel to the Bible.
And now it appears it's all come crashing down for Vissarion, who, along with a couple of aides, was arrested earlier this week.
While it's fairly clear that Vissarion is not who he claims to be, the idea itself is interesting. If Jesus really was reincarnated, how would we know?
Cultin' Ain't Easy
Vissarion's far from the first person to amass followers by claiming to be the descendant of Christ (or Christ himself). Some of the 20th century's most notorious cult leaders made similar claims, and it appears to be a pretty easy go-to for anyone hoping to start a cult.
In fact, look at any list of people who claimed to be Jesus Christ and you'll find a veritable who's who of cult leaders, from Shoko Asahara to Marshall Applewhite to David Koresh.

Perhaps none is more famous (in America, at least) than Charles Manson, a cult leader in 1960s Los Angeles whose followers, dubbed The Family, called him "God" and "Jesus". Manson used his natural charisma and borderline hypnotic manner of speaking to amass over 100 loyal followers, claiming that they were the reincarnations of the original Christians.
Manson and his followers lived at the abandoned Spahn Ranch and practiced free love, free drugs, and free anything-else-you-can-imagine.
Ultimately, Manson directed some of his followers to gruesomely murder the inhabitants of 10050 Cielo Drive in Los Angeles, the infamous Sharon Tate murders that sent shockwaves through Los Angeles and the world.
Another infamous cult leader who claimed to be Christ is Jim Jones, who directed a mass murder-suicide of his followers at his commune, dubbed Jonestown, located deep in the Guyanan jungle, and who had U.S. Representative Leo Ryan assassinated.
Jones' theology was a bit muddled: he claimed to be the reincarnation of Jesus Christ, Gandhi, Father Divine, Buddha, and Vladimir Lenin. Interestingly, Jones himself was likely an atheist, and only used religion as a tool to more easily control his followers.
Jones' wife, Marceline Jones, said as much in a 1977 interview with the New York Times, telling them that "Jim used religion to try to get some people out of the opiate of religion." Jones killed 909 of his followers by cyanide poisoning in the single largest loss of American civilian life until 9/11. 
Jesus, is That You?
Ok, so all those guys were mass-murdering psychopaths. But is it possible Jesus Christ could be reincarnated in a mortal body?
Hard to say.
Reincarnation – one's mortal body dying, only for their soul to come back in a different body – is generally incompatible with most sects of Christianity, and has only gained popularity in western cultures as travel and communication between western and eastern cultures becomes easier and easier.
Indeed, elements of eastern faiths have grown in influence to the point that 25% of U.S. Christians believe in some form of reincarnation. That's way up over just a generation prior.
Of course, the Book of Revelation in the Old Testament tells of Jesus' return, and views vary as to what that might look like (or whether it's even literal at all). 
What do you make of all this? On the one hand, it's possible this Vissarion fellow could be telling the truth. If a reincarnated version of Christ _did _appear on Earth, you'd have to expect that most people wouldn't believe it at first.
Plus, the powers that be might have an incentive to call this person "crazy" and put them behind bars on trumped-up charges. 
But on the other hand, we've seen no shortage of frauds exposed in the past for similar claims.
Do we have reason to believe this time is any different? What do you think?