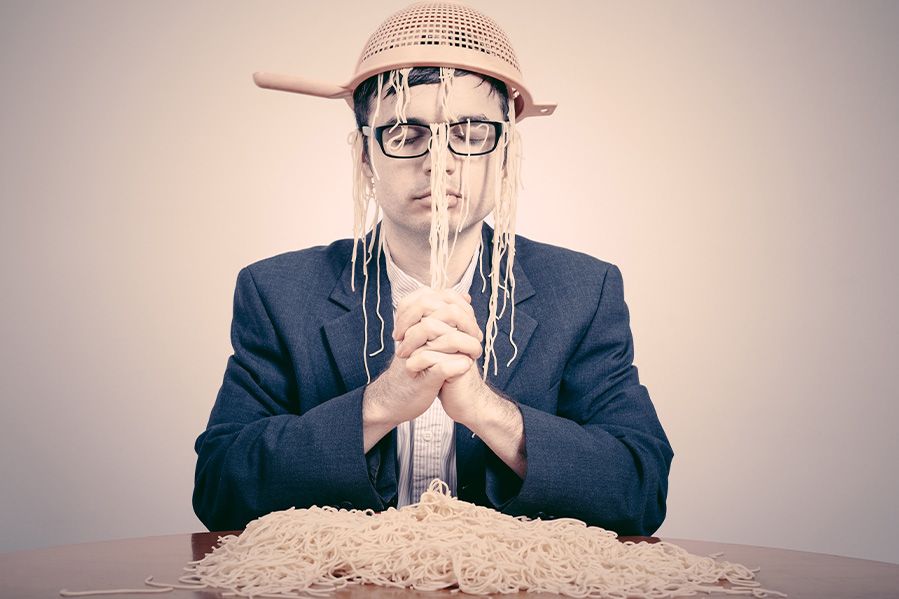 ---
A local government meeting in Alaska is no stranger to non-Christian invocations. Satanist Iris Fontana set the bar in 2016 when she delivered a controversial opening invocation that ended in "Hail Satan." Offended officials at the Kenai Peninsula Borough Assembly then tried to block atheists of all stripes from repeating the stunt - a fight they eventually lost in court. That ruling opened the door for non-traditional religions to deliver opening prayers ahead of local government meetings.
This week, it was Pastafarian Barrett Fletcher's turn.
As the founding pastor of the First Lower Peninsula Congregation of Pastafarians, Fletcher is a proud member of the Church of the Flying Spaghetti Monster (FSM). FSM followers believe that the creator of the universe is an invisible deity made of spaghetti and meatballs. They also believe the FSM was completely intoxicated when He created the universe. Those who believe hope to be 'touched by His noodly appendage'.
And so, this week, Fletcher talked education, taxes, and waste management-- all with a colander on his head.
Penne For Your Thoughts
"A few of the Assembly members seem to feel they can't do this work without being overseen by a higher authority," Fletcher began, reading evenly from prepared statements. "So I'm called to invoke the power of the true inebriated creator of the universe, the drunken tolerator of all the lesser and more recent gods, and maintainer of gravity here on Earth. May the great Flying Spaghetti Monster rouse Himself from His stupor, and let His noodly appendages ground each assembly member in their seats, reminding them of the purpose of their election to this body, and helping them to stay focused on the tasks at hand."
The prayer ended with a humble "rAmen."
Several members repeated Fletcher's closing rAmen with a smirk. However, the Anchorage Daily News noted most failed to stand or even remove their hats for the two-minute invocation:
Pastafarian Publicity
Regardless of whether this was merely a publicity stunt (as some argue) or a sincere attempt at spreading the good word of Pastafarianism, Fletcher's antics should surprise nobody who is familiar with this particular brand of glutenous worship.
Pastor Bobby Henderson founded Pastafarianism in 2005 specifically to poke fun at Christian fundamentalists on the Kansas State Board of Education hell-bent on teaching creationism in American schools. To make his point, Henderson demanded his belief structure receive equal time in science classrooms in a now-iconic open letter.
But then his movement gained international steam. A fellow Pastafarian was legally allowed to officiate a New Zealand wedding in 2016. And a Massachusetts woman was granted the right to wear a colander for her driver's license photo after successfully arguing that it deserved the same consideration as any other form of religious headgear.
But not everyone is buying the legitimacy of the Pastafarian doctrine. Last year, a citizen of the Netherlands petitioned for the right to wear a colander in her passport photo. But to the dismay of Pastafarians everywhere, a Dutch court ruled that it does not constitute a real religion.
Should They Be Taken Seriously?
Critics view the Kenai Assembly speech as a high-level troll job - and perhaps it is. But does that mean this new faith should be discounted? That's a much harder question than it might seem.
First, how do we define what constitutes a "real" religion? Is it having a doctrine, a mission, and a base of followers? Or is there another component - let's call it "sincerity" - that must also be present?
On the one hand, it's hard to argue that a Gospel whose commandments are labeled "I'd Really Rather You Didn'ts" and that promises an afterlife full of stripper factories and beer volcanoes is trying to be taken 100% seriously.
But conversely, what benefits can be achieved by questioning the professed beliefs of others? This is a free country, after all. And many Pastafarians are also members of the ULC. Is there any harm in letting people wear colanders and say "rAmen"?