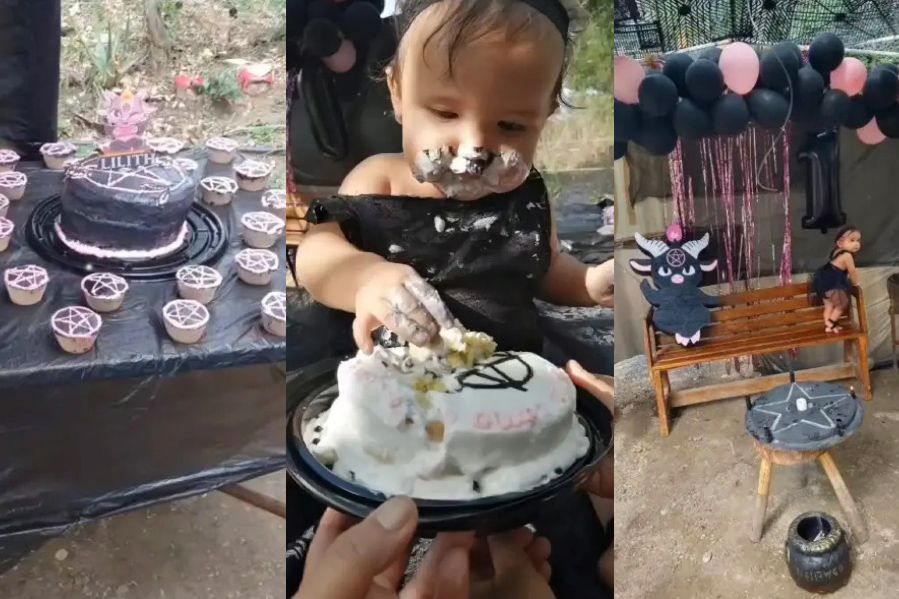 It's not often that the birthday party of a one-year-old makes the news. But the birthday party for a little girl named Lilith made headlines courtesy of a viral video on TikTok, showing the adorable little girl's eyebrow-raising birthday party, complete with black balloons, a cake decorated with a pentagram, and a Baphomet piñata.
Is a Satanic birthday party for a child okay?
Birthday Party, or Sacrifice?
Janeth Zapata could not have known the social media firestorm she was going to set off when she posted a few pictures of her daughter Lilith's birthday party to TikTok. The brief video slideshow has been viewed millions of times across different platforms, and has accrued thousands of comments. 
In one photo, one-year-old Lilith is dressed in all black digging into a cake decorated with a pentagram. In another, she's posing next to her party decorations, including black balloons and a piñata shaped like Baphomet.
It's clear there was a theme at Lilith's birthday party. And as you might expect, the negative comments and accusations of "Satanism" and "devil worship" quickly came rolling in.
"That wasn't a birthday party, that was a sacrifice," wrote one concerned viewer. "I really don't know what went through the mom's mind," wrote another. 
Janet Zapata, the child's mother, hopes to correct the record. In a statement, she said: "1. We're not Satanists. 2. There were guests. 3. The party didn't have anything Satanic. 4. The piñata isn't Satan, nor the Devil, it's Baphomet. 5. The pentagram isn't inverted because it's not Satanic."
Satanic Panic (Now With Cake!)
Not everyone thinks the internet was being fair to Lilith, however. Some commenters backed up the mother's choice of party decor, arguing that she has every right to celebrate her daughter's birthday, and raise her in the faith of her choosing.
In our own Facebook post about this story, many commenters came to Janet Zapata's defense. "Weird, we see THOUSANDS of people dunking kids in water, showering them in crosses and all - yet one kid has this birthday and people freak out," wrote one commenter in a message that was liked hundreds of times. "Almost as if they're allowed to celebrate in ANY WHICH WAY they choose. Thanks to organized religion, anything out of the norm is seen as evil."
The daughter has a pagan witchy name obviously they are celebrating her and their beliefs. I hate that people single out another because their beliefs are different. And usually it's the ones that say they "love" everyone... They don't even know what love is," wrote another.
Opinions are clearly split on whether this was okay decor for a child's birthday party, but what do you think? When it comes to their children, shouldn't parents have the final say on their religious upbringing? And shouldn't that extend to all faiths, not just those with mainstream acceptance?