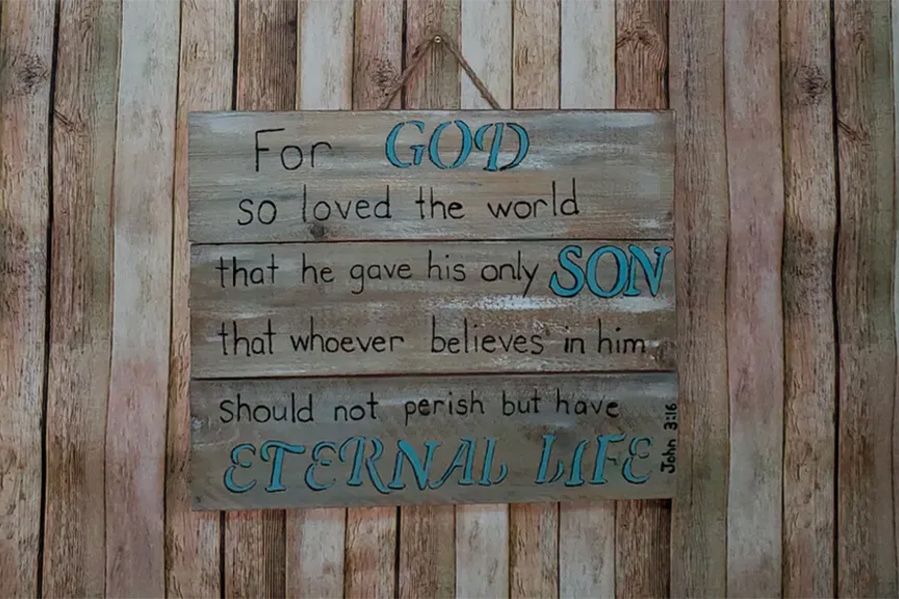 Students in a small Oklahoma public school district will no longer be forced to view a sign reminding them that God loves them, thanks to a national secularism advocacy group.
Earlier this year, a concerned resident of Skiatook, Oklahoma reached out to the Freedom From Religion Foundation (FFRF) about religious messages they said were inappropriately posted all over local schools.
Passages such as John 3:16 and Daniel 3:18 were reportedly being prominently featured in some classrooms.
With school back in session for fall, the messages are gone, but the fight between the state of Oklahoma and the nation's most prominent secular activists is just heating up.
Class, Turn to Page 3:16
The FFRF often has to gently remind public school districts they cannot endorse such overt religious messages.
"The district violates the Constitution when it allows schools to display religious symbols or messages," FFRF Staff Attorney Chris Line wrote to Skiatook Superintendent Missy Bush. 
The school district apparently decided not to fight the issue; it took the posters and signs down without complaint.
The FFRF celebrated the outcome as a win. "By taking this action, the district is showing respect not only for our secular constitution, but for the rights of students — particularly nonreligious and non-Christian members of the community — to be free from religious coercion in our public schools," explains FFRF Co-President Annie Laurie Gaylo. "Students should not be proselytized by their teachers — let alone every day."
The war between religion and secularism in Oklahoma schools hardly ends here, however. In fact, it may be just beginning.
The War Goes On
This isn't a one-off fight; in fact, there's currently another high profile effort to spread religious messages in Oklahoma schools.
State Superintendent of Public Instruction Ryan Walters reportedly plans to post the Ten Commandments inside classrooms across the state. In response, the FFRF has sent letters to Walters urging him to step away from the "indoctrination" of young people into Christianity.
"They want to have a Christian republic kind of like the Islamic republic in Iran. And they want to have a country where certain Christians are the only true citizens and the rest of us are second-class citizens," Gaylor explained to reporters a few months ago.
But Oklahoma officials don't see it that way. Walters, in particular, thinks it's important that kids have some exposure to biblical teachings.
"This is a war for the souls of our kids," he declared shortly after his election last year. "I will do all I can to fight to get that nonsense out of schools and to put God back in schools," he said.
The effort mirrors laws passed in other states mandating that the phrase "In God We Trust" be posted in public schools. Critics have argued it's a less-than-covert attempt to sneak Christianity back into the public school system, while supporters say it's simply an opportunity to promote the national motto. 
What do you think? Does religious messaging have any place in public schools?