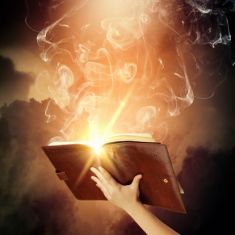 The History channel no longer hides the fact that it has done away with history programming in favor of programming on religion and conspiracy theories as well as reality television, earning criticism from scientists, scholars, and skeptics. Earlier this year the channel aired the hugely successful miniseries The Bible, and now it is betting on similar success with a new documentary miniseries called The Bible Unveiled. If nothing else, the documentary does offer an interfaith perspective on the Bible, which Universal Life Church ministers can appreciate.
An Interfaith Quest for Truth
Bible Secrets Unveiled, which is currently airing, hopes to shed light on the mysteries and secrets of the Christian holy book in order to answer important questions for people of faith. The series, which was produced over a period of six months, includes interviews with scores of noteworthy scholars from the Middle East and United States, as well as from different religious backgrounds. The overall goal of the series is to offer alternative hypotheses to Biblical mysteries and challenge traditionally-accepted "facts" taken for granted by more theologically conservative viewers.
The fact that the series will offer Jewish, Catholic, Islamic, and secular perspectives will undoubtedly shake up the white, evangelical view of Biblical scholarship that prevails in the United States. Among those interviewed for the series are Reza Aslan, the Muslim author of Zealot: The Life and Times of Jesus of Nazareth,Los Angeles-based author Rabbi David Wolpe, and Robert Cargill, an archaeologist and religion professor at the University of Iowa who was raised Catholic but now considers himself agnostic.
Stretching the Boundaries of Scholarship
Bible Secrets Unveiled challenges white evangelicals to consider perspectives from different religions and denominations, but does it go far enough in challenging Biblical traditions? As Cargill states, "[w]e wanted the scholarship itself to be controversial, based upon the facts of what we have found in our studies", yet the producers are still asking questions like whether Adam and Eve were created at the same time, or one before the other. A more daring question might be whether Adam and Eve existed at all.
The interfaith approach to the scholarship in Bible Secrets Unveiled is a refreshing change from the traditional evangelical script, but the series could have taken its scholarship a step further by asking even harder questions about the veracity of the Bible. After all, one of our goals as ULC ministers is to strengthen beliefs by challenging them.
Sources: History Channel, Huffington Post