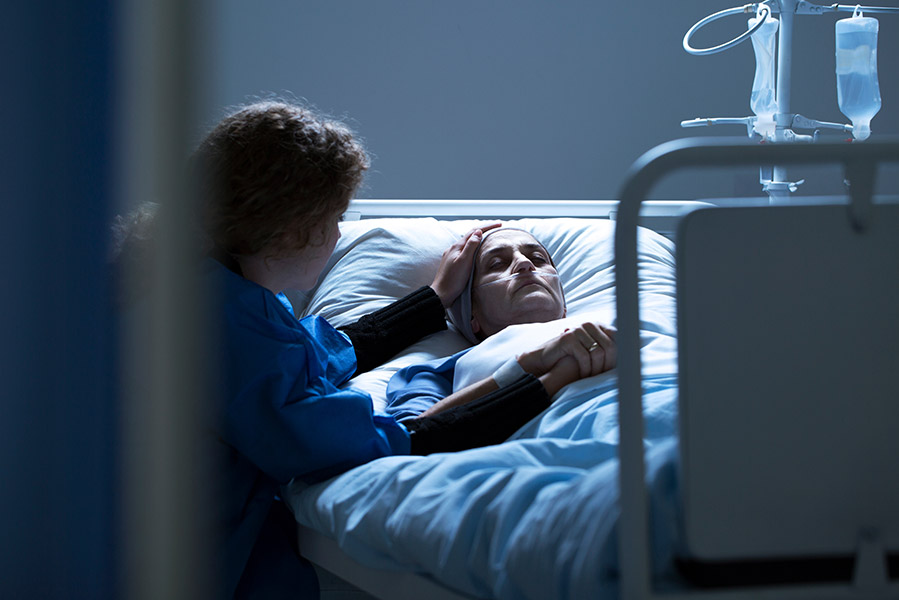 ---
Today, New Jersey becomes the seventh state to allow physicians to write a prescription for life-ending medication for terminally ill patients. New Jersey follows California, Colorado, Washington, Vermont, Hawaii, and Oregon in allowing physician-assisted suicide for the terminally ill. Activists spent nearly eight years lobbying the state to enact what proponents call the "death with dignity" law. But the law has its fair share of detractors, including most major religions.
New Jersey's new law follows similar laws enacted in other states. Patients must have a terminal diagnosis that will end their life within 6 months. They must verbally ask their doctor twice in the span of 15 days for the life-ending medication, and then must submit a request in writing confirming their full consent and knowledge of what their request entails. As safeguards, a second doctor must verify the terminal diagnosis and doctors may consult a mental health professional to confirm the mental faculties of the patient. Only then can the patient receive the prescription.
Public Support for Assisted Suicide High
Who is in favor of assisted suicide? Well, the American public for one. Per a 2018 Gallup poll, 72% of Americans say doctors should be able to help terminally ill patients die. Notably, men support physician-assisted suicide more than women, young adults are more in favor than seniors, and Democrats more than Republicans. The only demographic surveyed strongly against are those who attend church weekly- just over one-in-three regular churchgoers support it. Support has stood solid amongst the American public for nearly 30 years. Since 1990, support for physician-assisted death for the terminally ill has not slipped below a 64% favorability rating.
Assisted suicide measures gained steam in recent years in large part due to activist Brittany Maynard. In the weeks leading up to her November 1st, 2014 death, Maynard renewed public discussion about the assisted suicide debate. 16 million people read a People.com article covering her story and decision to end her own life after her fatal brain cancer diagnosis. The 29-year-old woman gave a new face to a debate where the average age of those seeking physician-assisted dying is 71. Maynard spent her last months advocating for assisted suicide, and her widow Dan Diaz continues her work today. He acts as one of the most visible activists in the death with dignity community.
Religious Objections
So why do so few states have right to die laws if the American public is in favor? Well, even though Americans pretty heavily support physician-assisted suicide, they're split on if it's moral. When asked about the morality of doctor-assisted suicide, only 54% said it was morally acceptable. 42% believed it was morally wrong.
The question of morality lines up with what most major religions say about physician-assisted suicide. Of all major religions and denominations in the United States, only one (Unitarian Universalist Association) is in support. All others reject physician-assisted suicide, or are not clear one way or the other. Most Christian denominations believe that it devalues the sacred gift of life and violates one of the Ten Commandments: "Thou Shalt Not Kill." In fact, when terminally ill Brittany Maynard took her own life, a top Vatican official called her actions "reprehensible" and said the public should condemn her actions.
The American Medical Association also does not support physician-assisted death. Believing it causes "more harm than good", the AMA is standing firm on their stance that "euthanasia is fundamentally incompatible with the physician's role as a healer, would be difficult or impossible to control, and would pose serious societal risks. Euthanasia could readily be extended to incompetent patients or other vulnerable populations."
Death With Dignity
Since the 1998 implementation of Oregon's Death with Dignity Act, 3,478 terminally ill people across six states have taken life-ending medications.
Emboldened by legislative wins in states like New Jersey, activists are unlikely to slow down. And those in opposition are also just as unlikely to throw in the towel. Ultimately, breakthroughs in medical technology will continue to extend the years and months that the terminally ill can live after receiving a fatal diagnosis- but the ability of modern medicine to provide a high quality of life is woefully unable to keep up. Those in favor of death with dignity laws say that any terminally ill person should have the option to safely and peacefully end their life on their terms. Those in opposition- including the American Medical Association- say that assisting death is immoral and condemnable.
Only one thing is for sure- the debate isn't over. What are your thoughts? Is physician-assisted suicide a right we should all have when our time comes? Or is it an unethical devaluation of the gift of human life?