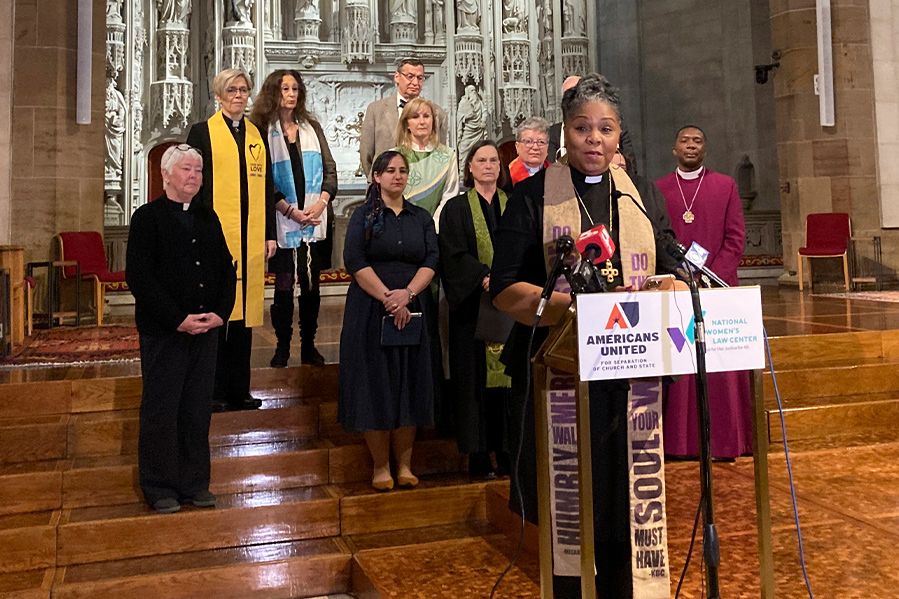 An alliance of 13 clergy members from various faiths are coming together to wage a legal battle against abortion restrictions in Missouri.
Their target? The 2019 "trigger law" which automatically became law when Roe v. Wade was legally overturned by the Supreme Court last year. Missouri's trigger law only allows women to have an abortion in the case of an extreme medical emergency, and there's no legal exemption for cases of rape or incest. The law makes performing an abortion a felony punishable by up to 15 years in prison.
The plaintiffs in the case contend that not only is the right to an abortion a part of their faith, but that Christian lawmakers illegally used the legal system to enshrine their own particular religious beliefs into law.
Do they have a case?
See You in Court
"The Missouri Constitution ensures a strict separation of church and state," explains plaintiff Reverend Traci Blackmon of the United Church of Christ. "Our elected officials have violated their oath to uphold that constitution by weaponizing religious beliefs to deny abortion access in a state where studies prove these actions are not the will of the majority of the people."
She represents one of several religious traditions in the lawsuit who either say abortion isn't against their religion, or is even required in some situations- including Orthodox, Episcopal, Unitarian Universalist, and Reform Judaism traditions.
Last year, some Jewish congregations filed lawsuits against several states over similar abortion restrictions, arguing that abortion is religiously required for Jewish women under certain circumstances.
This latest suit argues that the anti-abortion law was always grounded in evangelical Christianity, and that lawmakers blatantly enshrined their own particular faith into law when penning the law.
But don't take their word for it, the plaintiffs say. You can hear it straight from the horse's mouth: 
Citing all of the quotes in the video above, the lawsuit argues that "state officials have weaponized their religious beliefs to control the bodies and deny the autonomy of women and all who can become pregnant, jeopardizing their health, lives, and futures."
"The true purpose and effect of [this law is] to enshrine certain religious beliefs in law."
Imposing Christianity?
The lawmakers who argued for the bill say that the bill has nothing to do with faith, however.
"Legislators were acting on the belief that life is precious and should be treated as such," argues Missouri Senate President Pro-tem Caleb Rowden. "I don't think that's a religious belief. I think people need to understand what the separation of church and state is, most people don't."
Many of the bill's sponsors and signers say they were inspired by their faith, but that the bill itself is not a violation of separation of church and state. It's an important distinction, they argue.
Nonetheless, the plaintiffs in the case intend to fight the case tooth and nail, using lawmakers' own words about their motivations in passing the bill to fight what they believe to be an unconstitutional imposition of evangelical Christianity on Missourians. Only time will tell who the courts agree with.
What do you think? Were state lawmakers enshrining a particular Christian view of conception into law when they enacted the abortion ban? If so, does the legislation run afoul of the separation of church and state?