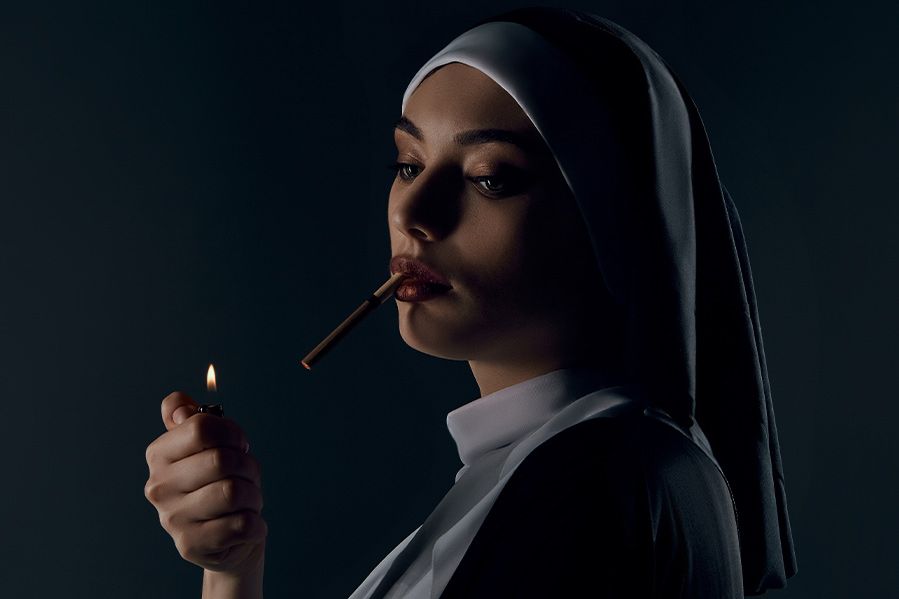 Does getting high get you closer to a higher power? 
Yes, say the Sisters of the Valley, a controversial group of weed-toking activist nuns. 
As you might imagine, these aren't your average nuns. They've got the habits, they've taken their vows, but these nuns spend their days growing and cultivating cannabis in California's Central Valley. 
Combining the spiritual healing power of faith with the physical healing power of CBD, the Sisters of the Valley "are on a mission to heal the world through plant-based medicine."
And with their values of "compassionate activism, spirituality and service," they're bringing spiritual and physical health to the people – through their online web store, where you can buy all manner of women-made CBD products, from oils to salves to CBD soap.
They provide an interesting contrast to other faith leaders across the United States, many of whom oppose marijuana legalization. Just last fall, voters in the state of Arkansas voted down recreational marijuana legalization, and many believe that the Bible played a part in that result.
When it comes to the intersection of faith and marijuana, where should the faithful fall?
Meet the Weed Nuns
The Sisters of the Valley have a couple dozen sisters worldwide, although many live in their Central Valley enclave, where they cultivate and grow their own hemp and marijuana to both sell online and consume recreationally themselves. Here they are hanging out with Aubrey Plaza:
These aren't Catholic nuns, mind you.
They'd best be described as a new age feminist revival of the Beguines, a long-gone religious order from the Middle Ages. The Beguines were a Christian order of women who lived in enclaves together, but didn't vow the traditional poverty or chastity vows required of many other religious orders.
Don't mistake that for a lack of spirituality, however. One of the Sisters of the Valley's primary goals is to bring spirituality to the masses, through cannabinoids.
"Christianity is dying all around us," explains Sister Kate. "What are people going to do? They need spirituality in their life; we need it for meaning. We are very spiritual beings walking a physical path, and so for that reason we will find ways to connect. And we are just one example of that."
"Our position is, if Jesus lived, he probably smoked weed," she explains. And if it's good enough for Him, it's good enough for us.
The jury's out on Jesus, but archaeologists have found traces of burnt cannabis at ancient holy sites in Israel, indicating that cannabis likely factored into ancient religious rituals.
Holy Practice or Holy Sin?
The Sisters of the Valley may be all in on marijuana, but many other faith leaders are firmly against legalization. A 2021 poll of Christian pastors found that a whopping 78% believe that consuming marijuana is "morally wrong", and that a scant 18% believe it should be legalized for medical or recreational use.
If you've been paying attention, that's not surprising. In the recent legal defeat in Arkansas, a group of Christian lobbyists enlisted Christian pastors in their effort to prevent legalization. They made the pastors pamphlets to explain the Christian argument against marijuana, including scripture that could be interpreted as anti-drug.
For decades, many evangelical leaders have fought marijuana legalization tooth and nail, believing it an addictive substance that ruins lives and families. Any medicinal value it might have, they argue, is overshadowed by its capacity to destroy communities.
Clearly, the 'weed nuns' don't agree. But what do you think?
Is marijuana a spiritual sacrament, a destructive substance, or somewhere inbetween?