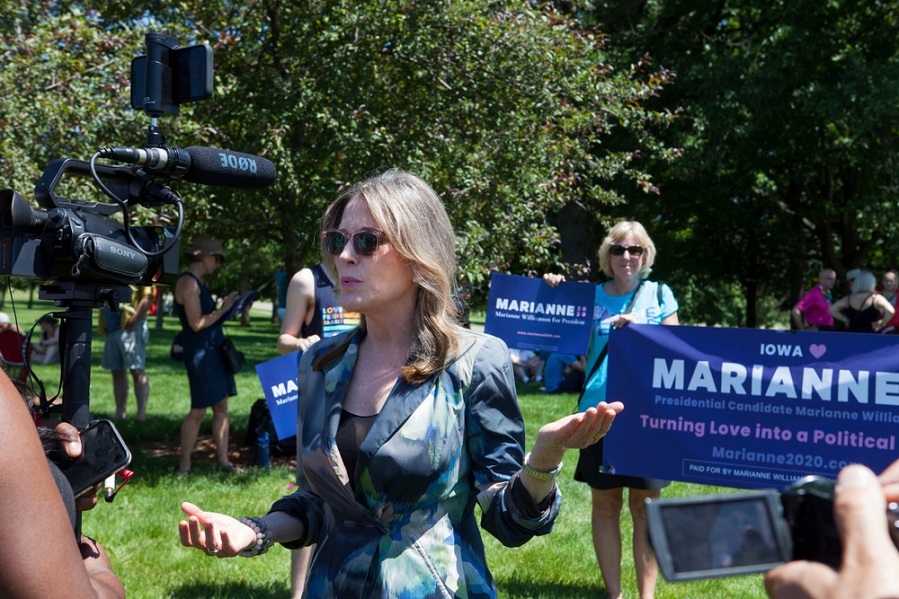 ---
Just days after catching heat for arguing prayer has the power to divert hurricanes, presidential hopeful Marianne Williamson did herself no favors when a hot mic moment handed her critics even more ammunition.
While taping an interview on Sinclair Broadcast Group's show America This Week, Williamson was heard telling the host that right-wingers have been much kinder to her than some of the "godless" people on the left.
"What does it say that Fox News are nicer to me than the lefties are? What does it say that the conservatives are nicer to me? It's such a bizarre world. You know, I'm a serious lefty. But I understand why people on the right call them godless. I mean, I didn't think the left was as mean as the right. They are," she said.
Here's the video:
What Does It Mean to Be "Godless"?
Politics seems to be infused in everything these days, and increasing polarization seemingly splits political dialogue into two separate universes. For the purposes of this discussion, let's leave partisanship out of the equation. Instead, let's explore the accusation of "godlessness." What does it mean to be "godless"? Is it a description, an insult, or something else entirely?
The Oxford English Dictionary defines godless as either a person "without a god; not recognizing or worshipping God; irreligious, ungodly" or an action "done without regard to God; impious, wicked."
The fact that the word wicked is thrown in there, even if later editions now qualify that description with the word archaic, is crucial to placing Williamson's comments into some kind of historical context. In centuries past, lacking god was akin to some acute moral failure, a person that ought to be avoided at all costs. "That a godless person or atheist could be as kind, decent, and moral as everyone else simply wasn't accepted by most people," explains Austin Cline, a former regional director for the Council for Secular Humanism.
Is Godlessness Bad? Depends Who You Ask
On its face, the term certainly appears to be an insult. And if you directed it toward a sincere believer, it certainly would be. But as with most things in life, perspective is key. When examined from another point of view, the word godless takes on a far less moral and divisive tone.
An atheist who is adamant that God doesn't exist, for example, might readily embrace the term "godless" as an accurate description of their world view. After all, if God doesn't exist, then how can being "without god" be a negative thing?
To the German philosopher Karl Marx the so-called father of Communism who famously labeled religion as "the opium of the Masses" a godless person was simply somebody that had been freed from the shackles of the prevailing herd mentality which constrains one's ability to properly view the world.
And he's not the only famous philosopher to question the existence of God. Some scholars argue that the likes of Dostoyevsky and Nietzsche would take intellectual pride in being labeled godless by the ruling moral classes, much in the same way that many modern atheists do.
So, where does that leave the term? Up for interpretation, it seems.  
What do you think? Is it an objectively bad thing to be godless, or is it possible to wear that badge with pride?