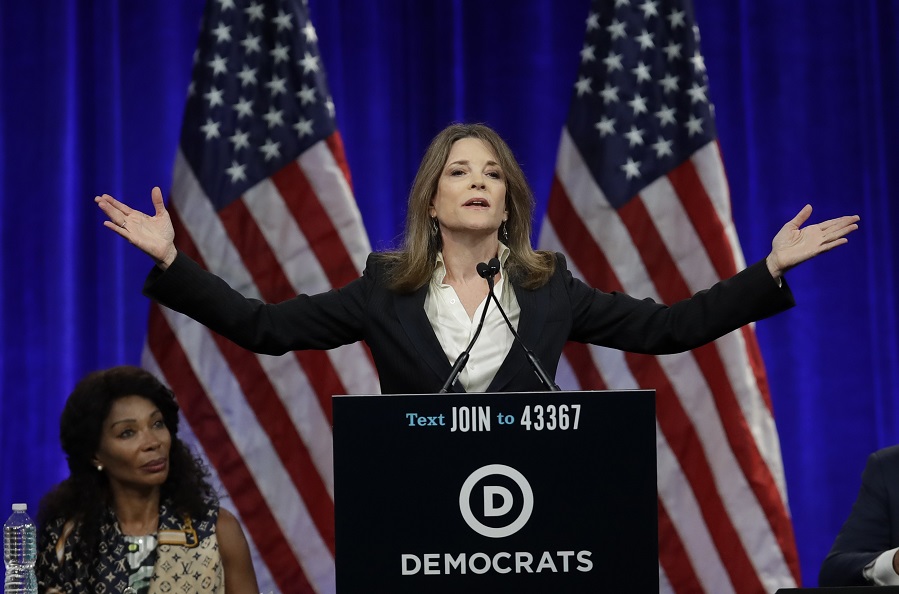 ---
Democratic presidential candidate Marianne Williamson sparked a fierce online debate earlier this week when she posted on Twitter urging her fellow Americans to pray and visualize Hurricane Dorian changing direction. "Millions of us seeing Dorian turn away from land is not a wacky idea; it is a creative use of the power of the mind," she wrote.
The backlash to this suggestion was immediate. Critics pounced on Marianne's comments, arguing that it was incredibly irresponsible for a public figure and a presidential candidate at that to tell people prayer was the answer to an impending life-threatening storm. Looking to the heavens for a solution instead of listening to science-backed storm predictions and evacuating could literally get people killed, they pointed out.
Others accused her of implicitly suggesting that Bahamians "didn't pray hard enough" to avoid Dorian. The Bahamas took a direct hit from the storm.
She soon deleted the tweet:
Backpedaling, But Not Backing Down
Marianne Williamson has not shied away from controversy since announcing her candidacy in January. Her first two debate appearances made her a household name (for those following politics, anyway), and led to the unearthing of past comments on vaccines and depression that raised eyebrows.
Williamson is a unique figure in the presidential race a proudly spiritual person in a Democratic field where religious beliefs are not often worn on the sleeve. The author and self-help guru has previously argued that it will take a "moral and spiritual awakening" in America in order to defeat President Trump in 2020.
With all that in mind, perhaps it's not surprising that in the face of mounting criticism, Marianne stood by her conviction that prayer is an important tool for enduring life's challenges. In fact, in a follow-up message, she even blamed the Democratic party's middling election results on "the overly secularized Left" which has treated people of faith "with mockery or condescension."
Are Prayers Effective?
Controversy aside, Marianne Williamson's comments have led to a renewed debate over the efficacy of prayer. Although millions of Americans still attend church services each week, studies show that number is steadily diminishing as is the number of people who pray regularly. Put simply, prayers don't seem to have the same status they once did, at least in the collective consciousness of a nation.
In the midst of the mass shooting epidemic, the phrase "thoughts and prayers" has been relentlessly mocked by atheists and gun control advocates alike as a meaningless gesture. A growing contingent of Americans seems to view prayer as a silly, naïve response to hardship no more consequential than wishing on a star or writing to Santa Claus.
Meanwhile, religious folks are appalled to see things moving in this direction. To them, prayer is a vital aspect of spiritual life not something to be mocked or scorned.
It's rare for something to transcend politics these days; most conservatives probably wouldn't agree with Marianne Williamson on much, but they'd no doubt take her side in this argument.
Where do you stand? Is prayer a useful force that can be harnessed to create tangible outcomes (such as repel a hurricane or defeat a political foe), or is it more of a feel-good strategy better confined to the past?