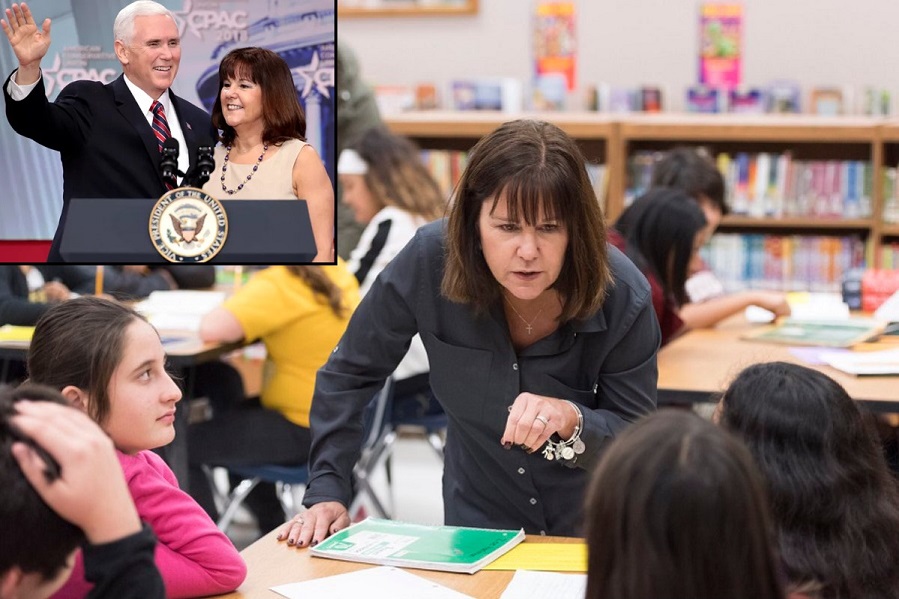 ---
Immanuel Christian School, a private faith-based institution in Springfield, Virginia, requires students and faculty to "live a personal life of moral purity," a pledge that includes renouncing premarital sex, polygamy, sexual harassment, sex abuse and - you guessed it - homosexuality.
Such policies are not unusual at many private religious schools. So why did this particular school land in the microscope, reigniting debate about religious discrimination against the LGBT community? Second Lady Karen Pence, wife of Vice President Mike Pence, recently announced she'll be taking a position at Immanuel Christian.
Anger Ensues
The announcement prompted an angry response from critics, many of whom think it inappropriate for such a high-profile government figure to be working for a religious institution that bars LGBT members.
Not only does the elementary school bar teachers from either condoning "homosexual or lesbian sexual activity" and "transgender identity," but a parental agreement allows it to "refuse admission" or "discontinue enrolment" if "the atmosphere or conduct within a particular home, the activities of a parent or guardian, or the activities of the student are counter to, or are in opposition to, the biblical lifestyle the school teaches".
In other words, gays and their parents need not apply. And this particular discriminatory policy has many progressive Americans up in arms.
Guided by Faith
Vice President Mike Pence has made no secret of his strong opposition to gay marriage on account of his Christian evangelical beliefs. He has publicly supported the controversial practice of gay conversion therapy and signed what many activists called a discriminatory anti-LGBT bill while governor of Indiana. In 2018, he'd become the first vice-president to speak at the Family Research Council's annual conference, an organization the Southern Poverty Law Center has labeled a "hate group".
Pence was quick to defend his wife, however, telling a Catholic news network that America has a rich tradition of religious education and that "to see major news organizations attacking Christian education is deeply offensive to us."
And others spoke up in defense of the second lady teaching at a religious school. "It's absurd that her decision to teach art to children at a Christian school, and the school's religious beliefs, are under attack," declared spokeswoman Kara Brooks.
Should it Be Allowed?
The public remains split as to whether Karen Pence's actions violate any principles regarding the separation of church and state principles. On the one hand, taxpayer money is going to subsidize the couple's housing and other living costs. And beyond financial issues, critics argue that it's simply a bad idea for government officials to be involved in with discriminatory religious organizatioins while in office.
On the other hand, supporters think the second lady should be free to exercise her faith however she pleases even if that means working at a school with anti-LGBT policies.
Where do you stand?