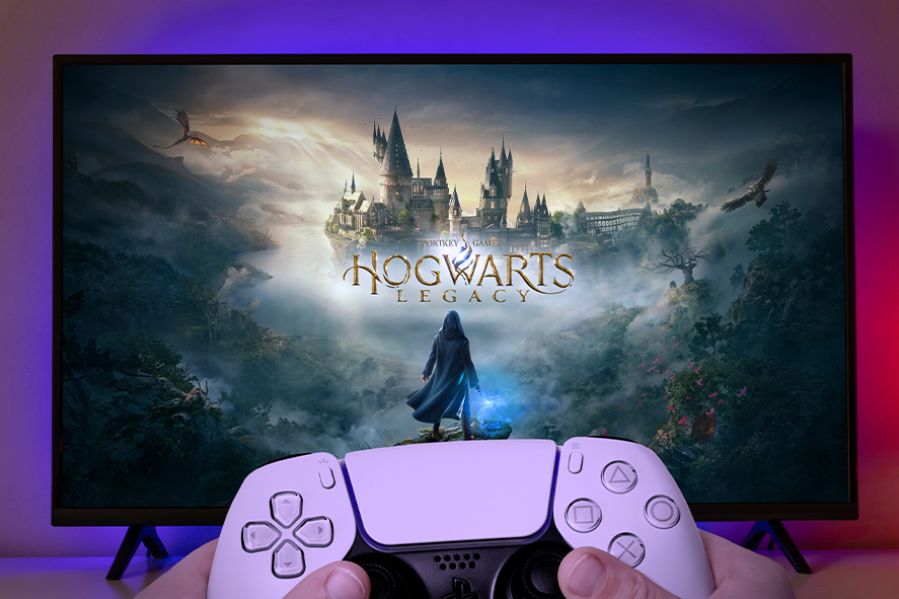 Hogwarts Legacy is undoubtedly one of the most anticipated games of the year. First announced in September 2020, the long awaited game allows players to roleplay as a student in the Hogwarts School of Witchcraft and Wizardry. Gamers will be able to explore the halls of Hogwarts, learn magic, fly around on a broom, and interact with hundreds of characters. As reviews roll out this week in anticipation of the February 10 release date, it appears by most accounts that the game will live up to the hype, and let gamers live out their wildest wizarding fantasies.
But almost immediately since its announcement, the game's been mired in controversy - but not for anything in the game itself. Rather, the game has a lot of baggage it has desperately been trying to shake: Original series author J.K. Rowling.
Hogwarts: Legacy of Controversy
For years, J.K. Rowling's 'likes' on social media hinted towards her anti-transgender beliefs. But it wasn't until 2020 that she confirmed her anti-trans stance with a lengthy post on her personal website. Since then, much of Rowling's social media presence has traded in anti-trans rhetoric, particularly when it comes to transgender children. 
Since that post, Harry Potter fans - many of them young and progressive on LGBTQ issues - have had a complicated relationship with the series, trying to love the Wizarding World while also finding its creator's views toxic and hateful. 
That has spilled over into one of the most anticipated video game releases of the year. Many LGBTQ gamers and allies have committed not to purchase the game, despite reports that development of the game began before Rowling's 2020 post. The game's creators have stated that Rowling didn't work directly with them to develop any material for the game, but she is almost certainly going to be receiving royalties from every sale of the game, given it is based on her intellectual property. 
The game's creators have done their best to distance themselves from Rowling's views. The character creator in the game reportedly allows gamers to create a transgender or gender nonconforming character as their in-game avatar, and it even includes the Wizarding World's first transgender character, the owner of a local pub in Hogsmeade named Sirona Ryan. 
The game's director, Alan Tew, says that the developers at Avalanche Games are committed to making a game that everyone can play. "We know our fans fell in love with the wizarding world, and we believe they fell in love with it for the right reasons," he explains. "For us, it's making sure that the audience, who always dreamed of having this game, had the opportunity to feel welcomed back, that they have a home here and that it's a good place to tell their story."
This is hardly the first time the Harry Potter series has been the targets of protest, however. Upon the first book's release in 1997, the series was under fire from some evangelicals, who believed the book would lead children down a path of sin. Behind the titular character's boyish smile, ruffled black hair, and lightning bolt scar lay a sinister motive: converting impressionable children to a life of witchcraft and paganism. School libraries in nearly half the states banned the books, and some churches and parent groups organized mass burnings of books, merchandise, and DVDs of the films.
Accio Protest
For many LGBTQ gamers it's simply too little too late, and they've pledged not to support the game financially. There have been numerous social media campaigns on Twitter, YouTube, Twitch, and more calling on gamers not to purchase the game, hoping to both hurt Rowling's pocketbook as well as to show a general solidarity against her views. 
If pre-orders are anything to go by… the campaign has largely failed. The game has been number one on Amazon's video game bestseller list for weeks, long before its release date, and analysts already have it pinned as one of the top-selling video games of the year. Gamers, it appears, largely do not know - or more likely, do not care - about Rowling's personal views on sex and gender. At least not enough to put the controller down and sit this game out.
What do you think of the protests? Was the movement doomed to fail from the start? And should gamers separate art from the artist? 
When it comes to engaging with art created by people holding views we find disagreeable, where is the line?