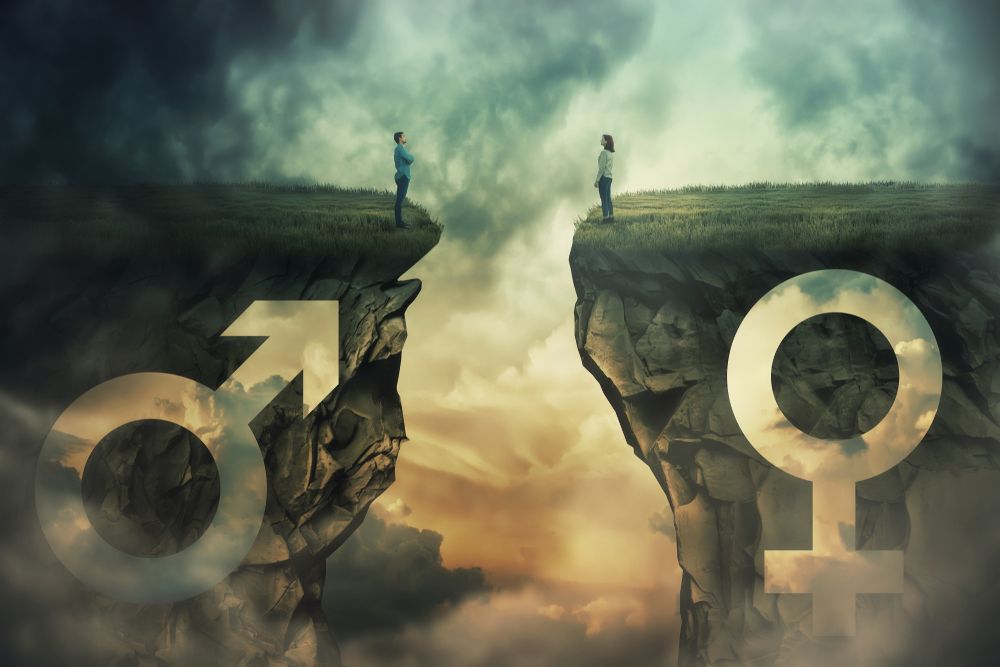 ---
Leaked emails between South Dakota officials and anti-trans lobbyists are sparking widespread concern among LGBTQ+ rights groups – both for their stark opposition to transgender rights and their heavy use of Christian nationalist language.
Some activists argue that the emails are like something out of The Handmaid's Tale, portraying an extremist religious faction that wants to wage a holy war against trans people on a national scale. 
So what exactly did these emails say? And what does this movement mean for transgender rights in the U.S.?
Emails Reveal Heavily-Religious Phrases
The leaked emails are filled with religious language and prayers, with sign-offs like "God bless you" and "Under His wings." 
In one email thread, participants used phrases like "the Devil never sleeps" and "I pray for the 2nd coming more and more" in reference to the trans rights movement. 
The emails also include revelations about some of the ways that anti-trans lobbyists and elected lawmakers utilize religious phrases that reference "wars," "fights," and "battles."
"Praise God! Five smooth stones, and an abiding faith in His justice! Good work you guys!" a lobby group member wrote following the passage of Idaho bill H500, which banned transgender athletes from competing in public school events that do not align with their birth gender. ("Five smooth stones" is a biblical reference to the story of David and Goliath, often used to refer to a situation where an underdog defeats a stronger adversary).
In another instance, South Dakota Rep. Frank Deustch wrote to a group of supporters saying: "Today, we do battle on the SD House Floor. Thank you for all your work, and your prayers."
He received a response from Vernadette Broyles, president of the legal group Children and Parental Rights Campaign:
"Know that many have prayed and are praying for you this day. Do not back down, nor should you be afraid. Know that the Lord is with you. The children of South Dakota belong to him. He is jealous over them. Let his jealousies be spoken forth in the House of Representatives of South Dakota today so that his children would be made safe. Know you are HIS representative today. Do not be afraid. Stand firm in what is right."
In a different email, Broyles wrote:
"Praise God!! And we cancel every assignment of backlash against you and those who stood with you. May you sleep the deep sleep of one who has warred well for what is right."
Signs of Christian Nationalism?
Some experts argue that these messages are the words of people who think they are fighting a righteous faith crusade. 
"It is the language of Christian nationalism," says Grand View University history professor Thomas Lecaque. "It is the language of people who very much believe they are doing God's will, and it is the language of people who very much believe that they are engaged in a holy war." 
In another example being cited, Elisa Rae Shupe, a transgender woman who for a short period de-transitioned and allied with anti-trans activists wrote to them in an email: "I prayed for you and the others supporting the bill today. Asked the Lord to put all of you in the Armor of God for this fight." 
Interestingly, Shupe has since re-transitioned and renounced her ties to those groups and to Christianity. Describing the experience in an interview with VICE News, she said:
"I fell prey to the belief that if I did what they suggested that I would be cured of my gender dysphoria… I was encouraged to confess my sins, ask for forgiveness by Jesus, and turn my plight over to the Lord Jesus Christ. I was also asked to accept that my transgender status was a sexually motivated sin and to cure myself by attending a religious 12-step program, which I did for approximately a year."
LGBTQ+ groups are sounding the alarm following these leaks, calling it a concerning example of Christian nationalism that threatens to infringe on their rights – or worse.
What Does Christianity Teach About Gender Identity?
Stories like this make it clear that some faith groups wholly oppose transgender identities, even going so far as to fashion themselves as fighting a holy war of sorts against the transgender rights movement. 
But is that a widespread view, or simply the beliefs of a small group of extremists?
The issue of transgender rights is a complex one, and there is not a single Christian perspective on it. To be sure, some denominations have strict beliefs about gender identity. 
Interestingly, one of the most cited critiques of gender theory comes from Pope Francis in a 2016 writing titled "Amoris Laetitia." In it, the pope appears to indicate that to change one's gender is to go against the wishes of the Creator:
"It needs to be emphasized that 'biological sex and the socio-cultural role of sex (gender) can be distinguished but not separated.' […] It is one thing to be understanding of human weakness and the complexities of life, and another to accept ideologies that attempt to sunder what are inseparable aspects of reality. Let us not fall into the sin of trying to replace the Creator. We are creatures, and not omnipotent. Creation is prior to us and must be received as a gift. At the same time, we are called to protect our humanity, and this means, in the first place, accepting it and respecting it as it was created."
With that said, many Christians do support transgender rights. Their beliefs are often rooted in basic biblical principles such as love, compassion, and equality.
These supporters sometimes point to the fact that the Bible does not explicitly address transgender identity, and therefore, it is not appropriate to make dogmatic statements about it. They argue that Christians should prioritize love and compassion over rigid interpretations of scripture.
Others say scripture actually offers evidence that transgender identities aren't so radical after all. 
That's the position of Shannon TL Kearns, the first openly transgender man ordained in the Old Catholic Church, a smaller denomination of Catholicism that split from the Church during the 19th century.
"The world of gender in the Bible is much more complex than I was taught growing up as an evangelical," Kearns points out, citing examples of figures in the Bible upending gender norms. "We have women who are judges. We have men who spend their time in the kitchen. There are eunuchs, which were considered this kind of other third gender," he says.
Interestingly, this debate over gender norms and identities is not a strictly modern – nor strictly Christian – one. In fact, scholars say some ancient faiths rejected the idea of a gender binary and instead recognized a wide variety of genders.
Where do you stand?