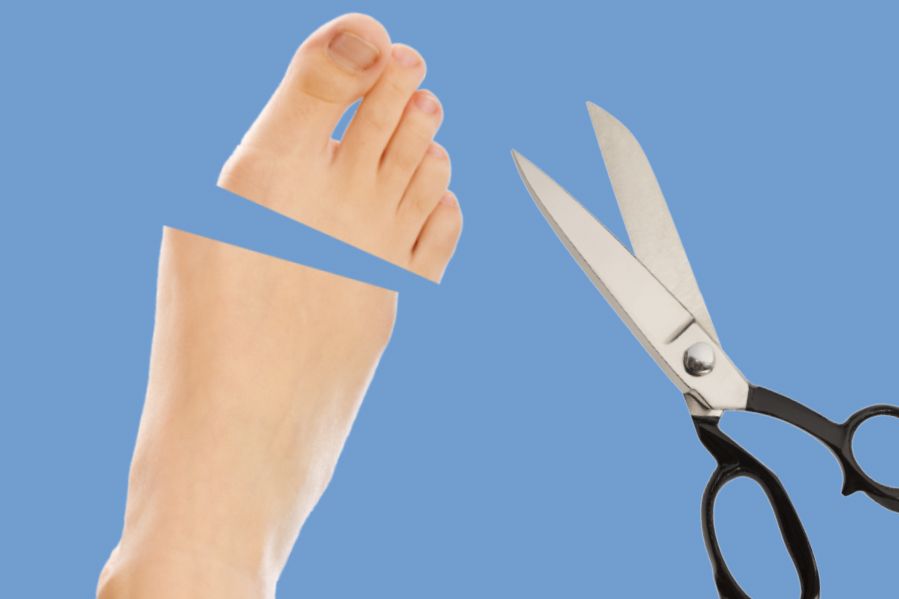 A Missouri church recently made some shocking claims that are sure to knock you off your feet.
John Lindell, pastor of James River Church in the Springfield, Missouri area, is getting national attention after his congregation supposedly regrew a woman's severed toes through the power of prayer.
The reported miracle has left many in disbelief... literally.
Skeptics smell something fishy, and now they're asking for the receipts.
They've even created an entire website asking for proof. It is titled, fittingly, ShowMeTheToes.com.
Heeling Power of Prayer
The missing toes in question belong to a woman named Krissy Thompson. Thompson had three toes amputated in 2015 after she was shot by her husband (and contemporary news articles corroborate that report). 
Thompson was apparently attending a service when Pastor Lindell asked if anyone in the audience needed a "creative miracle."
Regrowing three lost toes would be quite the miracle, indeed. But she says what happened next is mindblowing, defying all laws of science and human biology: the toes grew back.
Like, instantly. Video below:
"All the women got down and they prayed over my foot," Thompson explained. "I decided to take my shoe off to see what was happening when (Pastor Bill Johnson) said, 'Let's see the progress or if anything's happened.'"
"I saw three toes that were forming," Thompson said, "and now there's length to them tonight."
The pastor later echoed these claims in a Facebook post. Within 30 minutes, he said, the formerly amputated toes were longer than her pinky toe. Within an hour, toenails began regrowing.
Another visiting pastor in attendance, Bill Johnson, confirmed the miracle and retold it to his congregation:
Cracks Form In The Story
If true, this would be a genuine medical and spiritual miracle. It would also potentially provide hard evidence for the healing power of prayer.
It's clearly a big "if," though – there's no video of the event, and Thompson refuses to show anyone the regrown toes. 
Well, one motivated group isn't letting her off the hook, and they seem determined to see proof of this supposed miracle.
Send Feet Pics! 
ShowMeTheToes.com wants one thing: verified photos of the toes. Here's a preview: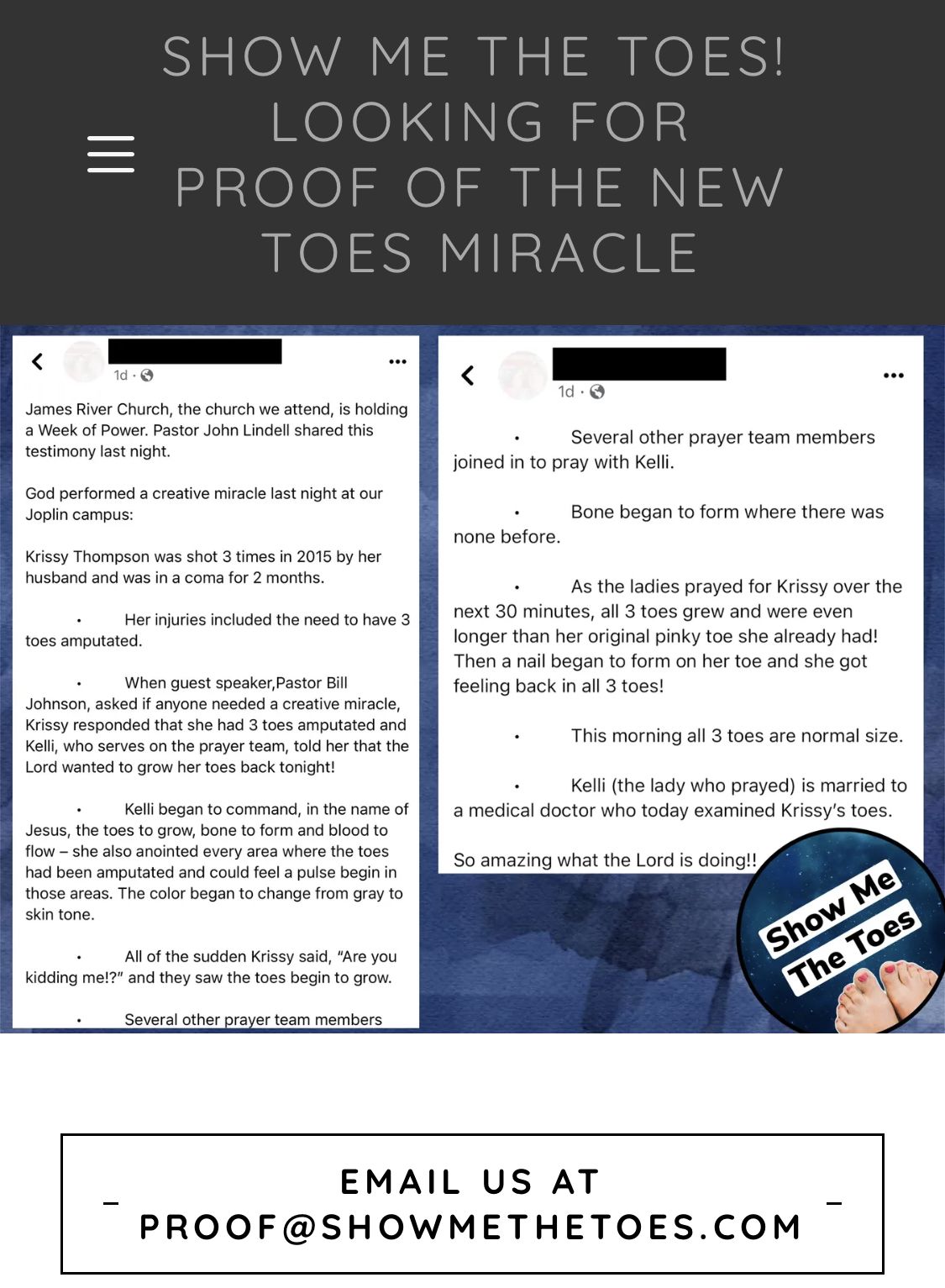 The hope is that this newly-created a website will force Thompson's hand. Err, foot.
"If you have photographic/video evidence this occurred, provide it and we will share it on this page," the group's website claims. "So far, James River and Krissy have provided zero proof."
Apparently, the church is pushing back, arguing that sharing photos would be an invasion of privacy.
But the group behind the website isn't buying it.
"They never had provide [sic] her identity and chose to exploit her instead of protect her from the beginning," the site says. "It is obvious they never thought what John shared from the stage would end up creating the viral Facebook post at the top of this page. If there is proof SHOW IT!"
So far, both the church and Krissy Thompson are refusing to show images of the miraculously regrown toes.
Are Miracles Real?
What do you think – it is possible for toes to regrow with prayer? And if so, do the individuals involved have an obligation to share proof with the world?
Did a miracle really occur in Missouri, or is this more likely a case of a church making an outrageous and unsubstantiated claim that they didn't anticipate going viral?