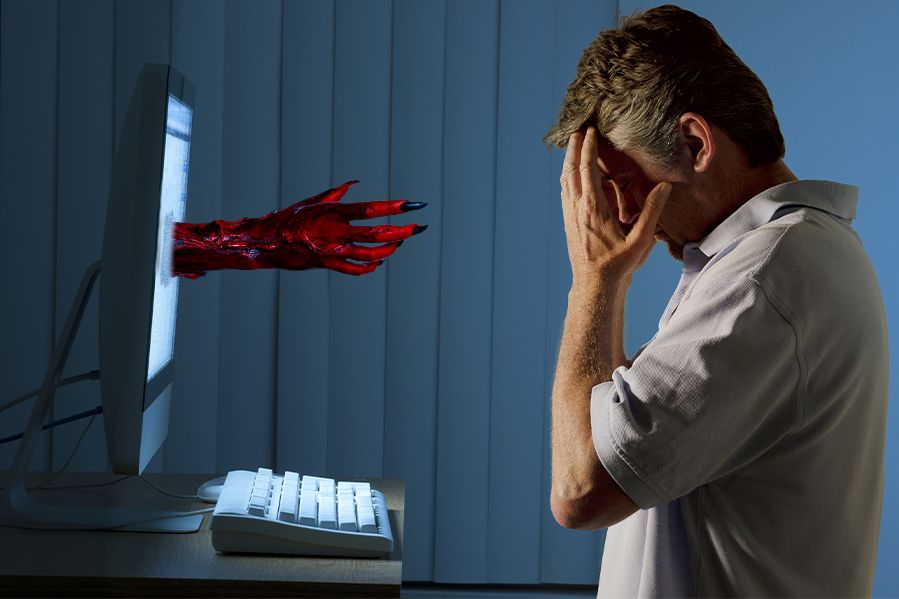 In a speech to aspiring priests earlier this month, Pope Francis warned that viewing pornography leaves you open to nothing less than demonic influence.
Decrying pornography's modern ubiquity courtesy of smart phones and the internet, Pope Francis warned the seminarians he was speaking with that they are not immune to pornography's seductive spell. "Priests and nuns also have the vice of porn on the web," he cautioned. "If you have [pornographic images] on your mobile phone, delete them."
And it's not just the kinky stuff, he explained. Even "normal" porn can lead one down a dark path.
"Beware," Pope Francis cautioned. "The devil enters from there and weakens the soul".
Is Pope Francis right? Does viewing porn leave one vulnerable to demons coming inside?
The War on Porn
Pope Francis is not alone in his distaste for pornography. Prominent evangelical leaders have long been on a crusade against porn, with many believing it to be a cause of societal decay.
Some have even gone as far as to try and get pornography or major pornography platforms banned altogether.
In a 2016 post, evangelist Franklin Graham wrote that consuming pornography is a sin, and that widespread pornography is the internet's "greatest evil."
"[Viewing porn] isn't just a bad habit, nor is it only something that appeals to your lusts or your craving for excitement," he wrote. It is sin—and you must not excuse it or deny it or say that it doesn't really matter."
Many Christians don't just dislike porn – they want it banned altogether. Last year, popular online subscription OnlyFans announced that they were planning to ban sex workers from their platform.
Many saw that as a curious move, to say the least, considering that sex workers and their subscribers make up the lion's share of their users. OnlyFans eventually reversed course on the seemingly self-destructive business move, but many wondered: Why was the announcement made in the first place?
The answer is that their banking partners dropped them, citing a "reputational risk" to continuing to do business with OnlyFans.
This move was reportedly fueled (at least in part) by a crusade courtesy of Christian anti-porn activist groups like Exodus Cry and the National Center on Sexual Exploitation. In the past, they've successfully put pressure on payment processors to drop porn-affiliated companies, hoping to put the porn purveyors out of business. 
Is Porn Really Demonic?
But clearly, some critics see porn as more than just an addictive sin. Is it also a portal to demonic influence, as Pope Francis insinuates?
Yes, according to author and religious activist Jareb Nott. The "gates of pornography" can lead to something akin to demonic possession, says Nott. "We dip our toes in" to pornography, he says, and next thing you know we've left an open door for a "demon to infiltrate our lives."
Still, he says that full-blown demonic possession from porn is rare. Typically when dealing with a porn demon, "we break the evil attachment and we command the demon to go and it's a done deal."
That's a view that anti-porn advocate Sathiya Sam might cosign. He says that viewing pornography is akin to "dancing with the devil," and that you're "engaging with something demonic and giving [Satan] a foothold."
With his comments to would-be priests, Pope Francis is seemingly in agreement.
What do you think? Is pornography the work of the devil?