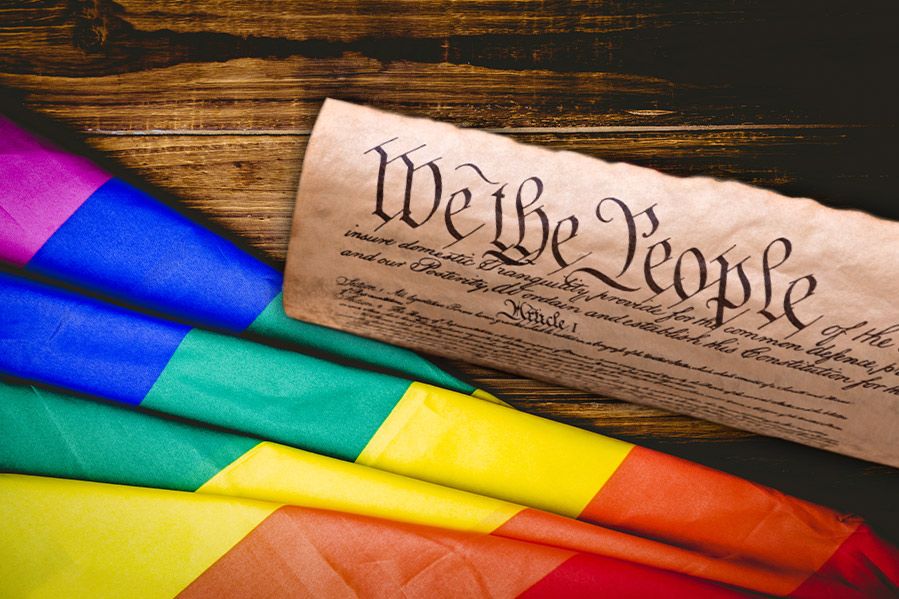 A new bill introduced in North Dakota seeks to curtail LGBTQ rights by recasting homosexuality as a "secular religion" which shouldn't receive any special treatment from the government. 
The ten-page HB 1476, introduced to the legislature by State Rep. Terry B. Jones, has LGBTQ right advocates incensed.
Under the pretenses of stopping religious influence in the law, the bill threatens to prevent everything from transgender people changing their gender on their driver's license, to Drag Queen Story Hours on public grounds, to gay marriage itself.
Is "not being religious" a religion in and of itself? That seems to be the argument. 
No Religion is the New Religion
The bill's goal is clearly to thwart the progress LGBTQ individuals have made in the last dozen or so years. To do so, the bill tries to redefine homosexuality as inexplicably linked to "the secular humanist religion."
But critics say that's nonsense, as secular humanism is a philosophy or worldview – not a religion. It's defined on secularhumanism.org as "a comprehensive, non-religious lifestance incorporating a naturalistic philosophy, a cosmic outlook rooted in science, and a consequentialist ethical system." Secular humanism specifically rejects any sort of religious dogma or supernaturalism.
HB 1476, however, defines secular humanism very differently. Here's what the bill's authors have to say:
"Secular humanism is a belief system that is centered on the unproven assumptions there are no moral absolutes and no one moral doctrine should be used as the superior basis for law and policy… The term refers to a religion that tends to promote licentiousness and to justify practices that are inconsistent with the peace and safety of the state. The term refers to the belief that man is merely a bundle of chemicals, animated pieces of meat, or accidental particles, and that nature is all there is."
LGBTQ Erasure
Under the basis that secular humanism is a religion, the law would essentially erase all traces of LGBTQ symbols, acts, even marriages, from North Dakota public life.
For example, the bill redefines marriages between individuals of the same sex as "nonsecular marriages", and directly compares them to marriages between "a person and an animal, or a person and an object."
It redefines transgenderism as a "Nonsecular self-asserted sex-based identity narrative" that will "erode community standards of decency and promote licentiousness."
It even targets Drag Queen Story Hour, a popular activity at libraries across America, where drag queens read books to children. That is redefined as "a nonsecular event where men dress up as women and display an inherently sexualized performance targeting minors with the purpose of promoting and normalizing the faith-based beliefs and practices that stem from the secular humanist religion."
Because the bill essentially redefines being gay or transgender as a religious statement, it would have grave consequences for the acknowledgement of LGBTQ individuals in public life.
Marriage licenses between same-sex partners would not be available. Transgender individuals would be banned from changing their sex on their driver's license. The state would be legally barred from flying gay or trans pride flags. Public schools would not be able to teach students that LGBTQ people exist as part of sex education without explicit approval from parents.
It seems pretty clear that if this bill is passed (which is a longshot), it would face a serious legal challenge. Still, it is a stark reminder of the faith-based hatred LGBTQ people continue to face in the United States. 
What is your reaction?