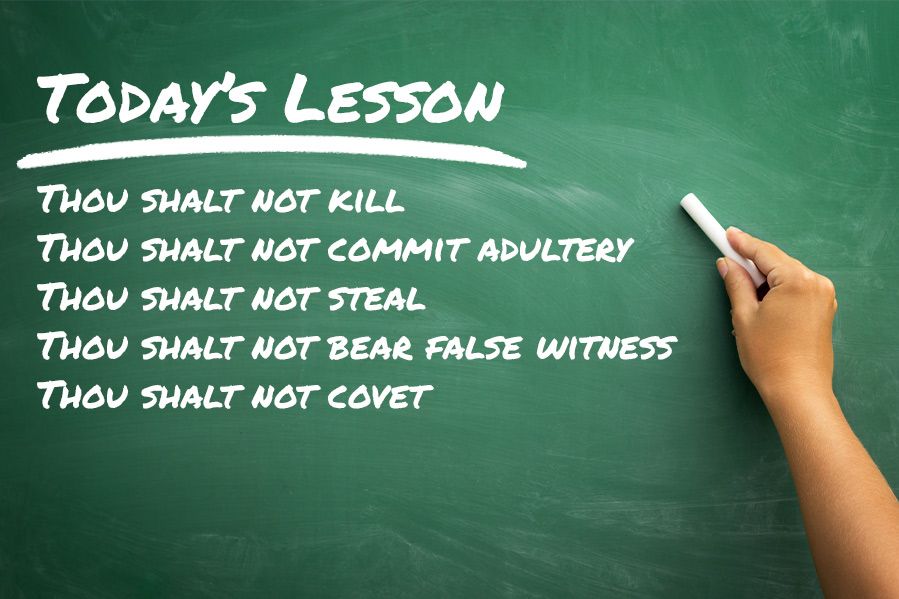 The Cleveland County school board in North Carolina is considering installing the Ten Commandments in 30 schools across the district.
The policy, first proposed by school board member Ron Humphries, is currently in the draft stage, but should it move forward, it would likely cause the school district and the county legal headaches – they've already received a warning from the Freedom From Religion Foundation.
Place religious symbols in public schools has been deemed unconstitutional on numerous occasions in the past, which begs the question: what makes Cleveland County think this time is different?
A Legal Loophole
We're all familiar with the concept of separation of church and state. The state or government cannot endorse one religion over another.
Putting the Ten Commandments, straight out of the Old Testament, on public property would seemingly be a pretty big endorsement of Christianity. But the school board is arguing it's legal under a North Carolina statute that allows religious documents to be placed in public schools so long as they have "historical significance".
The school board appears to be arguing that while the Ten Commandments do represent a religious symbol, they want to put them on display for students as a historical artifact in every elementary, middle, and high school across the county.
The statute in question lumps the Ten Commandments in with nonreligious documents significant to US history like the Declaration of Independence, the Constitution, or the national anthem.
Not So Fast
The Freedom From Religion Foundation (FFRF) has already kindly warned the school district that they're about to make a costly mistake, imploring them to ditch the Ten Commandments mandate lest they be sued.
"The district can be sued for violating the Establishment Clause even if it is following North Carolina law," said a FFRF staff attorney. "It would be a flagrant violation for the school board to require all of its schools to display the Ten Commandments."
The letter sent to the school district cited two Supreme Court cases in which the nation's highest court clearly ruled against Ten Commandments displays in classrooms before, as well as FFRF's own success suing other school districts that attempted this very maneuver.
But the school board member who initially proposed this believes the school district is immune from lawsuits, saying that "we cannot be sued for following the law of the state of North Carolina."
However, another member fears the ramifications – both legal and monetary. Board member Dena Green noted that "I would think that the ACLU would really come down on us. We are probably going to get a lot of backlash on that, and it's going to cost us a lot of money."
What do you think? Could installing the Ten Commandments outside of every public school in the district truly be for historical purposes? Or is this a case of using a legal loophole to inject Christianity into public schools?