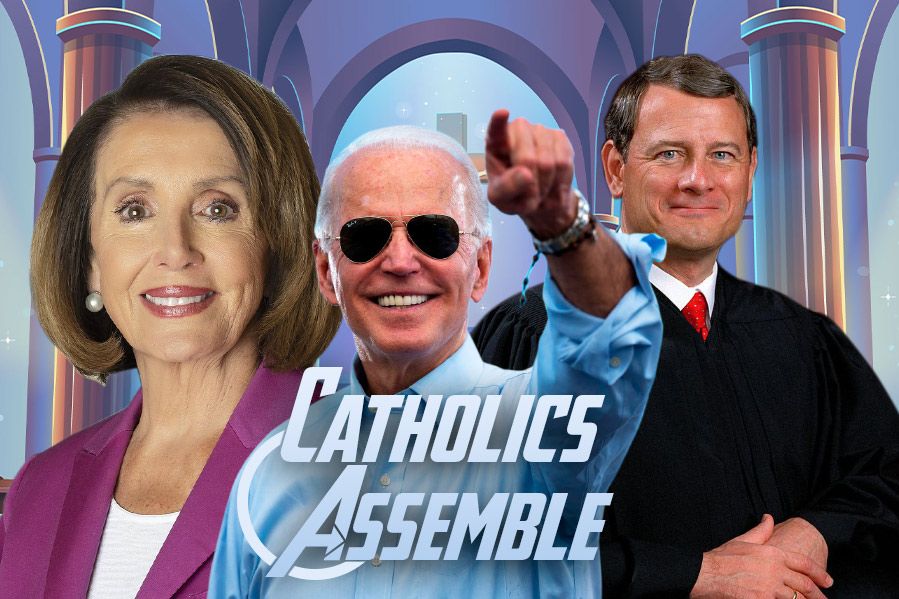 The swearing in of Joe Biden as the United States' 46th president on January 20th drew millions of television viewers to witness the occasion. But it was an especially monumental day for Catholics, as they watched Joe Biden became the just the second Catholic president in the nation's history.
With Nancy Pelosi retaining her position as Speaker of the House and John Roberts remaining Chief Justice of the Supreme Court, Catholics officially – for the first time in history – sit at the head of all three branches of government. 
It's a situation that would have seemed quite unlikely just a few decades ago, when Catholicism was considered a major political weakness and a source of frequent attack from critics. 
Now in the driver's seat at all three branches of government, Catholics have the metaphorical keys to the castle.
A Sign of Progress?
The Catholic Church was not always the relatively mainstream religion it is today. In the late 1950s, presidential candidate John F. Kennedy routinely had to assure Americans he wouldn't have dual loyalties to the United States and the Vatican (a common fear at the time).
"I am not the Catholic candidate for president," Kennedy said, addressing the nation live on television. "I am the Democratic Party's candidate for president, who happens also to be a Catholic. I do not speak for my church on public matters, and the church does not speak for me."
His opponent, Richard Nixon, recruited Protestant allies to help attack Kennedy on his religion, most notably evangelist Billy Graham, the most famous evangelical in the nation at the time. Graham petitioned those on his mailing list – some two million American families – to implore those in their churches and Sunday schools to vote in the upcoming election. 
Shaun Casey, director of the Berkley Center for Religion, Peace and World Affairs at Georgetown University, says that "the argument was, when push came to shove, a president who was Roman Catholic would ultimately be more loyal to the Vatican because the fate of his eternal soul was at stake. If Kennedy was elected president, he'd criminalize birth control, he'd cut off foreign aid that helped countries invest in birth control, and he'd funnel tax money to Catholic parochial schools."
In the end, none of those fears came to fruition. 
What Makes a "Real" Catholic?
Fast forward to today, and the situation has changed dramatically. In fact, the most vocal religious criticism being leveled at newly-elected president Joe Biden is that he's not Catholic enough.
The biggest flashpoint: the issue of abortion. Biden has historically sided with pro-choice activists in allowing women the right to make medical decisions for themselves. This fundamental clash with Catholic teachings has led to discord in the Church. 
A particularly public rebuke from Catholic leadership occurred in late 2019. While attending mass (as he does most Sunday mornings) Biden was denied holy communion by Father Robert E. Morey on the grounds of his pro-abortion stance. "Any public figure who advocates for abortion places himself or herself outside of Church teaching," Morey claimed at the time.
Even on inauguration day, President Biden was not safe.
Los Angeles Archbishop José Gomez issued a sharp statement on January 20th congratulating Biden but also saying:
"I must point out that our new President has pledged to pursue certain policies that would advance moral evils and threaten human life and dignity, most seriously in the areas of abortion, contraception, marriage, and gender. Of deep concern is the liberty of the Church and the freedom of believers to live according to their consciences."
The Vatican and the Masses
The very public controversy has shown a spotlight on serious ongoing divisions within the Catholic Church as a whole.
Archbishop Gomez's comments were starkly contrasted with a letter sent by Pope Francis to President Biden, in which the pontiff gave wholehearted congratulations on the electoral victory and told Biden he would pray that "under your leadership, may the American people continue to draw strength from the lofty political, ethical and religious values that have inspired the nation since its founding."
Pope Francis has himself often been accused of leaning too progressive by more conservative and traditionally-minded factions of the Church. With those voices becoming louder now that Biden has taken office, many are expecting further infighting among Catholics moving forward. 
What do you make of this controversy?
What makes someone a "real" believer of their faith – and does disagreeing with fundamental teachings disqualify one from participating?