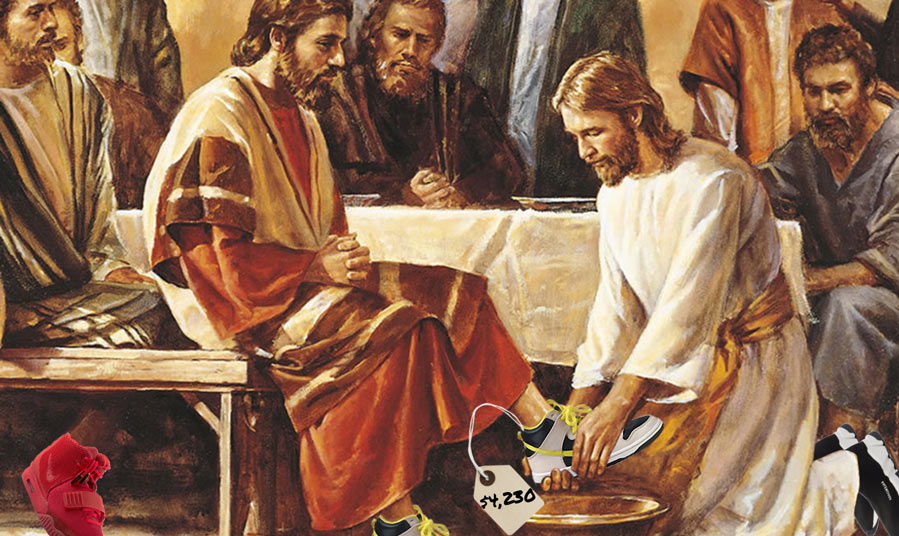 ---
If the Devil wears Prada, megachurch pastors might want to reconsider buying shoes with price tags that exceed most people's paychecks. A new Instagram account called @preachersnsneakers has caught on like wildfire in recent weeks, gaining over 125,000 followers (Christians and non-believers alike) by calling out high-profile pastors for their taste in expensive shoes and swag. 
But what started as a joke account meant to poke fun at pastors sporting trendy sneakers is now raising legitimate questions about how church donations are managed. Each post shows a well-known pastor wearing fancy shoes, juxtaposed with the jaw-dropping price attached to each example of "high fashion."
One post features pastor John Gray, of South Carolina's Relentless Church, wearing a pair of Air Yeezy 2 red sneakers that recently sold for $5,611:
View this post on Instagram
Pastor John Gray steppin out something MAJOR in the Ye'vangelical Red Octobers
A post shared by
PreachersNSneakers
(@preachersnsneakers) on Apr 6, 2019 at 6:04am PDT
But the account isn't limited to just shoes. Seattle-based pastor Judah Smith and his wife Chelsea were recently featured after heading out in public wearing Gucci pants and a matching tank top, listed at $980 and $490 respectively:
View this post on Instagram
The real Gucci Gang Judah Smith and Chelsea Smith steppin out vv clean
A post shared by
PreachersNSneakers
(@preachersnsneakers) on Apr 4, 2019 at 6:28am PDT
Is This Holy Behavior?
The account has been praised for launching a difficult conversation about how popular faith leaders spend the money they help bring in to the church.
"I've had hundreds of pastors and people in ministry message me like 'Thank you, keep doing what you're doing. It's prompting a discussion around what leadership and stewardship look like within the church,'" explains account founder Tyler Jones (a pseudonym). Jones, himself an Evangelical Christian, created the account after noticing a preponderance of high-end sneakers appearing on stage in churches around the country.
But Jones says it's not just the religious community that appreciates his work. Non-religious people who are highly critical of so-called "prosperity preachers" have reached out as well, expressing gratitude for the account's role in bringing inequities to light.
"I also have this whole other component of the secular, questioning or atheist community that are messaging me like, 'Dude, this is hilarious. It's crazy the money that these preachers make,'" Jones explains.
Squirming at the Pulpit
Each of the account's 28 posts seem to have hit a nerve with followers. And that message is getting back to the faith leaders being featured. In fact, pastor Chad Veach of Los Angeles' Zoe Church was actually forced to change his Instagram handle after one post showed him sporting a $1,980 Gucci backpack and $794 Rhude track pants. Veach had first insisted he hadn't paid for a single item he was wearing, but then deleted the comment.
"That's when I was like oh, this just got way more real than I ever intended," said Jones, who has maintained his own anonymity and insists he's not out there simply to take passive-aggressive swipes at trendy pastors. "I'm not
trying to cause a division; me and him both believe inherently the same things. I just think that if you're in church you should know how your pastor is spending the money."
Living Lavishly
Even if it turns out some of those sneakers are gifts made to these so-called public influencers, Jones - whose own wife works in a church for a very modest salary - doesn't see why any pastor would wear items most of their congregants could never afford. As he puts it:
"It'd be one thing if they were to come out and explain, like, 'this is why I bought this pair of Off-White Chicago 1s, because I feel strongly about how they're made.' If you could get a congregation to somehow agree that their money going to those $2,500 pair of kicks was good for the kingdom of God then I can't have an argument with that."
But how exactly do expensive sneakers help one to better spread God's word? Does being an effective preacher mean winning over hearts, or winning fashion contests?
Jesus probably wouldn't say so. Such displays of opulence stand in stark contrast to the image of Jesus portrayed in the Bible a man who wore sandals and willingly washed the dirty feet of his disciples. That picture would look a lot different if the entire group was decked out in Gucci pants and limited edition Nike sneakers.