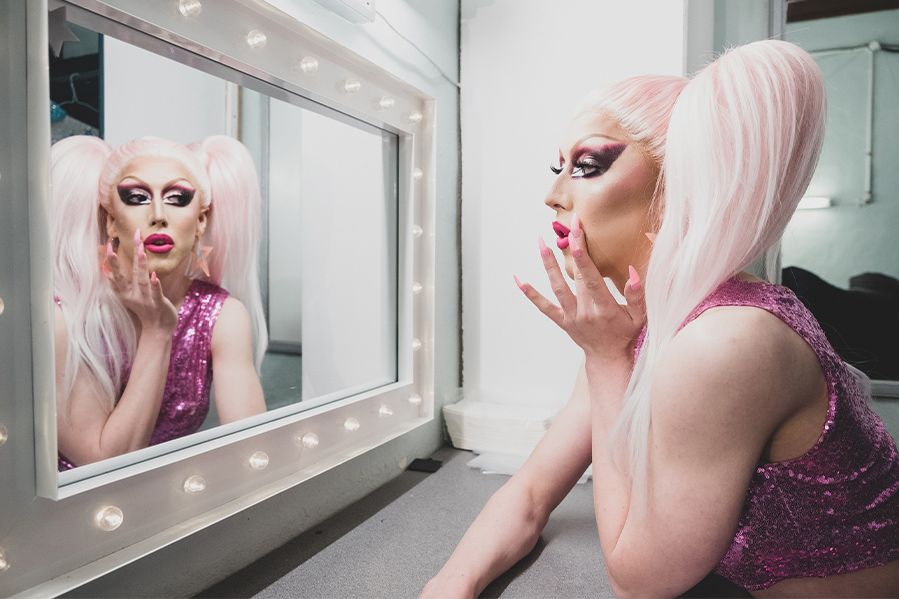 For the first time, a drag queen has the #1 album on iTunes' Christian chart.
And the story of how it happened is an interesting one. 
It started last week when Christian musician Sean Feucht, best known for his maskless concert tour during COVID quarantine, criticized a fellow musician for collaborating with a drag queen artist named Flamy Grant. Feucht called it a sign of "the last days."
However, this callout may have had the opposite of his intended effect; following Feucht's criticism of the musical collaboration, Flamy Grant's album Bible Belt Baby, and her lead single Good Day rocketed to the top of the Christian charts on iTunes.
Fighting Fire With Fire
After Feucht told Flamy Grant that "hardly anyone listens or cares what you do," Flamy Grant took the ball and ran.
On her Instagram and TikTok, Flamy Grant called her thousands of followers to action, encouraging them to "prove Feucht wrong" by getting her album and song to the top of the charts.
"Sean Feucht thinks hardly anyone is interested in a worship song by a drag queen," she wrote. "Good Day deserves a spot on the #christianmusic charts, dontcha think?"
Here's an excerpt of the tune:
"I love this song, I believe in this song," says Flamy Grant. "It's an uplifting anthem for anyone who's felt excluded by the church, especially queer people because those are my folks. But [it's for] anyone who's felt like there just wasn't a place for them to worship at church."
The campaign worked. Both Flamy Grant's album and song shot to the top of the contemporary Christian charts on iTunes.
Even more notable, this is reportedly the first time a drag queen has charted on contemporary Christian charts at all.
"Thank you all so much. I'm gonna sleep so well tonight," Flamy Grant wrote on Instagram. "I don't know what else to say except: if you're gonna come for a drag queen, you better be ready for how she comes back. She comes back with an army of love."
Topping the Charts
For Flamy, the historic chart-topping is a win not just for her, but for all queer people who feel under attack over the last few years. "I definitely had a moment of pause where I was like, OK, queer people are legitimately under attack — physically, our bodies are under attack in this country, there are fights breaking out outside of drag shows," she said.
"But at the same time, it was just too good. Because his point was, no one cares, no one listens to you, you're a non-entity, you're not going to make an impact. And just knowing what I know about the queer community and allies, I rolled the dice and placed my bet on that being dramatically wrong. And I think I won."
Her collaborator, Derek Webb, feels similarly. Webb played in popular Christian rock band Caedmon's Call, which had a series of megahits within the Christian music world in the 90s and early 2000s. "Artists like Flamy and I both wait for these moments," he explained, "because there's really no better press than somebody hating what you're doing for the right reasons."
What do you make of this situation? Flamy Grant's surprise chart topping success certainly seems a strong rebuke of Feucht's assertion that "hardly anyone" cares about her music. But will the success last?
Do drag, God, and country actually mix?