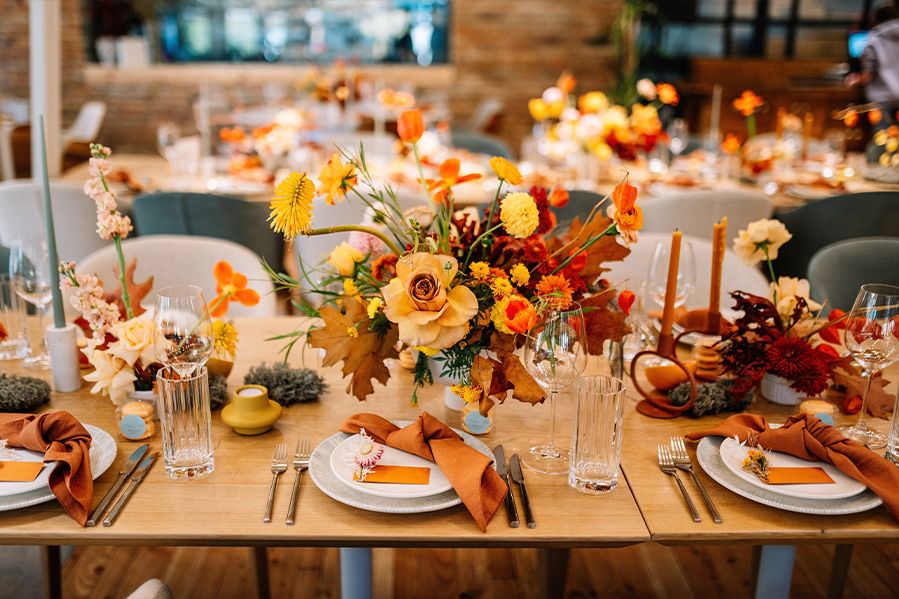 There are many reasons to plan a wedding in the fall. The weather is typically cooler, and the colors are beautiful. If you time it just right, you can even get some pretty impressive discounts on venues and services that would be more expensive during prime wedding season in June. There are also a few precautionary factors to consider, though. Here are a few tips and tricks to help you make your fall wedding spectacular.
Autumn Weather
Many people choose a fall date for their wedding because they love the weather. Keep in mind, however, that temperatures are more prone to fluctuation as winter approaches. You can plan everything about your beautiful outdoor reception to the minute detail only to have a chilly rainstorm pop up at the last minute. If this happens, you'll be glad you have a contingency plan.
Some couples set up tents or choose a venue with both indoor and outdoor spaces. It's also a good idea to have outdoor patio heaters available in case the forecast predicts a chilly evening. Consider putting together emergency weather packs for guests with items that can help them be more comfortable:
Small umbrella
Rain poncho
Reusable hand warmers
Gloves
Fall Wedding Attire
The colors of autumn are deep, lush and elegant. There are many options to choose from for your wedding party's attire. You can embrace harvest colors, such as orange, red and gold, or you can adopt a forest theme with pops of navy representing the night sky. As tempting as it may be to go overboard with a bounty of colors, the conventional wisdom of choosing a palette with just two to four colors is still the best practice if you want your event's theme to be cohesive. Share your color scheme with your guests so that they can dress to match if they want.
Once you've chosen colors, you must consider style. Since autumn weather can be a bit unpredictable, layers are a good choice, especially if a portion of your fall wedding ceremony or reception is outdoors. For example, you can have the strapless dress you want, but think about a luxurious wrap or jacket that matches it perfectly to wear during the parts of the event that are inevitably cooler. Make sure your partner and your wedding party have similar options available to them. 
Autumn Menu Options
The fall harvest provides many seasonal choices that can make your wedding menu memorable. Think comfort food, such as a simple butternut squash soup or a baked potato bar. Savory baked goods are also popular. Be sure to offer options for those with food restrictions so that all guests can enjoy the party.
The traditional dessert served at weddings may be cake, but those who plan their nuptials in fall often opt for more seasonal selections. You can have pear fritters or miniature pies. Caramel apple bites can also be fun, especially if there are children attending the wedding. A fall wedding gives you the chance to think outside the box.
Cozy Fall Beverages
Another benefit of scheduling your wedding when the weather is likely to be cool is that you can feature hot beverages, such as apple cider or hot chocolate. If you have a bar service at the wedding, warm beverages such as an Irish coffee or a hot toddy can make an appearance on the menu. Of course, there is always the option of having a signature cocktail for your event, such as an appletini or mulled wine. 
A fall wedding can be beautiful, regardless of the theme or menu you choose. As long as you have backup plans for weather mishaps and plenty of ways to keep yourself and your guests warm, your event should go smoothly.