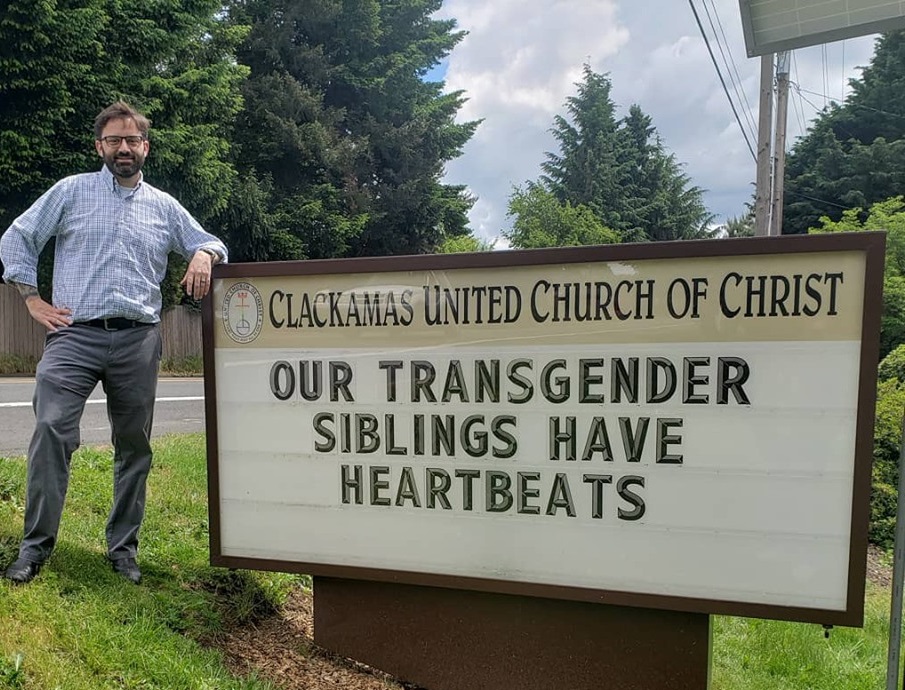 ---
The Clackamas United Church of Christ in Milwaukee, Oregon has managed to unite Muslims, African Americans, the LGBT community, and many more groups in its quest to build up a dwindling congregation. The magic ingredient: eye-catching and uplifting messages on its roadside sign.
Pastor Rev. Adam Ericksen hasn't shied away from tackling sensitive political topics. "Our transgender siblings have heartbeats," he posted on May 21, challenging Alabama's anti-abortion bill and displaying his church's support for LGBTQ rights in one fell swoop.
The progressive (and some would argue, provocative) religious messages have been consistently going viral. Signs such as "God loves you just the way she made you" are shared widely on Facebook and other social media platforms.
People discovering the church for the first time through their posts often respond with their own positive comments. "Wow some impactful, loving church signs for once! I love it and thank you!" wrote one. "God bless you. This is the kind of healing, restorative work churches need to be focused on," posted another.
This tactic has proven successful in large part because the sign can be changed to address relevant current events. Upon learning that the decision to include a famous black abolitionist on the nation's currency had been delayed, Ericksen again took to the marquee: "Harriet Tubman deserves to be on the $20. End White Supremacy." That simple response to racial division in his community made a convert out of one particular Facebook user. "I love this, and I'm an atheist! This is what religion all over the world should be like."
Bucking the Trend
A recent post on the church's Facebook page illustrates both their willingness to wade into controversial topics and to go against the prevailing beliefs of many traditional-leaning faith communities:
While the pastor told CNN these posts were meant to comfort and reclaim those groups traditionally alienated by a tougher, more conservative Christianity, the effect of his marquee messages has extended beyond simply doubling Sunday attendance.
"We've gotten hundreds of messages, including from transgender people who say they wish they had a church like this in their area. People are thirsty to know they are loved. In every area there are pockets thirsting for this message of radical inclusion."
A Great Awokening
Of course, not every Clackamas United Church of Christ sign message has been universally accepted. Some fellow members of the faith community allege that Pastor Ericksen's teachings are "unbiblical" and "blasphemy." Other critics allege that he's just virtue-signaling and pandering to a progressive audience in order to boost attendance.
Still, the pastor has clearly found a successful niche promoting this "woke" version of Christianity to fellow progressive thinkers. And the sheer amount of engagement on his viral Facebook posts don't lie many smaller congregations would kill for exposure like that. Plus, it's translating to real success on the ground, with attendance numbers jumping dramatically.  
What do you think? Will the future of religion be centered around viral messaging and building big tents? Should more churches embrace attention-grabbing signs as a way to draw people into the pews?