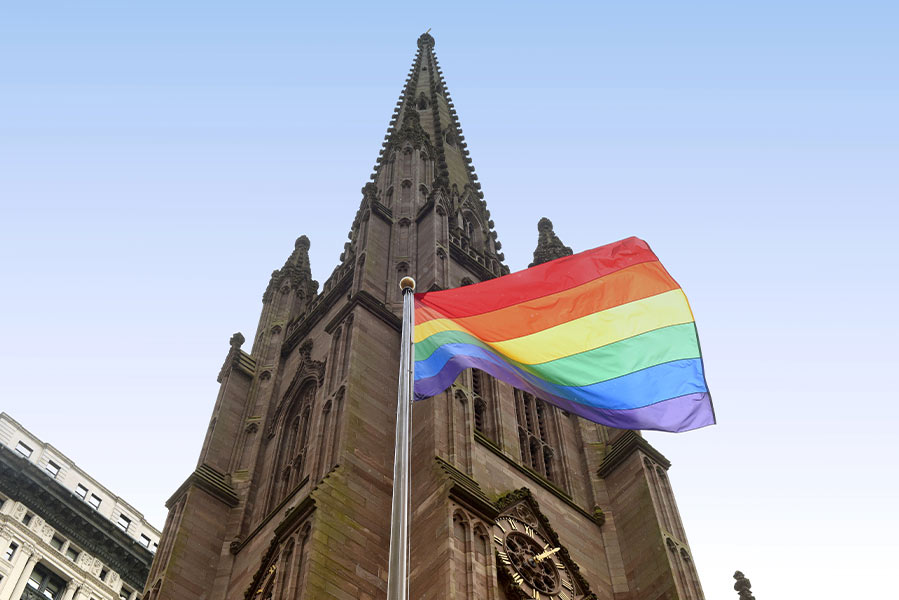 ---
A new analysis of the Pew Research Center's 2014 Religious Landscape Study found that lesbian, gay, and bisexual Americans are less religious than their heterosexual counterparts.
A staggering 41% of LGB adults identified as atheist, agnostic or "nothing in particular," compared to just 22% of straight adults. The survey did not ask respondents to identify themselves along gender lines - hence the "T" being absent from these results.
When it came to religious service attendance - the study's standard measure of religious participation - about 19% of bisexuals and 16% of lesbian and gay Americans attended a house of worship regularly, compared with 36% of straight adults. LGB adults were much less likely to take the Bible as the word of God, with 38% of bisexuals and 33% of gays and lesbians saying this, eclipsed by the 61% of straight Americans who did. More prescient still, only about a third of LGB adults (34%) claimed religion was very important in their lives. More than half of straight Americans (54%) feel this way.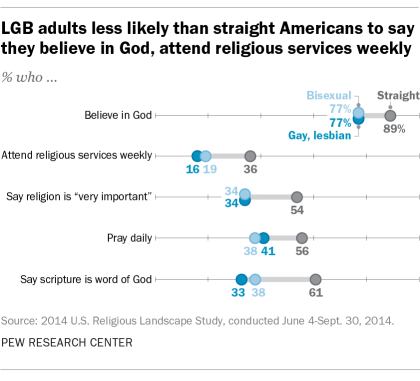 LGBT Acceptance Among Evangelicals
So why do LGBT people appear to be less pious than their heterosexual counterparts? The study doesn't make that clear, but one theory is that evangelical attitudes toward LGBT identities have effectively turned many LGBT people away from religion. Indeed, only a scant 36% of Evangelical Protestants believe homosexuality should even be accepted in society - let alone given equal rights. It's understandable that it would be hard to get excited about going to church knowing that over half of the country's largest religious denomination finds your identity unacceptable.
Unsurprisingly, another Pew survey found that many in the LGBT community are skeptical of religion in general. One-third of LGBT respondents noted a "conflict between their religious beliefs and their sexual orientation or gender identity." Another third even said that they've outright felt unwelcome in a house of worship.
Those same respondents also shared an overwhelming belief that religious groups are intentionally unfriendly to them. The institutions viewed most negatively in this regard? The Muslim faith, the Mormon Church, and the Catholic Church. The data shows that for those LGBT individuals who do believe in God, houses of worship are viewed less as places of sanctuary and more as torture chambers.
For those who do choose to attend, there are clear disincentives to expressing their true identities: religious leaders and political donors regularly demonize them, work to limit their social rights, and even call for their deaths.
In that sense, it's not terribly surprising that the LGBT community is shying away from religion. It's only natural that humans would prefer to congregate where they feel welcome. The question now becomes: will faith groups change their ways and become more accepting, or will they stick to their guns?