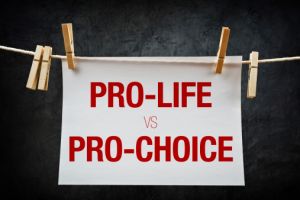 The recent Supreme Court decision in the Hobby Lobby case was supposed to be a narrow ruling. Religious liberty would only allow for disregarding laws as they applied to a mandate for employers to provide coverage for contraception. It was never supposed to open a Pandora's box for a variety of similar requests according to Justice Alito, though he could not really explain why not.
If you don't know the specifics of the case, you can brush up on it here. Justice Ginsburg in her dissent warned that the rationale for allowing people to ignore the law if it went against their sincere beliefs could be applied to countless laws. These words were largely ignored by pro-lifers, who counted the ruling as a victory for their cause.
Just as Ginsburg predicted, other groups have asked to be exempted from other laws, including one that fires a salvo back at the pro-life moment. Currently, in 35 states there are laws governing abortion practices known as informed consent laws. Often, these laws are worded to enhance a pro-life view by trying to link abortion to higher numbers of cancers or mental conditions, provide information on available adoption programs, force women to undergo medically unnecessary ultrasounds, or make dubious claims about supposed "fetal pain".
The complaint against these informed consent laws is relevantly similar to that raised by Hobby Lobby in their case. A law is offending the free expression of sincerely held religious beliefs, and in the case of the abortion law issue, the complaint is being raised by Satanists. Two of the religion's Seven Fundamental Tenets seem to be at issue. The first is that "one's body is inviolable, subject to one's own will alone," and the second is that "beliefs should conform to our best scientific understanding of the world." Given the purely political nature of these laws and their lack of a scientific basis, these laws don't just violate the beliefs of Satanists, but any religious body with a similar official position.
What Can Be Done About the Consent Laws?
Of course there are some women seeking abortion for which these laws are merely an annoyance, depending on how invasive the local version gets. Some would never want to even loosely affiliate with Satanists even if they disagree strongly with the informed consent laws. But for those women that are offended by laws there is apparently a new option according to the Temple website.
An increasing number of states have passed "informed consent" laws, requiring that women seeking abortions be subjected to state-mandated informational materials that are often false or misleading. We believe that personal decisions should be made with reference to only the best available, scientifically valid information. If you are a woman seeking an abortion who shares these deeply held beliefs, please print the letter to present to your care-provider, informing him/her that you are to be exempted from receiving "informed consent" materials.
We have no doubt that this twist will not be the last in the ever-changing Hobby Lobby tale. It's tough to justify the Hobby Lobby pro-life outcome without doing so for the pro-choice consequence. As ministers of the Universal Life Church, we sincerely believe anyone should have a path to get ordained and be able to perform a wedding. The State of Virginia doesn't agree. Might there be a new path to get around their laws? Tell us what you think.
Sources:
NY Times
Seattle Stranger
The Daily Kos